Beyoncé And Madonna Have A Friendship You Don't Hear Much About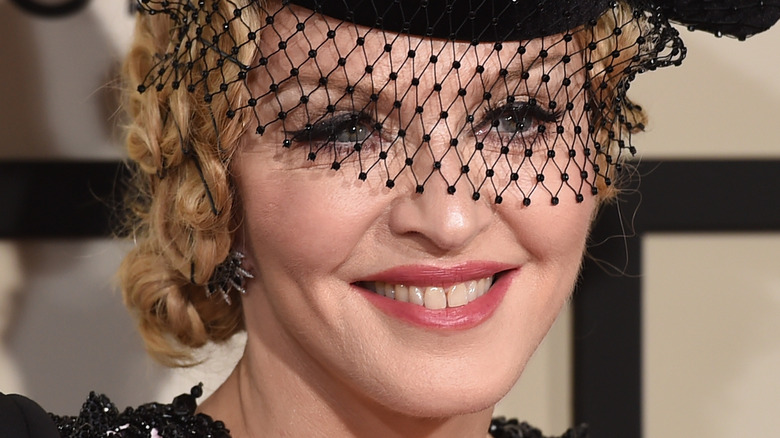 Jason Merritt/Getty Images
Madonna's life is an open book in many ways. She's notorious for spilling the TMI tea on her sexual exploits, posting intimate and personal pics, and voicing her opinions on everything from religion to her fellow pop stars. However, she's a bit of a dark horse when it comes to her friends. Madonna is rarely if ever snapped out and about with pals; these days, she's all about family. And in all fairness, as a single mom to six kids, finding the time for friendships has got to be tough. 
Plus, given the timeline of Madonna's many feuds, it's amazing she even has any friends left. Since first bursting onto the music scene in the '80s, Madonna has seriously shaded and butted heads with a seemingly never-ending list of stars. Elton John's beef with Madonna stretches back decades. He let the F-bombs explode after she won a Q award for "Best Live Act" in 2004. "Madonna, best f***ing live act? F**k off!" John sniped. "Since when has lip-synching been live?"
In return, Madonna refused to perform at the bachelor party before his wedding to David Furnish, resulting in John branding her a "miserable cow," per CBS News. However, despite the number of stars who can't stand Madonna, there's still plenty who can and do — and several of them are surprising, to say the least. For instance, Beyoncé and Madonna have a super tight friendship you don't hear much about.
Beyoncé and Madonna will run the world 'til the end of time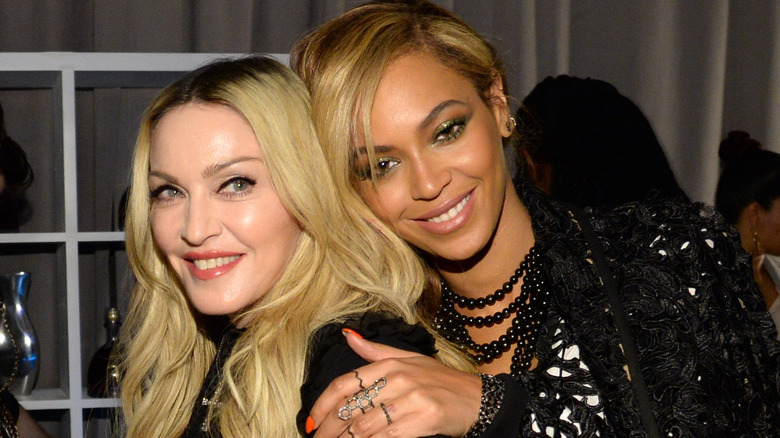 Kevin Mazur/Getty Images
When you think of musical besties, Beyoncé and Madonna aren't two names that immediately spring to mind. Still, they've been setting friendship goals since before that was a thing. And they appear to have been doing it in plain sight. According to W Magazine, the first time they were publicly seen together was in 2011. They were front and center at Chicago's United Center to help bid farewell to Oprah Winfrey's daytime talk show era. The magazine claims the music legends already "looked rather chummy" as they huddled together on the stage.
Per Reuters, Beyoncé and Madonna created a holy trinity in 2013 when they joined forces with Bishop Desmond Tutu in the name of female empowerment. Madonna hosted with panache, and Beyoncé sang her heart out at the "Sound of Change" concert. As for the late great South African bishop? The jury's out regarding his performance.
They also regularly attend each other's concerts and post adorable online tributes afterward. "Mrs. Carter crushes the BK with her badass show! Girls run the world!" Madonna captioned a blurry concert pic in 2013, according to W Magazine. "Mercy James gets a big fat one from the Queen B!" She captioned another showing Beyoncé leaning down to kiss the little girl. Meanwhile, Beyoncé Legion posted a pic of their idol and her hubby, Jay-Z, watching Madonna perform during her Rebel Heart Tour in 2015. Then there are the collaborations, gushing homages, and interviews.
Beyoncé and Madonna are fangirling friends and collaborators
Beyoncé admits Madonna has been a huge inspiration to her. "I want to follow the footsteps of Madonna and be a powerhouse, have my own empire," she told a crowd at the NYC School of Visual Arts in 2013. "She's not afraid to take risks; she has great hair," Beyoncé later gushed (hopefully not as good as Becky's hair). "I'd like to thank Madonna for her great music, her great style, and for inspiring all of us," she continued.
Madonna threw the love right back. "Beyoncé's a great performer; she puts on a show," she told Entertainment Weekly. "She's a professional, you know what I mean? She ticks all the boxes." The icon appreciated Beyoncé so much that she gave her a cameo in the "B***h I'm Madonna" video later that year. Madonna also stepped up to support the launch of Jay-Z's streaming platform, Tidal, per The Guardian.
Then, in 2022, the couple drove the Bey Hive and the Madders wild when they released "Break My Soul (The Queens Remix)," which merged Beyoncé's "Break My Soul" with Madonna's "Vogue." It was the first single off Beyoncé's "Renaissance" album and although it doesn't feature any new vocals from Madonna, Beyoncé does sing her lyrics in addition to merging the original track. And she pays homage to Madge throughout, mimicking her iconic poses and featuring dancers from the ballroom scene, a subculture that Madonna first culturally appropriated introduced to a broader audience.