Sylvester Stallone Once Came For His Buddy Bruce Willis On Twitter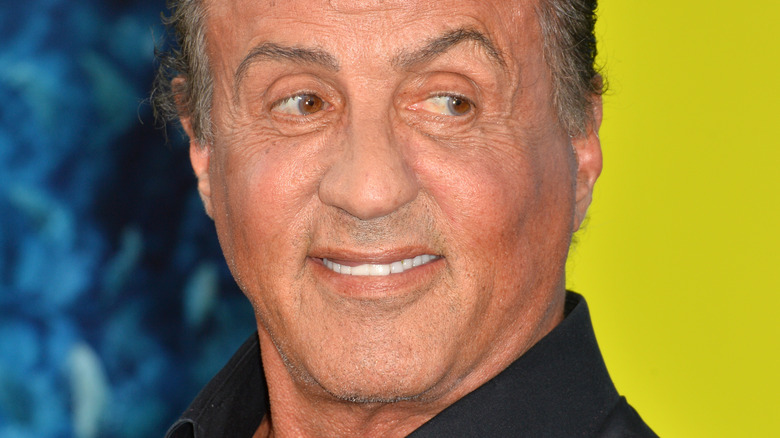 Featureflash Photo Agency/Shutterstock
Sylvester Stallone and Bruce Willis are certified action film royalty. The two actors have starred in some of the greatest action movies to ever exist. From "Rambo," "Die Hard," "The Expendables," and more, the list goes on and on. Their friendship seemed inevitable as they were both big movie stars bound to cross paths. However, it wasn't a film that sparked their friendship but rather a business venture.
According to The Economic Times, Stallone and Willis kickstarted their friendship back in 1991 when they helped endorse the Planet Hollywood restaurant. The two bonded as they became official stockholders in the new restaurant chain. Initially, their star power made Planet Hollywood a success. However, over time the restaurant slowly lost customers and became a thing of the past. Even though the restaurant went downhill, their friendship stood strong. But, fans of the two actors still had to wait nineteen years before the two stars would collaborate again, this time for a film.
Stallone decided to direct "The Expendables," which featured some of the most iconic action stars to ever exist, including Willis. The movie was a big success with fans, and they were even more excited when it was revealed that more sequels would be in their future. But a dramatic shakeup in the cast occurred. Willis was no longer going to be in the third film, and his longtime friend Stallone was not happy about it.
Sylvester Stallone threw shade at Bruce Willis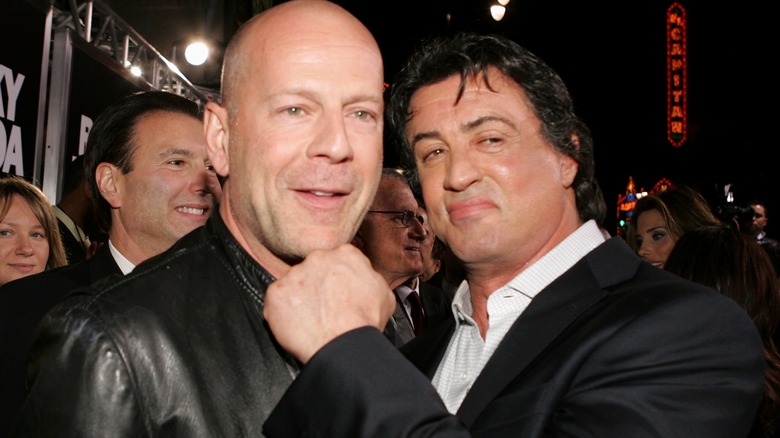 Frazer Harrison/Getty Images
Moviegoers were gearing up to go to the theaters to watch Bruce Willis and Sylvester Stallone onscreen in "Expendables 3", but a wrench was thrown in their plans after Willis was cut from the film. According to The Hollywood Reporter, Willis was upset that they offered him $3 million to star in the movie, as he was expecting more. A source told the outlet, "He said he'd drop out unless he got $4 million. A million dollars a day. Stallone and everybody else involved said no." Stallone appeared to confirm the news when he tweeted a not-so-crypticly about Willis.
Stallone took to Twitter as he seemed to call Willis out for demanding more money. He tweeted, "GREEDY AND LAZY ...... A SURE FORMULA FOR CAREER FAILURE." Although the "Rocky" actor never mentioned Willis by name, it didn't take long for people to connect the dots that he was talking about his longtime friend, or maybe we should say, ex-friend. Fans hoped the two would get over their silly fight, but Stallone put the nail in the coffin as he replaced Willis in just 72 hours. The actor swapped out Willis for fellow legendary actor Harrison Ford. The movie ended up being released without the "Die Hard" actor as he and Stallone's friendship came crumbling down. However, the downfall of their friendship didn't last long as they were back to being besties in no time.
Sylvester Stallone reconnected with Bruce Willis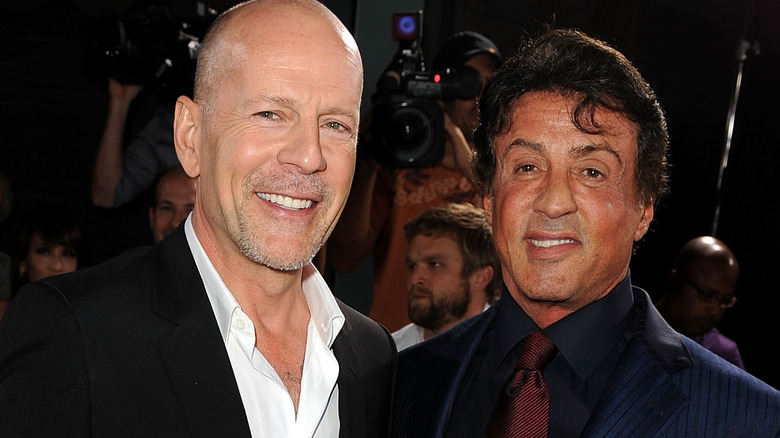 Kevin Winter/Getty Images
As time passed between Sylvester Stallone and Bruce Willis, the "Tulsa King" actor realized their beef was nothing to hold a grudge over. Stallone ended up taking accountability for their year-long feud. The "Creed" actor tweeted, "Made up with BRUCE W. A stand up guy, my mistake..." After the apology, it was like the two actors never even had beef. Stallone has even continued to support Willis during his unfortunate health situation.
According to Page Six, Willis' family released a statement in early 2022 revealing the "Pulp Fiction" actor had been diagnosed with aphasia. Mayo Clinic reports that aphasia slowly affects one's speech and ability to read and write. The news devastated fans and friends of the actor, especially Stallone. The actor posted a heartfelt message to his longtime friend on Instagram accompanied by a series of photos of the two. Stallone wrote, "We go back a long way, praying for the best for you and your wonderful family..." The "Rocky" actor continued to support Willis as he revealed how devastating it was to see him going through this, per The Hollywood Reporter. He said, "Bruce is going through some really, really difficult times. So he's been sort of incommunicado. That kills me. It's so sad." In 2023, Willis' condition worsened as he was diagnosed with dementia, per CNN. His friends and family continue to support him during this challenging time, and based on the past, Stallone will always be by Willis' side.