Avril Lavigne Was Interrupted By NSFW Protestor On Stage (& Handled It Like A Pro)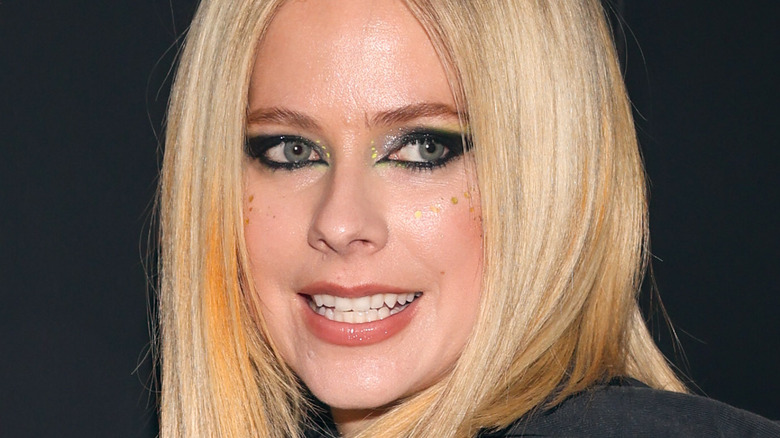 Arnold Jerocki/Getty Images
Some of the most iconic moments in awards show history have been unpredictable. From Will Smith smacking Chris Rock to "LaLa Land" accidentally being announced as best picture instead of "Moonlight," viewers never truly know what they will get. While many thought that award season was over after the 2023 Oscars, music fans still were looking forward to The JUNO Awards.
The Canada-based show had some of the biggest names in the entertainment industry. Simu Liu, Tate McRae, and Avril Lavigne were all in attendance at the show. Fans were especially ecstatic to see Lavigne after she had a sudden resurgence in her career that put her at the top of pop-punk music. Being the successful musician that she is, Lavigne is no stranger to award shows. She has attended the Grammys, MTV Music Awards, and the Kid's Choice Awards, but something is telling us that this year's Juno Awards will always be remembered by the "Sk8er Boi" singer.
In addition to being nominated, Lavigne was also set to present at the show. This was supposed to be a breeze for the singer as she's done this many times before, but she could have never expected what was to come. Things got a little "Complicated" for the singer because a protester stormed the stage as she gave her speech. However, Lavigne was not letting them ruin the moment as she handled the unexpected interruption like the pro she is.
Avril Lavigne curses out topless protester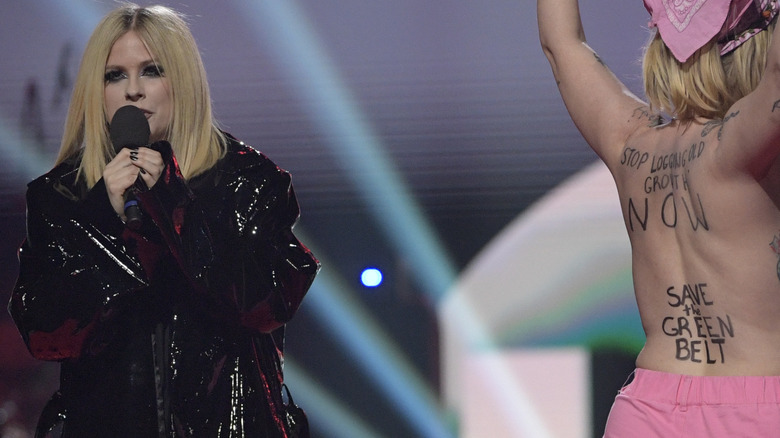 Dale Macmillan/Getty Images
Avril Lavigne is your nontraditional pop star, who does and says what she wants. So when a protester stormed the stage at The Juno Awards, Lavigne was not scared to give her a piece of her mind.
A topless woman interrupted Lavigne while the "Sk8er Boi" singer was introducing fellow musician, AP Dhillon. The woman, protesting Ontario's proposition to assemble homes on protected land, got everyone's attention for making the sudden interruption so boldly. Lavigne attempted to ignore the woman and tried to continue with her speech. However, the protester stood her ground, and people couldn't focus on anything else. Lavigne finally had enough and turned around to address the woman. The "Complicated" singer cursed the protester out and reportedly even "flicked the protester's breast," per The New York Post. Lavigne said, "Get the f*** off. Get the f*** off b****." Fans cheered Lavigne on as security finally removed the blonde-haired woman from the stage.
Host Simu Liu briefly addressed the situation as he thanked Lavigne for "handling it like a champion" and told the audience, "Sorry for the boobs." Lavigne later addressed the savage moment when she accepted an award and joked about the whole situation in her speech. Lavigne said, "Nobody try anything this time, or the Canadian's gonna come out in me and I'll f*** a b**** up." So, if one thing has been made clear, it's not to mess with Lavigne.