Christina Aguilera And Demi Lovato Release Empowering Collab 'Fall In Line'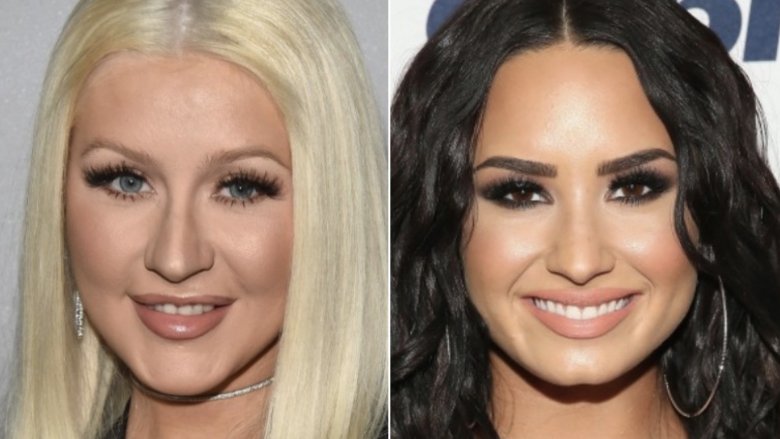 Getty Images
Christina Aguilera and Demi Lovato just teamed up for one inspiring song.
On Wednesday, May 16, 2018, the singers released their collaboration, titled, "Fall in Line." On the track, Aguilera and Lovato encourage girls to know their worth, understand that they're more than their bodies and age, and speak out against the patriarchy. "It's just the way it is / And maybe it's never gonna change / But I got a mind to show my strength / And I got a right to speak my mind," Aguilera and Lovato sing in the song's chorus. "And I'm gonna pay for this / They're gonna burn me at the stake / But I got a fire in my veins / I wasn't made to fall in line / No I wasn't made to fall in line."
Promoting her new single, Aguilera tweeted out, "To anyone who's ever felt silenced and repressed, the truth seekers and bold thinkers... may you liberate your voice and break the mold, never back down, and never fall in line."
Noting that working with Aguilera was a check off her bucket list, Lovato also tweeted about their song, sharing a snippet of the track and writing, "I hope you love this song as much as I do. It's such an honor to lend my voice to this anthem for women with one of the most inspiring individuals I've ever met."
Aguilera also showed her appreciation for Lovato, posting a photo of the two of them with the caption, "I believe our paths were destined to cross & I'm so proud to come together from the pasts we've overcome; to the strong women we are today! You're truly a GEM, I have immense love & respect for you! You are an inspiration for future young girls of your generation. Beautiful work!"
As Nicki Swift previously reported, Aguilera marked her highly anticipated return to music with the release of her first single in six years, "Accelerate," a sexy track featuring Ty Dolla $ign and 2 Chainz.
In an interview with Billboard published on the same day "Accelerate" dropped, Aguilera opened up about her collab with Lovato. "We went through a few names of women. I needed a belty singer, and she took it to the next level," she shared (via E! News). "I almost cried when I first heard her on the record."
Likewise, Lovato has had nothing but good things to say about Aguilera. To Billboard, she praised the "Beautiful" singer, admitting that she's admired her since she was young. "I have always looked up to Christina," Lovato said. "I remember being at her concert and singing facing the crowd instead of the stage, knowing that that was exactly what I wanted to do in life." Lovato added, "She speaks up for what she believes in and sends a positive message, which are two things I find extremely important when given the platform we are lucky enough to have."
Aguilera and Lovato will perform their song "Fall in Line" live at the 2018 Billboard Awards on Sunday, May 20. The show starts at 8 p.m. ET on NBC.