What Really Happened Between Miley Cyrus And Her Producer Mike WiLL Made-It?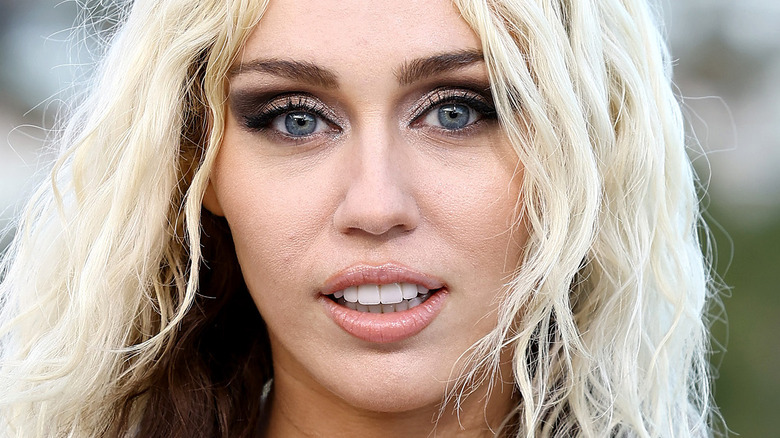 Arturo Holmes/Getty Images
The transformation of Miley Cyrus from a Disney Channel star to a global pop sensation was sudden. Her radical transition from innocent outfits during her "Hannah Montana" era to skin-baring looks serves as the ultimate analogy for her music and career. 
As the daughter of country music star Billy Ray Cyrus, Miley started her career high-noting her way through family-friendly pop songs. In 2008, she dropped "See You Again," which fit nicely with her Disney persona and quickly became her first top 10 single on the Billboard Hot 100. Come 2013, Miley was ready to transition into a more mature sound. She enlisted rappers Tyler, the Creator, and Mac Miller to help craft "Dirty South hip-hop music," telling CNN, "I think it's something that radio needs right now."
She also enlisted Atlanta-based trap producer Michael Williams II — who goes by Mike WiLL Made-It — to help produce the record. The result was "Bangerz," featuring the instant hit "We Can't Stop" with a beat by Mike WiLL Made-It. While there is no mystery surrounding the catchiness of the track, some have suggested these two musicians have collaborated on a more intimate level. This is what really happened between Miley and Mike WiLL Made-It.
Some thought their collaboration extended beyond music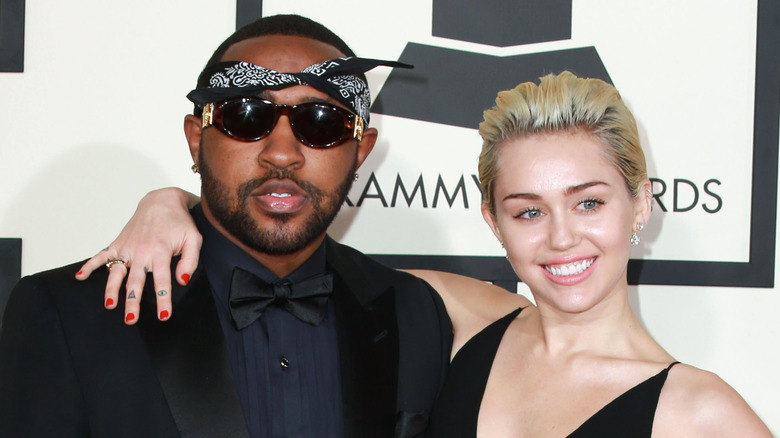 Kathy Hutchins/Shutterstock
Just like the opening credits of a film, the music video for "We Can't Stop" mentions Miley Cyrus and producer Mike WiLL Made-It in equal billing at the start. The song was good timing for Cyrus, as "We Can't Stop" was originally written for Rihanna, who instead chose to record another track by Mike WiLL Made-It, "Pour It Up." 
Fortunately, he and Cyrus were a perfect fit. "She was saying all the pop producers that she worked with before had real strict guidelines on how they wanted their records recorded, and I wasn't like that," he told Red Bull Music Academy. She may have liked more than just his musicianship, as the Daily Mail reported the two were getting cozy with one another off-stage at the 2013 iHeartRadio Music Festival in Las Vegas. The pair also shared cutesy photos of each other on their social media accounts. What's more, Mike WiLL Made-It told Vibe, "Miley Cyrus is the new Madonna." 
At the "Bangerz" album release party, sources told Us Weekly that Cyrus was "grinding all over [Mike Will Made-It], kissing his neck." The following June, witnesses claimed that Cyrus and the producer were "all over each other" as attendees of the BET Awards and reportedly had been dating for nearly nine months. An insider claimed the musicians "talk and text all day, every day" and that even Cyrus' mom "says he's part of the family."
They denied the rumors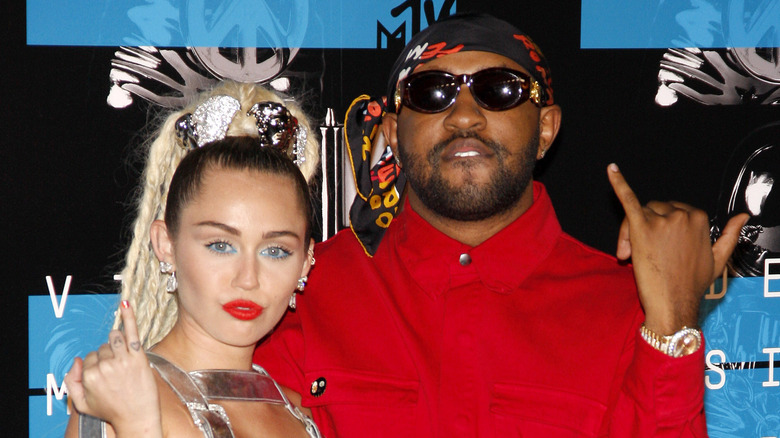 Tinseltown/Shutterstock
A year before she released "Bangerz," Miley Cyrus announced her engagement to Liam Hemsworth. The two ultimately called it off in September 2013, the same month she dropped her album. With public rumors about a potential romance with Mike WiLL Made-It, Cyrus went on "The Ellen DeGeneres Show" to clear up the confusion. "I really haven't gotten to see anyone right now because I've been so crazy busy. I'm just letting that chapter kind of close and just looking forward to that new one," the pop star said. Not long before this interview, Mike WiLL Made-It also seemed to dispel any dating rumors by tweeting, "Crazy how u can make something out of nothing." 
A reporter asked Mike WiLL Made-It about the speculation that he and Miley were more than just friends and co-workers. "Luckily, we were able to make enough noise last year to the point where people were paying enough attention to talk about rumors and make up all kinds of other stuff. She's great. I'm great. That's what happens with greatness," he told Hip Hollywood.
Eventually, they got back together. No, not Cyrus and Hemsworth — Cyrus and Meek WiLL Made-It. The two reunited in the studio to work on her album "Endless Summer Vacation," and we think it's safe to say that's the only thing they're collaborating on.