Paris Hilton Lays Out Her True Feelings On Pink Mocking Her Sex Tape Scandal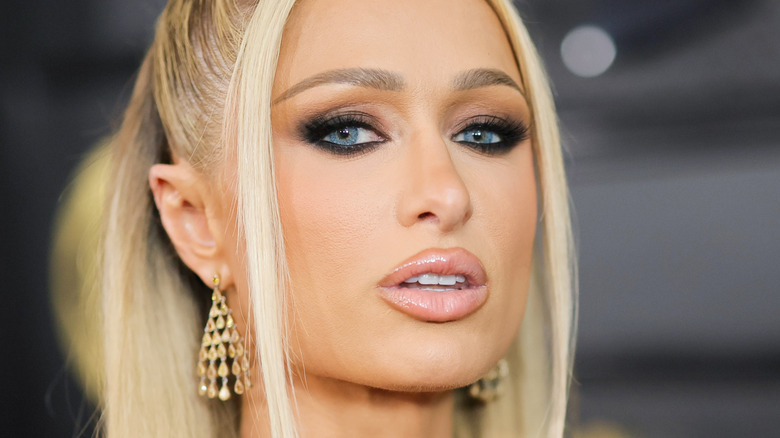 Neilson Barnard/Getty Images
In 2003, Rick Salomon publicly leaked the sex tape that he and Paris Hilton made. And in her new memoir, "Paris: The Memoir," the actor recalled how she felt at the moment. "I don't remember that much about the night he wanted to make a videotape while we made love," she wrote. She added that she felt "weird and uncomfortable," but he assured her it was just a regular thing for him to do with the girls he was linked to.
It was also claimed that Salomon said he would keep the video private. But after Hilton still refused to make the tape, he gave her an ultimatum, saying that he would leave her and find another woman who would agree to the filming. The media personality recalled that she drank and took Quaaludes to loosen up beforehand.
At a Vanity Fair panel in 2021, Hilton admitted that the leaking of her sex tape impacted her mental health significantly. She talked about how the media and the public eye were "mean" to her about it, adding that the most hurtful rumor that spread was that she wanted the tape to be released. And it seems that Pink's "Stupid Girls" music video only added to the tape's negative impact on Hilton's life.
Paris Hilton believes Pink portrayed her as dumb
Jon Kopaloff & Mike Coppola/Getty
In her memoir, Paris Hilton wrote about the impact her leaked sex tape had on her life, specifically focusing on how the public eye viewed her after the video was released, mentioning that people would call her a "slut" and a "whore." She then revealed how she felt about Pink's portrayal of her in the "Stupid Girls" music video. "Pink sang about 'outcasts and girls with ambition' and said, 'That's what I wanna see,'" she wrote (via Us Weekly), "But she chose not to see it in me."
In a "Watch What Happens Live" segment in 2017, Pink was asked if she heard back from the girls she parodied in her "Stupid Girls" music video. Hilton was one of the girls the singer portrayed. "Paris was upset with me," Pink said, adding, "She said, 'I just want you to know that I get it. I'm not dumb, I just play like I'm dumb.' And I was like, 'That's kind of my point.'"
Beyond the sex tape she was coerced into making, Hilton also wrote about being groomed by a male teacher, being drugged and sexually assaulted as a teenager, and having inappropriate encounters with Harvey Weinstein. She mentioned that writing all of these recollections from the past and sharing her story has been therapeutic for her.