What We Know About Paris Hilton's Relationship With Her Brothers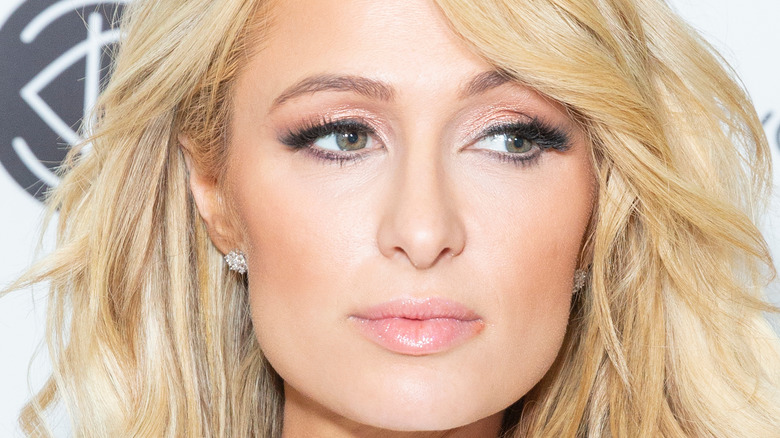 lev radin/Shutterstock
Paris Hilton has never made a secret of her closeness with younger sister, Nicky Hilton Rothschild, but what do we know about her relationship with her other two siblings, brothers Barron Hilton II and Conrad Hilton II? 
In addition to countless joint appearances throughout the early aughts, both Paris and Nicky have been incredibly open about their bond for years. Late last year, the latter told Katie Couric Media, "We are each other's biggest cheerleaders." Paris, meanwhile, has issued her little sister a number of sweet shout-outs over the years, including several adorable Instagram posts on National Sisters Day and National Siblings Day. In her Siblings Day post, in particular, Paris referred to Nicky as her, "Bestie" — a label she also used when thanking her for serving as her Maid of Honor last year, along with the hashtag "#BestFriendsForLife." 
In light of the sisters' incredibly public love fest, one would be forgiven for not knowing that they have two younger brothers. Sure enough, though, there are four Hilton siblings. So, does the relative quietness surrounding the younger two suggest a lack of closeness? Or, do the Hilton brothers simply prefer to keep a lower profile than their famous sisters do? 
Paris is super supportive of Barron Hilton II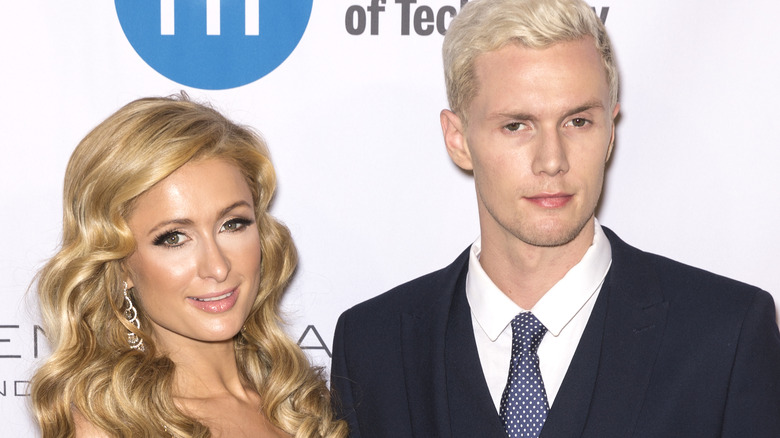 Ovidiu Hrubaru/Shutterstock
Paris Hilton's younger brother, Barron Hilton II may keep a lower profile than his sisters, but that's not to say he shies away from the limelight entirely. In fact, just like his big sisters, Barron has a number of entrepreneurial ventures under his belt, and he's been featured in numerous publications because of that. And, for anyone wondering, Paris couldn't be prouder. 
Speaking to The Daily Front Row back in 2016 of his newest venture at the time — a foodie page named Barron's Bites — the second-youngest Hilton child revealed that he'd always been backed by Paris. "She has always supported me in everything I do," he shared. Barron has since pivoted into real estate, as senior vice president for his father's brokerage, Hilton & Hyland. However, even with the career shift, Paris is still behind him all the way. In Instagram posts showing his latest listings, the DJ regularly leaves sweet comments of encouragement. 
The support goes both ways, though: in response to Paris' 2021 campaign with Lanvin, Barron took to Instagram to call the collaboration, "EPIC." Back in 2018, he shared his pride for his sister in another post, writing, "This woman really does it all! A true role model ... so proud of you! Love you Portis." For reference, Portis is Kathy Hilton's nickname for Paris, as she revealed on "The Real." 
... And she has a lot of love for her youngest brother, too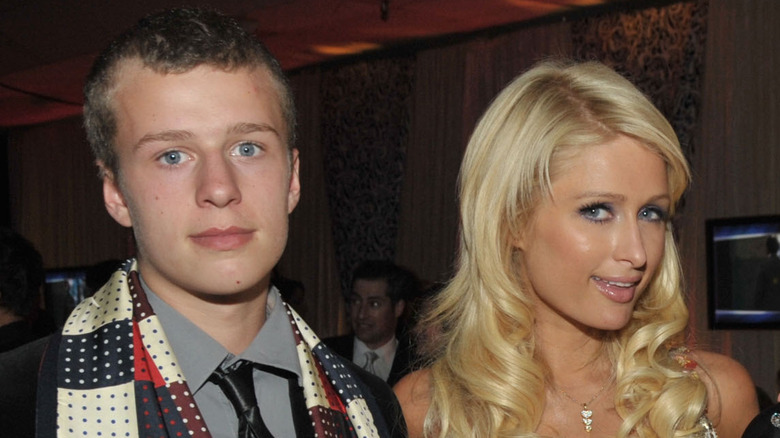 Frazer Harrison/Getty Images
Like his siblings, Conrad Hilton II has made headlines over the years — however, not always for the right reasons. Back in 2014, the youngest Hilton child was arrested for causing a disturbance on a flight and by disturbance, we mean threatening airline staff, and yelling that he could, "Own anyone on this flight; they are f***ing peasants," via TMZ. Per Independent, he was ultimately sentenced to a fine, community service and ordered to seek treatment for mental health and substance abuse. That wasn't the last of his legal woes, though. As reported by Los Angeles Times, Conrad was arrested in 2015 for violating a restraining order lodged against him by his ex-girlfriend — something he was arrested for a second time in 2017. What's more, in 2016, he spent two months behind bars for violating his 2015 parole by using drugs. 
Despite all that, however, it seems Paris Hilton has maintained a good relationship with her youngest sibling. As seen in Vogue, Conrad was present for her wedding last year, and they posed for family a picture at the nuptials. More recently, Paris also sent Conrad love on his birthday, in response to his one and only Instagram post. "Happy birthday Conrad! Love you!" she commented. 
Nicky Hilton Rothschild may be Paris' most visible sibling, but it's pretty clear that when it comes to the DJ's thoughts on her extended family — well, she "Loves it!" 
If you or anyone you know needs help with addiction issues, help is available. Visit the Substance Abuse and Mental Health Services Administration website or contact SAMHSA's National Helpline at 1-800-662-HELP (4357).