How Nicky Hilton Really Met Her Husband James Rothschild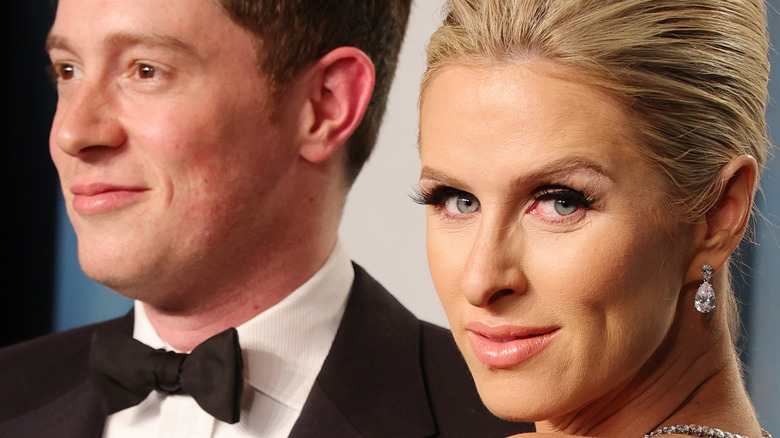 Rich Fury/vf22/Getty Images
Nicky Hilton and James Rothschild's marriage reads a little like a dynastic fairytale, but where did this love story begin?
July 10, 2015 is sure to have been a magical day for pop culture aficionados and history buffs alike, as the Hilton heiress wed the scion of the centuries-old Rothschild family. Clad in a $77 000 Valentino gown (per Brides), Hilton walked down the aisle at The Orangery at Kensington Palace (via Evening Standard). Just in case there was any confusion, no, that's not a coincidentally, identically-named palace. These lovebirds tied the knot at the Duke and Duchess of Cambridge's digs — and, while the future King and Queen consort of England were not in attendance, there were some royals at the nuptials. According to Glamour, Crown Prince Pavlos and his wife, Crown Princess Marie-Chantal of Greece, were in attendance. To add to the glamour, Hilton told Harper's Bazaar that the princess also designed the dresses for her flower girls. 
Despite the pomp and circumstance, though, Hilton and Rothschild are known to be pretty low-key. Speaking to Evening Standard ahead of the wedding, one source described them as "a really sweet and unassuming couple." Three years later, an Architectural Digest interview with the two confirmed that was still the case. The piece shined the spotlight on their modern take on a dynastic dwelling "where no room is off-limits." It seems these two are the perfect match, but our question remains: How did these lovebirds meet?
So, an heir and an heiress meet at a wedding ...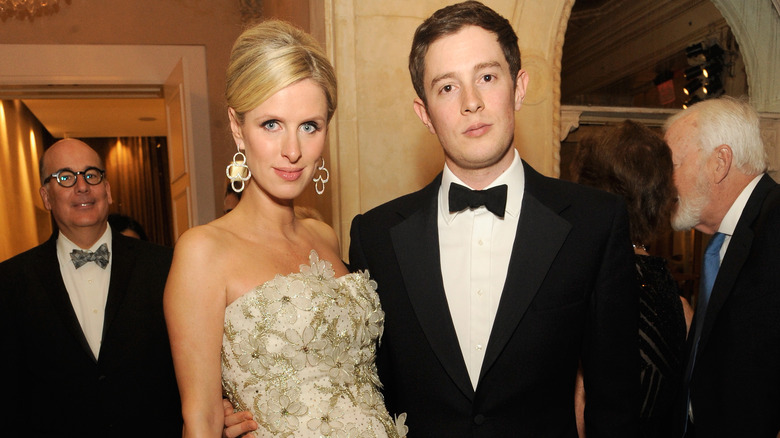 Rabbani And Solimene Photography/Getty Images
Low-key or not, there's no denying that Nicky Hilton and James Rothschild are about as high society as can be. It only makes sense, then, that they met at a particularly elite soiree. That would be the 2011 wedding of Petra Ecclestone — daughter of the former Formula 1 CEO, Bernie Ecclestone. As noted by Marie Claire, the wedding took place at the Odescalchi Castle in Italy, setting the scene for some serious romance. 
In a 2016 interview with W, Hilton revealed that she and Rothschild met during the wedding's cocktail hour. At the time, she had been standing with sister Paris Hilton, who was speaking to a suitor. Rothschild used that as his in: "He walked over an introduced himself. And I was like, 'He's cute, too.'" The two caught up after the dinner ended, and from there, both were smitten. That's not to say their early days as a couple were always easy, though. With Rothschild and Hilton based in London and Los Angeles, respectively, their first year together was spent long-distance. However, as she told W, "Once we decided we really wanted to make this work, we both moved to New York." 
When it came to their fairytale engagement, though, it was straight back to Italy. A source told Us Weekly, "He took her out on a boat ride into the middle of Lake Como and he proposed." Now that's amore!
Years later, they're still living their fairytale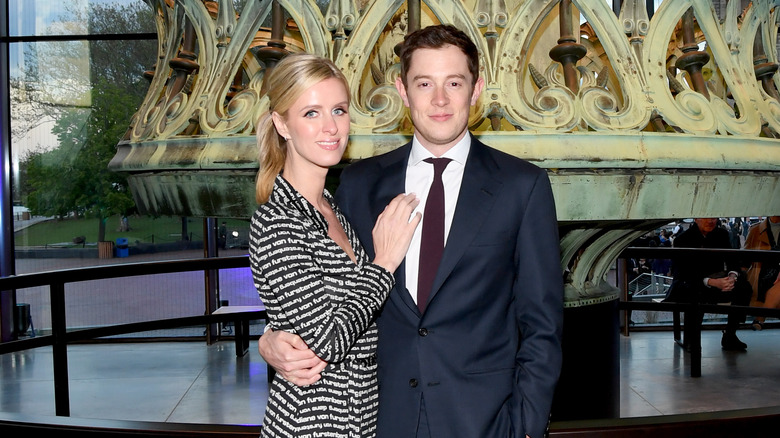 Kevin Mazur/Getty Images
Since their fairytale wedding back in 2015, Nicky Hilton and James Rothschild have been living their happily ever after. 
Just two days shy of their first wedding anniversary, People confirmed that the couple had welcomed their first child, daughter Lily Grace, on July 8. A year later, People revealed that Hilton and Rothschild's second daughter, Theodora 'Teddy' Marilyn joined the family. For a while, the Hilton-Rothschilds were a family of four. However, in February, Hilton shared via Instagram that she was expecting once again. "They say the best things in life come in threes," the heiress quipped, alongside an image of herself cradling a baby bump, clad in a black Self-Portrait minidress. On May 9, she revealed that she was expecting a boy, and on July 5, she announced his arrival. Under a sweet silhouetted image of herself with Rothschild, she shared, "We are officially a party of 5!" 
In the wake of their third child's birth, it seems Hilton and Rothschild are more in love than ever. Days after welcoming their son, Hilton shared a picture of them kissing on their wedding day. "7 years + forever to go," she wrote. The best part about this love story? There's no "The End."