Conrad Hilton Exhibits Bizarre Behavior During Release From Jail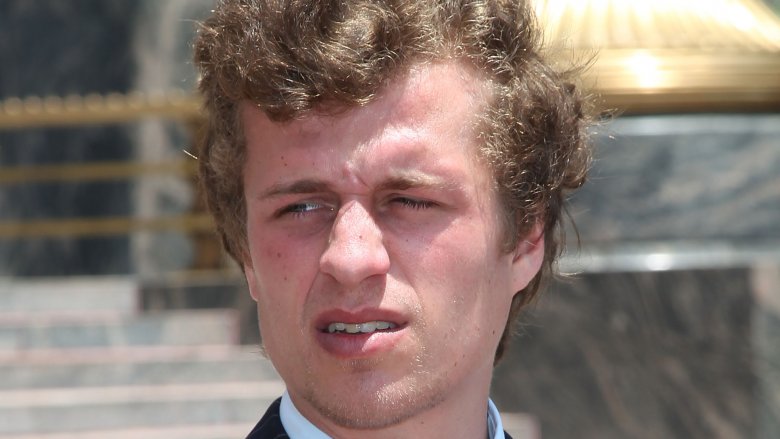 Getty Images
Conrad Hilton's arraignment on May 10, 2017 was nothing short of troubling.
The 23-year-old heir to the Hilton hotel fortune appeared in court to waive his right to a plea and accept a judge's terms for his release from jail.
In a video obtained by TMZ, Hilton can be seen standing behind his lawyer, Robert Shapiro, wearing what E! News describes as "a self-harm prevention smock." Upon learning that he will be released to the custody of his father, Rick Hilton, and immediately transferred to Menninger Hospital in Houston for psychiatric treatment, the younger Hilton begins laughing and mouthing words to people off camera.
At one point he appears enraged and can clearly be seen using profanity, although it cannot be heard. E! News reports that Hilton was mouthing the words "f**k you" and "I hate you" to his mother and father, who were seated nearby during the arraignment.
TMZ reporters who were present in the courtroom confirmed that Hilton also at one point said, "So f***ing gay," which they are calling a homophobic slur.
At the end of the arraignment, Hilton agrees to the terms of his release and gives a brief and strange statement. "Yes, your honor...I'm sorry for disrespecting this entire courtroom and this state and I didn't have sex with hookers," he said according to E! News.
Hilton was apprehended by police after being found in his ex-girlfriend's father's Bentley. He also allegedly tried to break into his ex, Hunter Daily Salomon's house, which violated a restraining order she has against him. Hilton was subsequently charged with grand theft auto and arrested, during which he was caught in another video where he repeatedly calls the arresting officers "f****ts," and yells, "I'm Conrad motherf***ing Hilton, don't you forget it."
Hopefully, Hilton gets the help he clearly needs.