Jennifer Coolidge Goes Way Back With Billie Eilish's Parents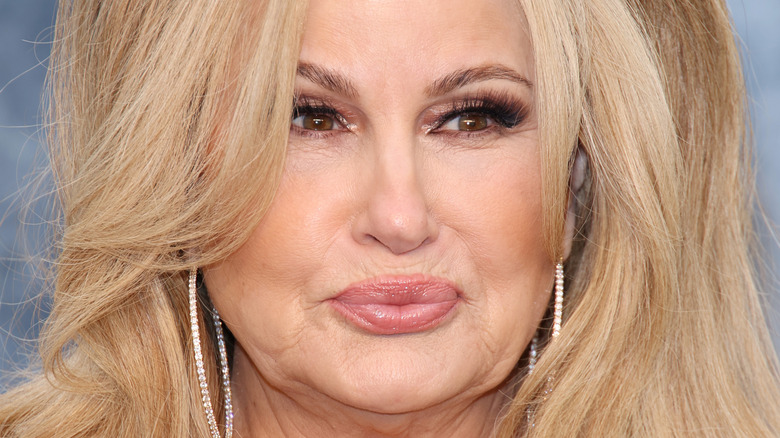 Daniele Venturelli/Getty Images
The preternatural musical instincts of Billie Eilish and her brother Finneas helped the siblings become recording industry phenoms, so when the latter was watching the first season of "The White Lotus," the first thing that caught his attention was its opening music. "Theme song for white lotus is so f***ing good it's crazy," Finneas tweeted.
But did the record producer know that an old pal of his parents was one of the stars of the show? Jennifer Coolidge told Us Weekly that she once considered pursuing a career in music herself after playing the clarinet at band camp, but instead, she went on to become a comedic powerhouse, appearing in "American Pie" and "Legally Blonde," before taking her talent to television. She won an Emmy for "The White Lotus," expertly using humor to make an insanely wealthy, self-absorbed space cadet endearing to viewers.
Many years earlier, when Coolidge was busy honing the skills that would someday make her a comedy icon, she met Finneas and Eilish's parents, Patrick O'Connell and Maggie Baird. Like their kids, they were also involved in the entertainment industry. However, acting, not music, was their source of income before they started struggling to find work and had to find jobs outside Hollywood, according to Rolling Stone. The pair landed small roles on television series including "Friends," "Charmed," and "The West Wing." O'Connell also appeared on Broadway and Baird joined the famed comedy troupe The Groundlings, which is how she made Coolidge's acquaintance.
Jennifer Coolidge attended the couple's wedding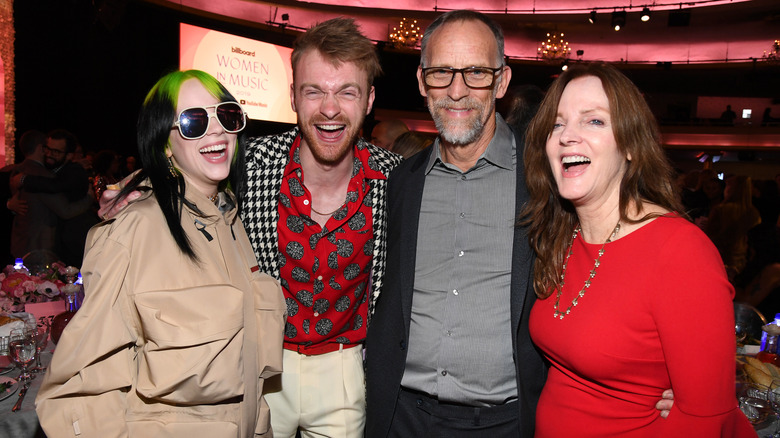 Kevin Mazur/Getty Images
Jennifer Coolidge's hapless character Tanya McQuoid got an operatic ending after being betrayed by more than one "Bad Guy" in "The White Lotus," but Coolidge seemed "Happier Than Ever" after bidding farewell to the series responsible for the Jennaissance. Up next, she had a movie to promote, "Shotgun Wedding," and interviewers naturally asked her a lot of wedding-related questions. Billie Eilish's parents came up in a January 2023 "Hits Radio" interview, when Coolidge was asked to share a memorable wedding experience.
According to Coolidge, her favorite matrimony celebration was a Malibu potluck wedding that took place in a canyon. "I got this invite when I was in this comedy group, The Groundlings," she recalled. Instead of catering, the bride and groom asked their guests to provide the grub, and everyone worked up an appetite by square-dancing. A herd of deer also showed up to watch the bride and groom exchange vows. "It was the most fun I've ever had at a wedding. I go to all these really fancy weddings where people spend millions of dollars, and things like that. But it wasn't equivalent to this ... It was just the most unique, natural wedding," she said. It wasn't until the end of her anecdote that Coolidge dramatically revealed that Patrick O'Connell and Maggie Baird were the couple that tied the knot that day. "They gave birth to two children," she said. "Their daughter is Billie Eilish, and their son is Finneas."
Billie Eilish's mom and Jennifer Coolidge have a Melissa McCarthy connection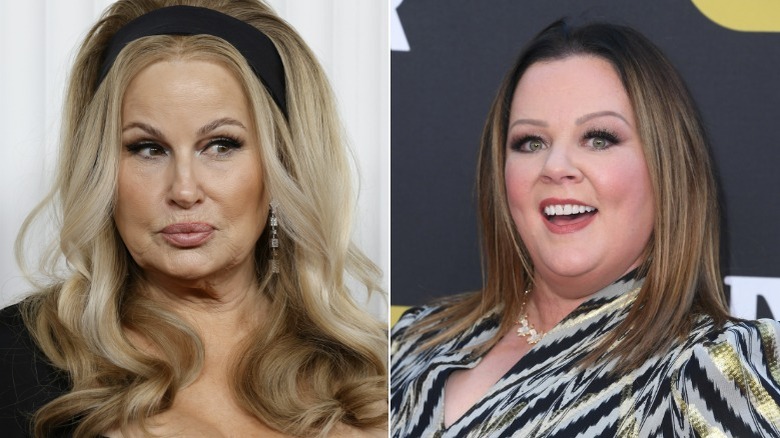 Steve Granitz/Getty & Frazer Harrison/Getty Images
After Jennifer Coolidge told "Hits Radio" that Maggie Baird and Patrick O'Connell's wedding was "the most romantic thing I've ever been to," Baird made sure to return the love on Instagram. "You have always been so wonderful and a huge hearted talent!" she wrote. "Thanks also for shining a light on our 'do it yourself and with great friends' low budget wedding. It was one of the best days of our lives and we are so glad you were there!!"
During their time with The Groundlings, Coolidge and Baird encountered a number of future comedy stars. In his memoir, "Baby, Don't Hurt Me," Chris Kattan recalls falling head-over-heels in love with Coolidge and dating her for over a year. But alas, Baird didn't get an invite to that wedding.
Interestingly, Baird and Coolidge both touched the life of "Bridesmaids" actor Melissa McCarthy when she was a member of The Groundlings. Per Rolling Stone, Baird taught McCarthy for a time, while Coolidge helped her land a movie role. "I was just a student and [Coolidge] was a company member at the Groundlings," McCarthy recalled during a 2021 Q&A at a "Nine Perfect Strangers" screening (via People). "And she contacted a casting director — I didn't know she knew I was alive — and said, 'I think you should see this girl.'" This act of kindess jumpstarted McCarthy's career and is further evidence that the Jennaissance is well-deserved.