Brian Cox's Take On Meghan Markle Is As Harsh As His Succession Character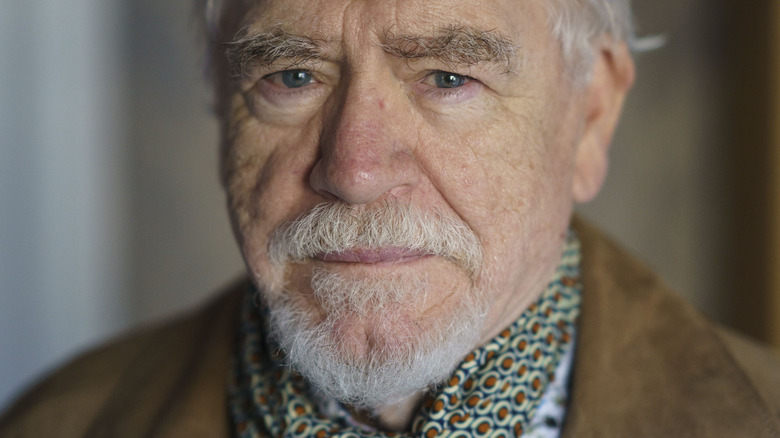 David Levenson/Getty Images
When Meghan Markle began dating Prince Harry in 2016, many thought she was living a royal fantasy, but it actually turned into a royal nightmare. Since joining the royal family, Meghan Markle has faced an onslaught of backlash for every little thing she has done. From breaking traditional norms to departing the royal family, the former "Suits" actor has been at the center of many controversies. Meghan could have never expected the journey she has had since joining the royal family, and it seemed that no matter what she did, nothing was ever good enough. She told The Cut, "... just by existing, we were upsetting the dynamic of the hierarchies."
Throughout her troubling experience, some have supported the Duchess of Sussex, and others have only contributed to the criticism. No matter who it was, it seemed like everyone had an opinion about how Meghan was living her life, including "Succession" actor, Brian Cox.
Oddly, in the past, Cox has been vocal about his support for Prince Harry and Meghan. Just last year, the "Succession" actor told Good Morning Britain, "I don't know what went on (with Harry and Meghan), but something clearly traumatic went on for the pair of them." Cox even shared he felt the Duke and Duchess of Sussex were telling the truth about their terrible journey with the royal family, but since that interview, something has changed. It seems that Cox is no longer on Meghan and Harry's side.
Brian Cox doesn't mince words about Meghan and the royal family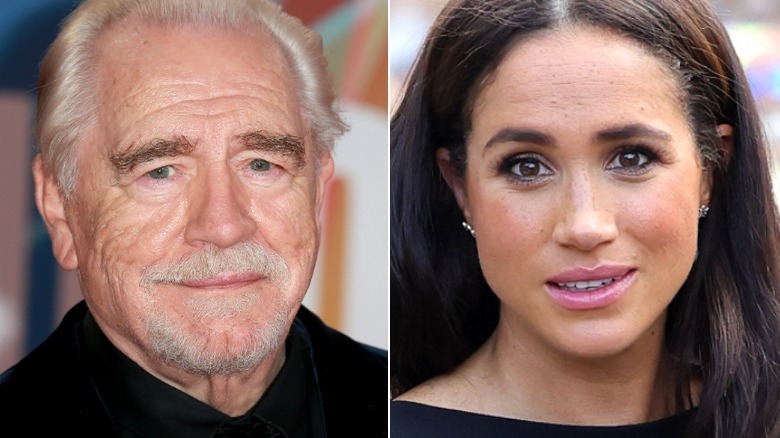 Chris Jackson/Getty & Fred Duval/Shutterstock
Brian Cox is known as the hard-headed patriarch of the Roy family on the hit series, "Succession," and that harsh personality is as tough in real life. The actor shared some choice words about Meghan Markle's journey with the royal family to Haute Living New York. The actor went so far as to say that Meghan "clearly" had "ambitions" when joining the royal family. He said, "The childhood dreams of marrying Prince Charming and all that s*** we see as fantasy that could be our lives in our dreams." Although, it was clearly anything but a dream for Meghan.
Still, Cox truly believes that with a family that has as much history as the royal family, there are certain expectations. He said, "You can't go into a system where somebody's already been trained to behave in a certain kind of way and then just expect them to cut themselves off," he continued, "I mean she [Meghan] knew what she was getting into." 
Cox's scrutiny is much akin to "South Park's" depiction of Meghan, in which the animated show lampooned the duke and duchess' demand for privacy while remaining firmly in the public eye. Cartoons aside, however, it turns out the "Succession" actor isn't much of a fan of the royal family either. He said, "In my opinion, we shouldn't have a monarchy. It's not viable; it doesn't make any sense. F**k it, move on." Cox is simply over all things royal.