Gwyneth Paltrow Sounds Off At Critics Of Her Controversial Eating Routine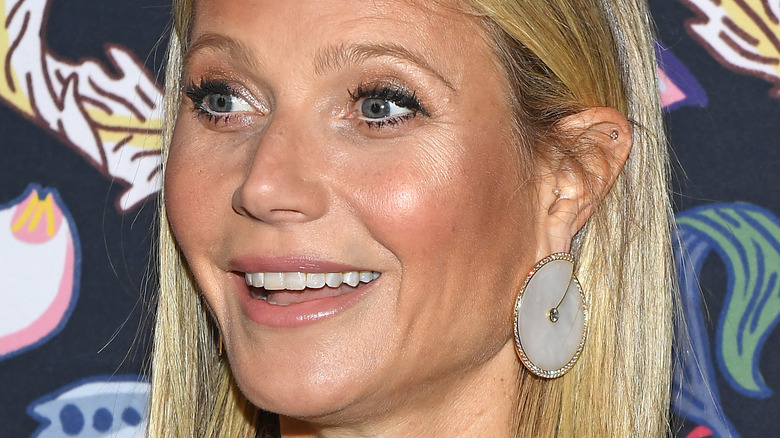 Pascal Le Segretain/Getty Images
When Gwyneth Paltrow opened up about her eating habits, the Goop founder had critics concerned that most of her meals don't subsist of solid foods, or even something goopy, but only the runniest of fluids.
Paltrow is someone who is hyper-aware of everything that she puts in her body. According to the Mirror, in 2011, she told British talk show host Jonathan Ross, "I'd rather smoke crack than eat cheese from a can." But the wellness fanatic's wealth provides her with access to limitless other culinary options — of which she doesn't take full advantage. For the most important meal of the day, Paltrow's menu isn't very varied. "In the morning I'll have some things that won't spike my blood sugar," she said on "The Art of Being Well" podcast, "so I have coffee, I'll have a celery juice with lemon, lemon water." After revealing that this is what sustains her for a one-hour workout and a session in the sauna, she continued, "I really like soup for lunch. I have bone broth for lunch a lot." For dinner, she can finally have something solid, chowing down on meals that consist of veggies, chicken, fish, and select Paleo-diet-friendly carbs.
Paltrow also said that she's a fan of intermittent fasting, which involves avoiding eating for long stretches of time. Some critics, including model Tess Holliday, complained that she's promoting unhealthy eating habits, prompting Paltrow to set the record straight and assure them that she isn't starving herself.
Gwyneth Paltrow finds one junk food acceptable
In response to Gwyneth Paltrow's diet revelations, Tess Holliday argued in a TikTok video, "Bone broth is not a suitable meal." But in a series of videos on her Instagram Stories, Paltrow said that she doesn't survive solely by slurping down stock made from simmered bones and nibbling on salads. "I eat full meals. I also have days where I eat whatever I want, French fries or whatever," she said. In fact, she once told Harper's Bazaar, "French fries are sort of my favorite meal, not that they're a meal, they're a side. But I guess I could eat them for a meal, and I would."
On Instagram, Paltrow further explained that what she said on "The Art of Being Well" wasn't supposed to be health advice; she was just having a conversation with her doctor, podcast host Dr. Will Cole, about an eating plan that has worked for her. According to Paltrow, she has long COVID and has been experiencing a lot of inflammation, so she tries to eat foods that won't exacerbate this symptom.
What Paltrow didn't address were the complaints that bone broth should not be considered a meal (or a soup, for that matter), but maybe less is more when it comes to the actor sharing her food for thought with the world. After all, according to Page Six, she did once say on "Late Night with Conan O'Brien," "I would rather die than let my kid eat Cup-a-Soup."