What Donald Trump's Potential Arrest Means For His Future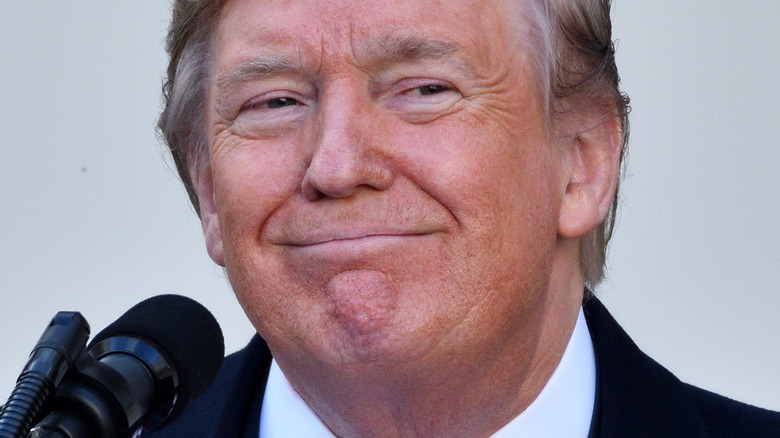 Evan El-Amin/Shutterstock
Former President Donald Trump might be facing criminal charges soon, and he is not particularly pleased about it.
The mega-controversial figure has in past years found himself in the middle of one too many legal scandals. In 2022, it was revealed that the former president was under investigation after thousands of White House documents, including some which were considered classified were found in his Mar-a-Lago residence. And while the Department of Justice is yet to decide whether or not to file criminal charges against him, Trump has denied any wrongdoing and maintained a claim of innocence. But of course, his legal troubles don't end there.
Trump is also currently being investigated for paying $130,000 as hush money to Stormy Daniels, an adult film star whom he allegedly once had an affair with. Given the timing of the payment — one month before the 2016 presidential election — Trump is suspected to have flouted campaign finance laws. And even though he admitted to knowing about the payoff, Trump insists it was not made from campaign funds. He has also since denied having sexual relations with the adult film star. Still, it appears there is no silver lining for the former president as he could as well still be indicted. As his campaign for the 2024 presidential election was just getting off the ground, Trump made a big prediction about his future — one that could have big ramifications for his political career. Here's what 45 had to say about potentially being arrested.
Donald Trump predicts a looming arrest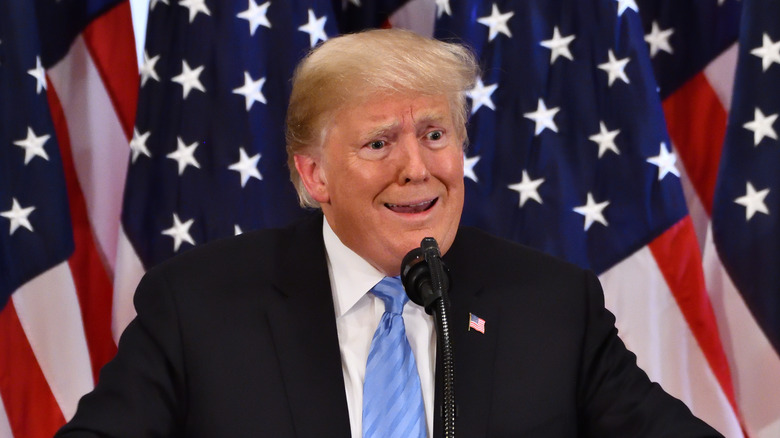 Evan El-Amin/Shutterstock
On March 18, former President Donald Trump took to his Truth Social account to announce his imminent arrest in relation to the ongoing investigation of the Stormy Daniels hush money case. "The far & away leading Republican candidate & former President of the United States of America, will be arrested on Tuesday of next week. Protest, take our nation back!," he wrote in the post.
Insisting on his innocence, the former president threw jabs at the "corrupt and highly political" Manhattan District Attorney Alvin Bragg, whom he accused of leaking incriminating information that has fueled the attention he is now receiving. Further on in his post, Trump left a message for his supporters, asking that they take back the country's justice system by protest against his arrest. This, of course, is not the former president's first time being associated with a protest. Following the January 6 capitol insurrection, Trump faced allegations of encouraging supporters to protest due to his insistence of rigging in the 2020 presidential elections. "President Trump's decision to declare victory falsely on election night and, unlawfully, to call for the vote counting to stop, was not a spontaneous decision. It was premeditated," a report by the selected panel investigating the incident stated. 
According to the BBC, Trump could possibly be barred from holding public office in the future if found guilty, which certainly puts a wrench in his plans to run for president again. But this is, however, not the only consequence the former president could possibly face.
Donald Trump would undergo normal criminal proceedings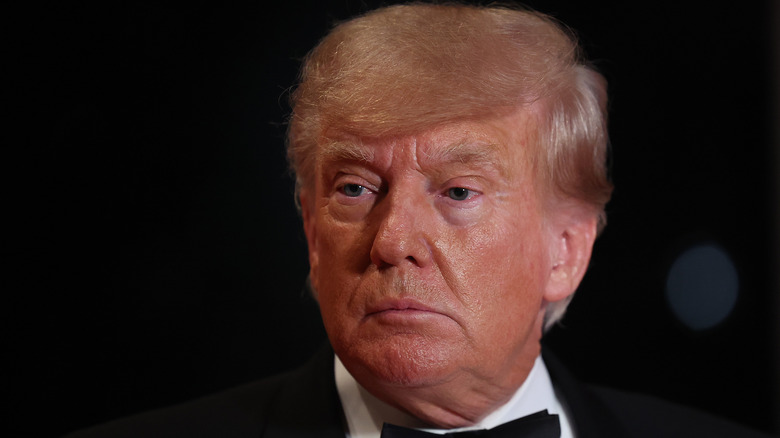 Joe Raedle/Getty Images
Despite his current presidential ambition, the Department of Justice has no plans to hold off on its investigations against Donald Trump. "I don't think the department is going to hesitate as a result of Trump nominating himself and anointing himself as the first candidate in the 2024 election," Michael Weinstein, a former prosecutor with the DOJ, told AP. "I just think they will see that as him trying to game the system as he's done very successfully in the courts." And in case you've ever wondered if an indictment is enough to make Trump give up his 2024 political aspirations, the answer is no. Earlier in March, the former president reportedly announced his decision to continue campaigning — even if he gets slammed with criminal charges.
As with many other white-collar cases, Trump is expected to turn himself in at a New York Police station following the indictment. Failure to do so would result in an eventual arrest — but disclaimer, he might not be in handcuffs as reported by Business Insider. If found guilty in the Stormy Daniels case, Trump could get a maximum prison sentence of four years. With a guilty verdict on all four charges in the January 6 insurrection case, the former president, however, faces up to 40 years in prison. 
What are the odds of him serving time though? Only time will tell. "He's done. I'm not sure he's going to escape jail," Professor Allan Lichtman once told The Guardian of Trump's legal woes.