Miles Teller And Tom Cruise Have Grown Close Off Screen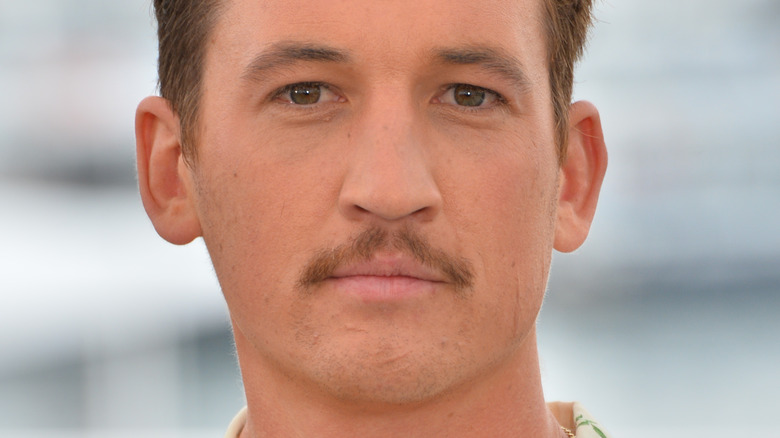 Featureflash Photo Agency/Shutterstock
Before appearing in "Top Gun: Maverick," Miles Teller had an impressive filmography, but being cast in the mega-blockbuster earned him one of his most iconic roles. Teller took on a legacy character as he played, Bradley "Rooster" Bradshaw — the son of Nick "Goose" Bradshaw from the 1986 installment in the franchise. Although originally the "Whiplash" star had misgivings about being fit for the demanding job, Teller felt confident when Tom Cruise gave his approval. "So I just felt like if Tom thinks I'm the right guy, then I think I'm the right guy too," Teller told The Hindustan Times in May 2022. While working alongside the "Mission Impossible" actor, Teller picked up a few tricks of the trade. "His work ethic was something that I found really inspiring."
Even though Cruise had his sights on Teller to be his co-star in the long-awaited sequel, the "Risky Business" star wanted to ensure Teller and the other younger actors could endure the physical demands. "I was very clear in the beginning: 'This is what it's going to be like. It's not for everyone,'" Cruise told People in May 2022.
Enduring the grueling training and G-force pressure while in the jets was understandably taxing on the cast. Cruise, who is famous for doing his own stunts, had familiarity with aviation and mentored his new castmates. "Well, it's incredibly helpful," Teller told Pinkvilla in May 2022 about receiving Cruise's instructions. "And it bonded us with him in a way that was really unique." That bond remained well after filming finished.
Miles Teller's phone calls to Tom Cruise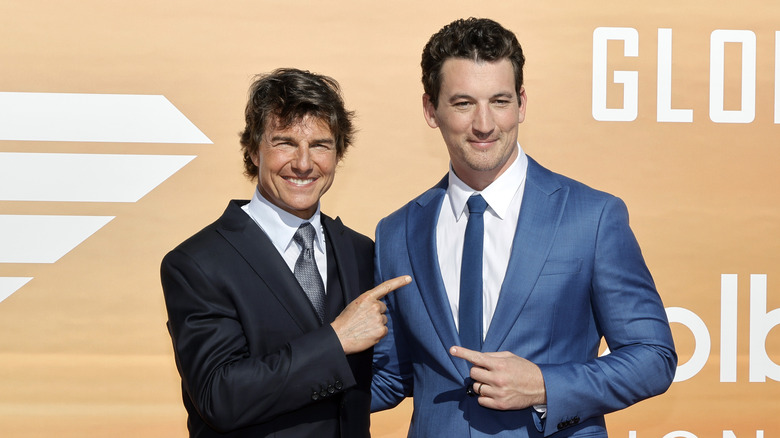 Kevin Winter/Getty Images
The notoriety that came from starring in "Top Gun: Maverick" — one of the highest-grossing films of all-time — was only one of the perks for Miles Teller. Another was the camaraderie he shared with Tom Cruise. "When we first started getting going and as we developed a personal relationship outside of this filming, Tom told me, he said, 'Miles, call me if you need anything,' and he meant it," Teller told E! News in May 2022. In fact, the "War Dogs" actor found out the offer from Cruise was not an empty gesture. "And there's been many times just in my life or career that I've called Tom for advice, and he answers every time," Teller continued. At times, the "Jerry Maguire" actor would get so worked up speaking about movies for hours that Teller would be forced to end the conversation.
Teller not only reached out to the veteran film star to discuss the industry, but he also sent Cruise a "happy birthday" text after the star turned 60 years old in July 2022. After the wild success of "Maverick," fans wondered if Teller and Cruise would team up for another sequel. According to the "Bleed for This" actor, another installment in the franchise was a possibility but was out of his hands. "It's all up to Tom. I've been having some conversations with him about it," Teller told ET in July 2022.
After the two actors bonded on set, Teller felt comfortable enough to crack jokes about Cruise.
Tom Cruise's hilarious response to Miles Teller's injury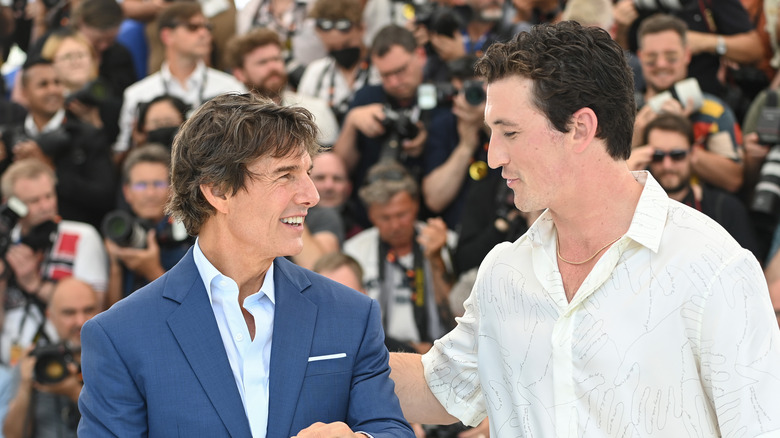 Pascal Le Segretain/Getty Images
On the heels of the success of "Top Gun: Maverick," Miles Teller was asked to host "Saturday Night Live." During his monologue, the "Footloose" actor made a crack about working alongside Tom Cruise. "We both pushed ourselves to the absolute limit for this movie ... He did his own stunts and I grew my own mustache," Teller joked in October 2022.
Cruise is notoriously serious while on set, but he shared a moment of levity with Teller during filming. While making the press rounds to promote "Maverick," Teller revealed he unexpectedly had an adverse reaction to flying in the jets, as jet fuel entered his bloodstream. Teller went to see a doctor one day after filming, and the next day on set had a hilarious interaction with the "Minority Report" star. "I was like, 'Well, Tom, it turns out I have jet fuel in my blood,'" Teller recalled while appearing on "Late Night with Seth Meyers" in June 2022. "And without even skipping a beat, Tom just goes, 'Yeah, I was born with it, kid.'"
After seeing firsthand how dedicated Cruise is as an actor, Teller believed that his "Maverick" co-star should have been given an Academy Award best actor nomination for his tireless work. Teller compared it to other actors being applauded for changing their bodies or learning specific skills for roles."We like to applaud effort, and I think Tom does it so seamlessly that you don't necessarily realize," Teller told the Associated Press in March 2023.