Tom Cruise Celebrates Top Gun: Maverick's Success At The Box Office In An Expected Way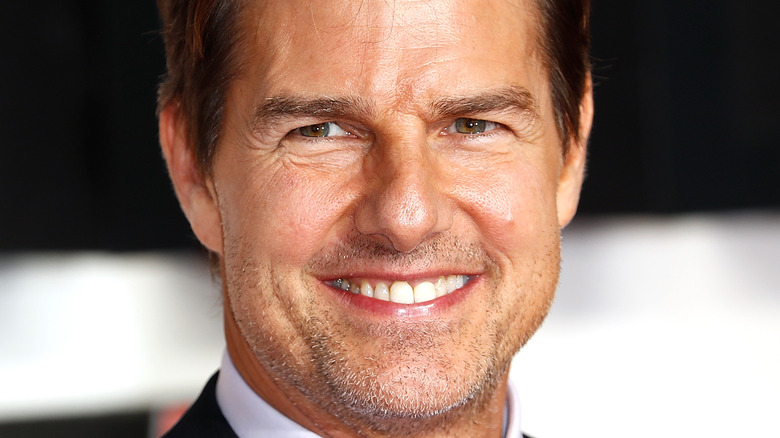 John Phillips/Getty Images
Leave it to Tom Cruise to celebrate the success of his film in the best way he knows how: taking it to the extreme.
"Top Gun: Maverick," the much-awaited sequel to Cruise's '80s smash hit, "Top Gun," has exceeded all expectations at the box office. Variety previously reported that the action flick had surpassed "Black Panther" as the fifth-highest-grossing film in the U.S. after it bagged over $700 million in ticket sales. If you take into account international sales, the film has brought in nearly $1.5 billion worldwide, according to Box Office Mojo. CNN also notes that the movie topped the box office during both Memorial Day and Labor Day, the first film to achieve such a feat.
Following the film's record-breaking success, Cruise took to Twitter to express his gratitude for those who watched it. "Thank you to everyone who saw #TopGun: Maverick and helped make it a historic opening weekend," he tweeted in June. A few weeks later, he took a moment to appreciate those keeping the film industry alive. "To all the films in release, to all the studios, and to all the exhibitors: congratulations. To the audience: thank you for venturing out and allowing us to entertain you. See you at the movies," he wrote. But it turns out tweets weren't enough for Cruise. Half a year since "Maverick" hit the cinemas, he thanked his fans in the most Tom Cruise way possible.
Tom Cruise takes his thanks to the skies
Tom Cruise continues to prove that no mission is impossible for him. As a thank you to the fans who made "Top Gun: Maverick" a box office success, the actor took to the skies to deliver a message that was anything but vanilla. 
"I didn't want the year to end without thanking you all for coming out to the theatres and thank you for supporting 'Top Gun: Maverick,'" the actor said while aboard a small plane in a short clip. Christopher McQuarrie, who served as writer and producer for the film and the director of both installments of "Mission: Impossible – Dead Reckoning," was also present, telling Cruise that they've "got to get this shot." The actor agreed and proceeded to leap from the plane while continuing his message. "Where was I? Oh yeah! Thank you for supporting 'Top Gun: Maverick'! As always, thank you for allowing us to entertain you. It truly is the honor of a lifetime," the actor said as he plunged toward the ground. Before the clip ended, Cruise took a moment to spread some holiday cheer, "You have a very safe and happy holiday. We'll see you at the movies!"
The video cut to a promo announcing that "Maverick" will be available on Paramount+ starting December 22. But will there be another installment? It hinges on Cruise's decision, apparently, at least according to his co-star Miles Teller. "That would be great, but that's all up to TC," he said in an interview with Entertainment Tonight in July. "It's all up to Tom. I've been having some conversations with him about it. We'll see."