How Tina Fey Influenced Jennifer Lawrence To Change Her Political Stance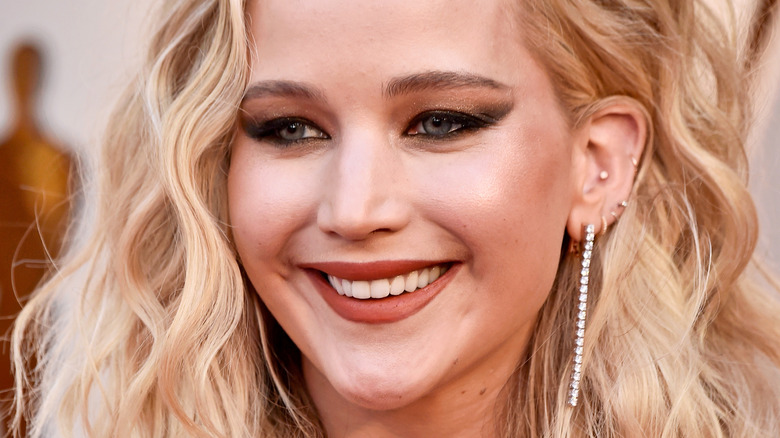 Frazer Harrison/Getty Images
Hollywood is a lot like "The Hunger Games." On its surface, the popular film franchise based on Suzanne Collins' books series is your standard dystopian action fare with the love triangle trope thrown in to make the story more appealing to teen girls who loved "Twilight." But Jennifer Lawrence's character, Katniss Everdeen, isn't just a badass heroine who has to choose between two men who love her — she is also a political pawn. Lawrence has come to realize that the industry she works in is its own sort of political game. "Twenty-five percent of America identifies as liberal and I need more than 25 percent of America to go see my movies. It's not wise, career-speaking, to talk about politics," she told Vanity Fair in 2018.
To talk politics or not to talk politics is a choice that all celebrities have to make because they'll inevitably be asked about their views at some point. Some stars are unconcerned about appearing bipartisan, such as "Saturday Night Live" icon Tina Fey. In 2017, she took aim at then-president Donald Trump during the ACLU's "Stand for Rights" benefit. "Earlier tonight in what is surely an April Fools' joke, the president proclaimed that next month will be National Sexual Assault Awareness and Prevention Month," she said. "So, now we know what he gave up for Lent. That's good."
According to Lawrence, the comedian's political humor got her to rethink her political affiliation years before Fey's "30 Rock" co-star Alec Baldwin parodied Trump on "SNL."
Jennifer Lawrence has voted Republican before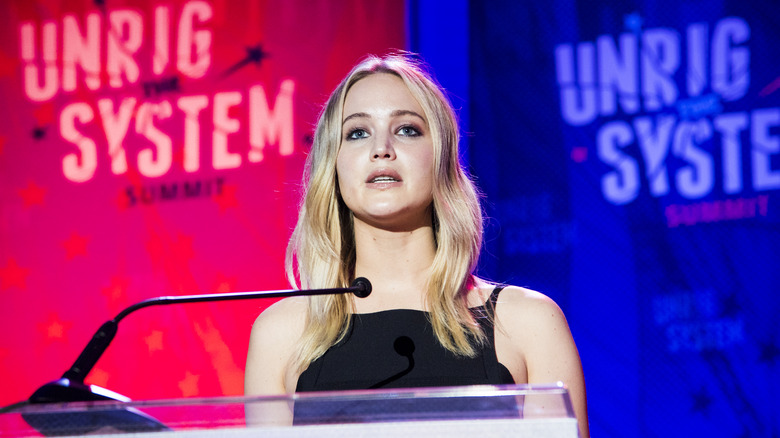 Erika Goldring/Getty Images
In a 2020 essay for V Magazine, Jennifer Lawrence made it clear who she was supporting in that year's presidential election. "I would consider this upcoming election the most consequential of our lifetime," she wrote. "I'm voting for Joe Biden and Kamala Harris this year because Donald Trump has and will continue to put himself before the safety and well-being of America." However, there was a time when she didn't support the Democratic nominee. On the "Absolutely Not" podcast, she admitted to voting for John McCain instead of Barack Obama in the 2008 presidential election. "I was a little Republican," she said, explaining that this was simply the political affiliation of her family members in Kentucky. But she credits an episode of "30 Rock" for making her question her political stance.
Lawrence was 16 at the time, so the episode would have aired in 2006. Per Vogue, Tina Fey's character, Liz Lemon, stated something like, "I'm not a crazy liberal. I just think people should drive hybrid cars." Lawrence found that she agreed with this sentiment, and as the actor gained wealth, she realized that she also agreed with the idea that the wealthy should pay their fair share of taxes for the good of society.
Trump's presidency made Lawrence even more passionate about politics, and she told Vanity Fair that it's what made her decide to quit worrying whether being more vocal about her views would alienate some movie fans.
Jennifer Lawrence had nightmares about a right-wing political commentator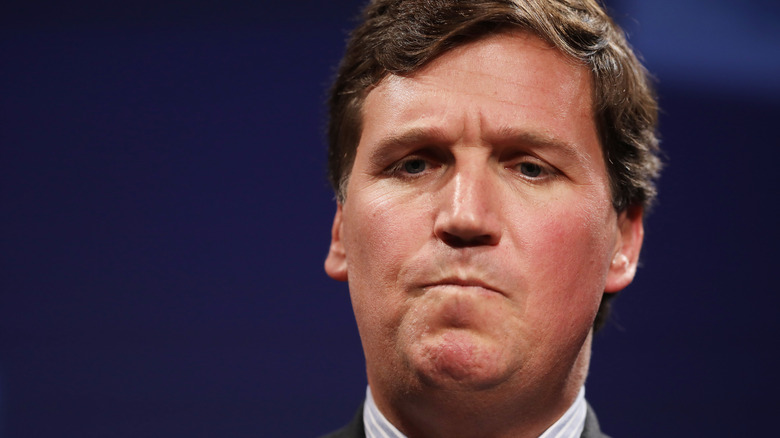 Chip Somodevilla/Getty Images
Jennifer Lawrence's comments about politics and Republican politicians have caught the attention of some prominent figures on the far right. In a 2017 interview with The Hollywood Reporter, she revealed that she knows exactly what she would say if she ever encounters Donald Trump in the flesh. "I've got a pretty good speech. And it ends with a martini to the face," she said. In response, the former president's son, Donald Trump Jr., fired back with a cryptic tweet that read, "I'm pretty sure that's not how it would end..."
Lawrence is also no fan of Fox News. She seemed to suggest that her family members in Kentucky are regular viewers and told Vogue that one of the network's commentators, Tucker Carlson, gives her nightmares. "I just worked so hard in the last five years to forgive my dad and my family and try to understand: It's different. The information they are getting is different," Lawrence said. On his show, "Tucker Carlson Tonight," the entertainer gloated about haunting Lawrence in her sleep, seemingly missing the part where she revealed that his presence was unwanted and terrifying. "Maybe it's the sexy glasses," he joked.
While they might be on different sides of the political spectrum, Carlson and Lawrence have something in common: their dislike of Trump. In a text that was produced in Dominion Voting Systems' defamation lawsuit against Fox News, Carlson confessed (via BBC News), "I hate him passionately."