How The Olsen Twins Kicked Off Evan Peters' Hollywood Career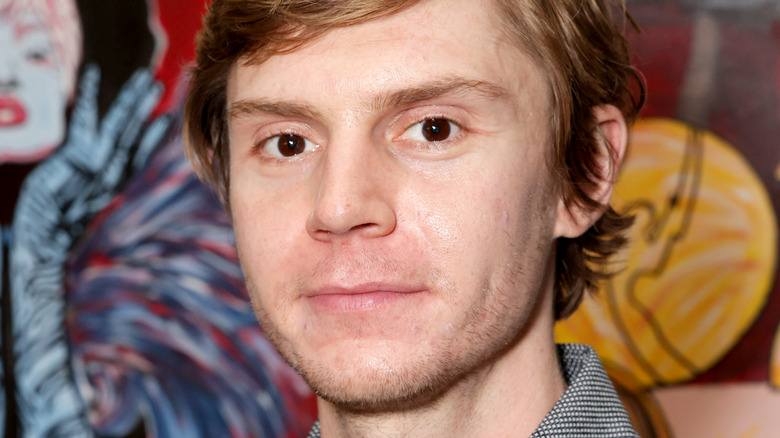 Tiffany Rose/Getty Images
Before Evan Peters became the reigning scream king of the "American Horror Story" franchise and chilled viewers with his portrayal of a real-life serial killer in "Dahmer," he was just a kid growing up far away from the bright lights of Tinseltown.
Peters was born in St. Louis, Missouri. Speaking to W magazine, he recalled being a big fan of Chris Farley movies and the musical stylings of Vanilla Ice, Kris Kross, and MC Hammer, confessing that he even rocked the parachute pants popularized by the "Can't Touch This" rapper. But while Peters possessed a killer sense of style growing up, he didn't catch the eye of someone who saw his raw star power until he packed his bags and headed to — nope, not Hollywood — Michigan as a teenager in 2001. He used the Yellow Pages to find somewhere to start taking acting classes. "I was going to a local modelling and talent agency there and was doing an acting class, and a photographer saw me and asked if I wanted him to put me on tape for a manager he knew of in L.A.," Peters told Hero. That tape was his ticket to Hollywood.
But in some other alternate universe out there in the multiverse, if Peters had never become a fan of the Olsen twins, maybe the "WandaVision" star never would have been discovered.
Evan Peters was a fan of an Olsen twins sitcom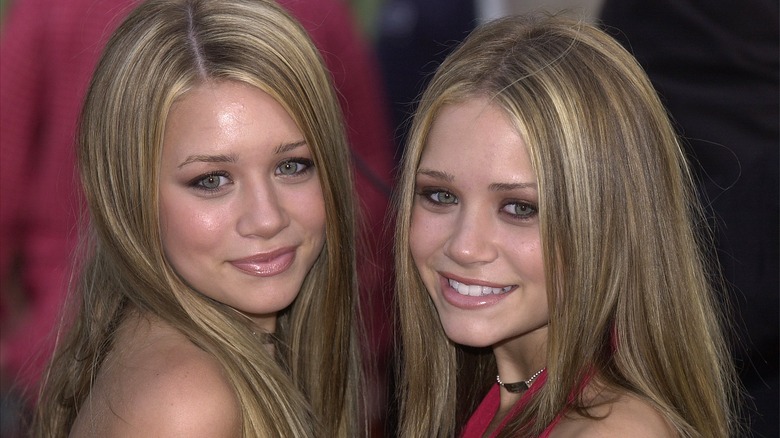 Vince Bucci/Getty Images
After he'd been working in Hollywood for a while, Evan Peters ended up dating Emma Roberts, a former child star whose own acting career took off just a few years before his did. But he told W magazine that another pair of actors who grew up in the spotlight, "Full House" icons Mary-Kate Olsen and Ashley Olsen, were the young thespians who made him desperate to become an actor himself. Admitting that both twins were his first famous crushes, he said, "They kind of got me out to L.A. in a way, because I was like, 'I gotta meet 'em!'"
Peters told Hero that he was a fan of the twins' Fox Family/ABC Family sitcom "So Little Time," which aired from 2001 to 2002. On the show, the Olsens played sisters who split their time between their separated parents while doing normal teen stuff such as going to school, crushing on classmates, and learning to drive.
Aside from meeting the Olsens, one of Peters' other big goals when he first started acting was to someday get his own Disney Channel series. "I was a big fan of Shia LaBeouf and Even Stevens," he told W. While he never did get his own show, from 2004 to 2005, Peters had a recurring role on "Phil of the Future" as Seth Wosmer, one of Phil's (Raviv Ullman) friends. He also appeared in the Disney+ series "WandaVision."
Evan Peters watched the Olsen twins while working with Elizabeth Olsen
Evan Peters played the mutant Quicksilver in three "X-Men" movies between 2014 and 2019, and he reprised his role as the speedy superhuman — sort of — when he joined the cast of "WandaVision" in 2021. He and the Olsen twins' sister, Elizabeth Olsen, had to act like they had a strong sibling bond, and their characters' interactions often had the surreal feel of a sitcom. Speaking to Variety about how he prepared for his role, Peters said, "I like to read stuff, watch stuff, get references to get into that headspace. When I was in Atlanta [for 'WandaVision'] it was 'Full House' and 'Malcolm in the Middle.'" So he was watching Mary-Kate Olsen and Ashley Olsen act as toddlers while working with their adult sister. That had to put Peters in the right uncanny frame of mind to star in a show about a witch who can manipulate reality and make her world resemble that of "Full House."
According to Elizabeth, she had a blast playing Peters' sister. "Working with Evan playing this version of Pietro [Quicksilver] was just so fun and weird and funny," she told Variety. She didn't reveal whether she introduced Peters to his two big childhood crushes, and unfortunately for the Olsen twins fan, he likely won't get the chance to work alongside them — the last time one of the twins acted was when Mary-Kate Olsen appeared in the movie "Beastly" in 2011.