What We Know About Frances McDormand's Son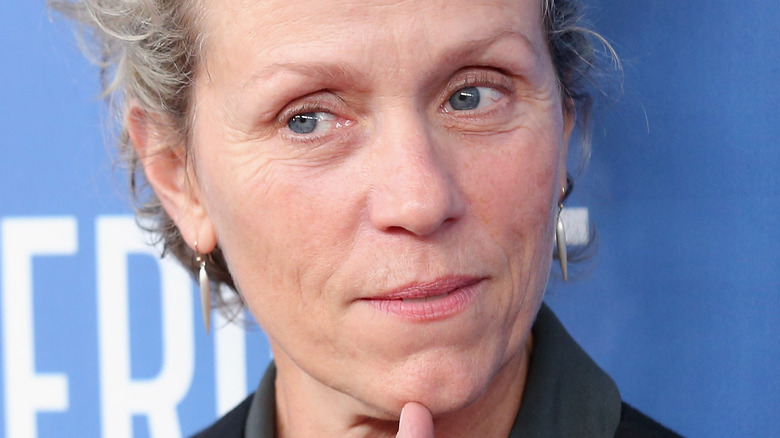 Jemal Countess/Getty Images
With nothing less than a Tony, two Emmys, and four Oscars under her belt, Frances McDormand is one of the biggest names in the film industry. But McDormand happens to be lucky in work and in love. While actors tend to have a long Wikipedia entry under "personal life," McDormand's consists of exactly two sentences. That's because McDormand has been happily married to Joel Coen since 1984 and that's that.
Even before meeting Coen, McDormand knew she wanted a family. "I had always, always, from early adulthood, wanted to be a mother, and I really yearned for that," she told The Times in 2017. "It was a physical ache in my groin." The journey wouldn't be easy, though. Soon enough, McDormand and Coen learned they couldn't conceive naturally. "We tried, but nature didn't come through," she said. She could have opted for treatments, but ultimately decided against it. "Infertility was a different thing, and it was kind of like, from a woman's point of view, becoming a science experiment — and I really didn't want to become a science experiment," she explained. "I wanted to become a parent."
And she did. In 1995, McDormand and Coen adopted Pedro, who has taught them a thing or two about what it means to be a parent. "As a mother, you live on the edge of disaster," McDormand, who herself is adopted, told the Belfast Telegraph in 2018. Despite being the son of a Hollywood power couple, Pedro has carved his own path.
Pedro McDormand Coen hails from South America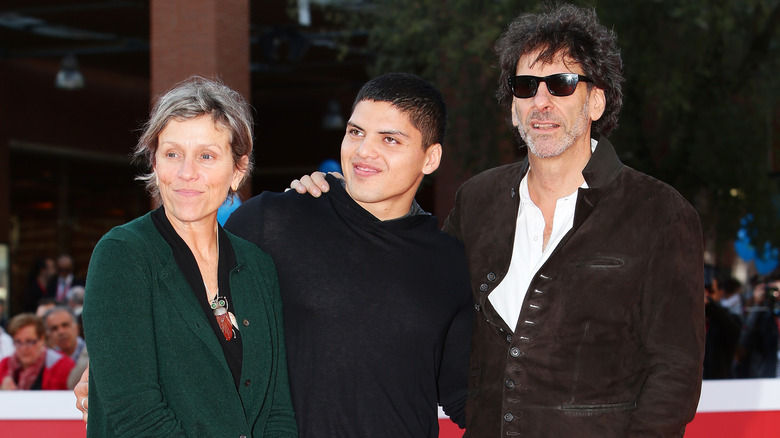 Vittorio Zunino Celotto/Getty Images
Frances McDormand and Joel Coen adopted Pedro McDormand Coen when he was still a baby. "I didn't give birth to my son, I met him at six months old, but from the minute I held him and smelled him, I knew it was my job to keep him alive," McDormand told the Belfast Telegraph. Pedro hails from Paraguay, a place he still holds close to his identify. In fact, he has the country's flag on his Instagram bio and marked permanently on his flesh. "Rep rep rep," he captioned an Instagram photo that shoecases his arm tattoo. 
Pedro opted to explore a career that veered from that of his parents. Between 2014 and 2016, he studied athletic training at Ithaca College and embarked on a career as a personal trainer, The New York Times reported in 2017. However, Pedro has shown he has many interests. Between 2019 and 2021, he worked in public relations before becoming a trainee at United Talent Agency, according to his LinkedIn. But McDormand and Coen did influence some of his recent decisions.
Around 2017, Pedro started working as a grip on some of Coen's projects, the NYT noted. He also dabbled in acting, with minor roles in "Triple Frontier" and "Myles Raven." Besides, Pedro is also a fashion enthusiast. It was on Pedro's suggestion that McDormand rocked Jerry Lorenzo's Fear of God for her memorable January 2021 Vogue cover. "Shopping is what he and I do together," McDormand said.
Pedro McDormand Coen is close to both his parents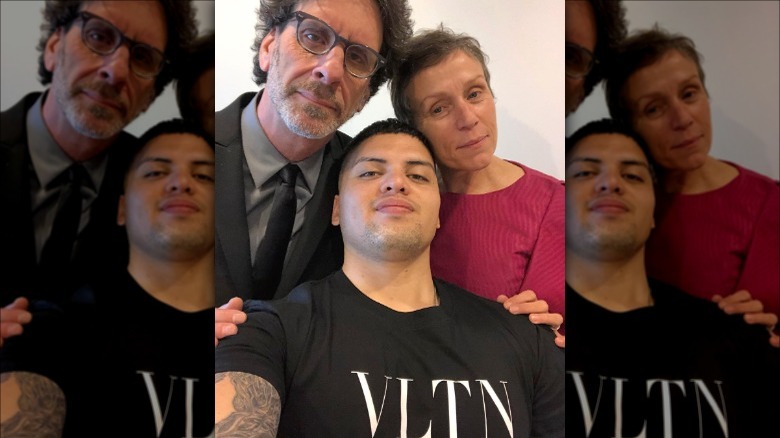 Pedro McDormand Coen is equally close to Frances McDormand as he is to Joel Coen. The only child often shares the bond he has with each of them on Instagram. In March 2018, he uploaded a photo of himself and McDormand touching foreheads together at the Vanity Fair Oscar Party, which he paired with the caption, "Grounding." The following year, he showed his mother's goofy side as they struck a silly pose side by side.
He doesn't let special dates slide, either. "Happy #mothersday to the queen," he celebrated in 2022, sharing a picture of McDormand on the set of Coen's 2021 "The Tragedy of Macbeth." The same is true for his father. "50 percent of my upbringing. Legend. Scholar. Mentor. Father. Friend," Pedro captioned an October 2021 photo of himself with Coen. Pedro's bond with Coen has been strong since he was little.
McDormand went as far as to contend that Pedro and Coen's relationship is one of her life's big fulfillments. "The reason I was born was to introduce Joel and Pedro together," she told the Tampa Bay Times in 2000. "The first time I saw them together I knew that's why I was born." When Pedro became of age, McDormand took it hard. Thankfully, working on "Olive Kitteridge" helped her stay sane, she told The Times. But Pedro made sure to stay close to home. "I run into him on the street, which is so fantastic," McDormand said.