The Medical Reason Why Dance Moms' Abby Lee Miller Uses A Wheelchair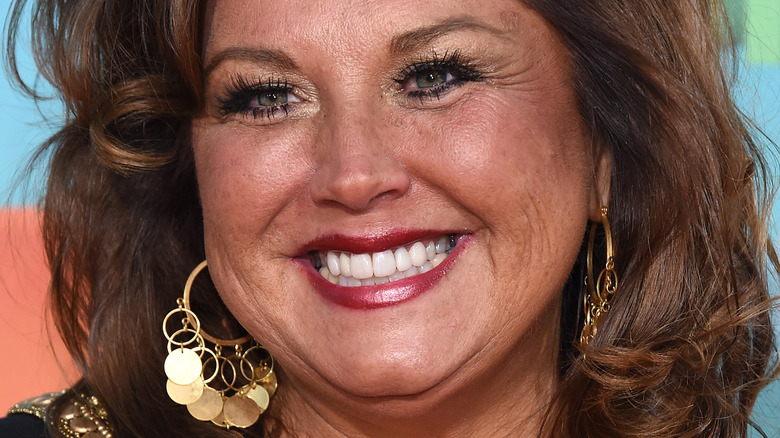 DFree/Shutterstock
Throughout her run on "Dance Moms," Abby Lee Miller provoked an overwhelming amount of anxiety in her young dancers and their overbearing mothers. If the instructor's prodigies didn't point their toes during a routine, Miller would explode in a fit of rage. And who could forget the countless fights she'd get into with the mothers of the series? The fear was palpable, prompting both co-stars and viewers to label Miller as one undeniably harsh teacher.
The "Dance Moms" diva brought the drama both on-screen and off, as Miller ended up going to prison for financial fraud. Following her sentence, she went to a halfway house for a couple months and was released in May 2018, according to Deadline. In the midst of all of that, Miller dealt with some alarming health issues. That month, she took to Instagram to share an update. She wrote, "TIMES UP!!!! So is my sentence!!! Now I have to handle the aftermath/ treatment/ physical rehabilitation of 10 hour emergency spine surgery to remove a mass from strangling my spinal cord and the horrible severity of what that mass turned out to be!" Due to major health complications, Miller ended up being confined to a wheelchair.
Abby Lee Miller has Burkitt lymphoma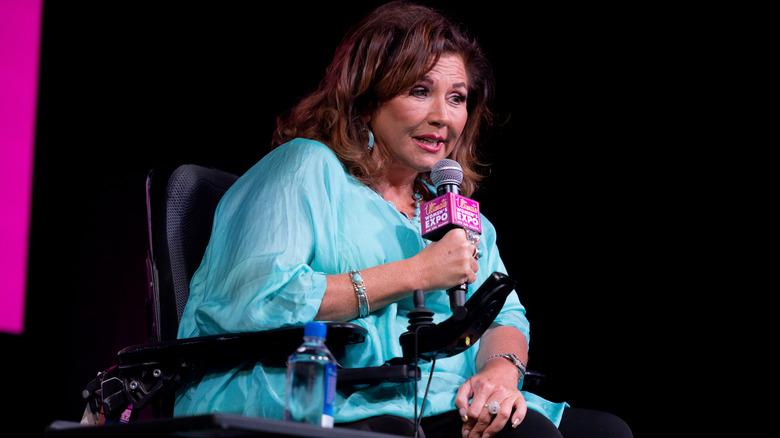 Marcus Ingram/Getty Images
In 2018, Abby Lee Miller had to start using an electric wheelchair, per People. According to The U.S. Sun, the reality TV personality is paraplegic. She suffers from Burkitt lymphoma, a rare form of non-Hodgkin's lymphoma that impacts her spinal cord. Miller received the diagnosis following surgery for what was initially thought to be a spinal infection.
In April 2022, Miller took to Instagram to recall her final days of walking. She shared two photos of her face in seemingly gut-wrenching pain, detailing her tragic story alongside it. In the caption, she noted that April 13, 2018 was the last time she walked. She wrote, "On Friday the 13th, 2018 techs had to remove me from the imaging machine after 15 minutes because my arms & legs were flailing about uncontrollably!" From that point on, things only got worse. Miller added, "Over the next 24 hours my blood pressure dropped to 23 over 17, my Kidneys started to fail, and I became paralyzed from the Neck down. It was too late to transfer me...Emergency surgery had to be performed...I have never walked on my own again."
Abby Lee Miller has had some wheelchair accidents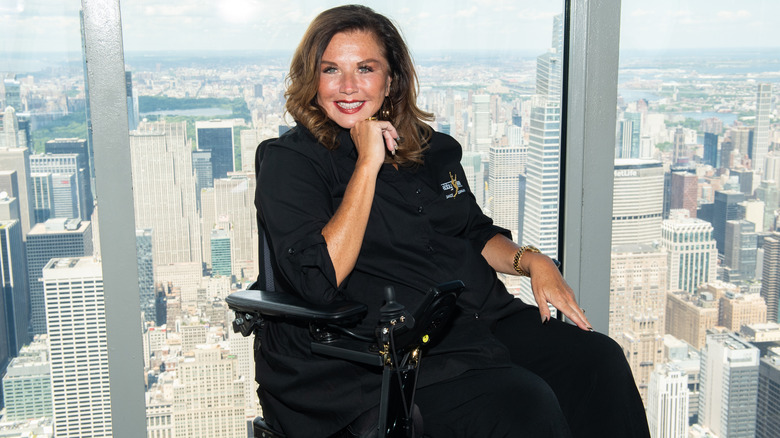 Noam Galai/Getty Images
Abby Lee Miller has faced some scary challenges regarding her wheelchair. In 2022, a hotel bathroom door at the Hampton Inn & Suites reportedly collapsed on her, causing her to be trapped in her wheelchair for several minutes, per People. After two employees hoisted the door off of her, she was rushed to the hospital. Apparently, she suffered sustaining injuries, and attended physical therapy following the accident. Miller accused the staff of ignoring her "accessibility needs when she contacted the front desk for assistance." She also alleged that she couldn't use the laundry room, as it was not wheelchair accessible. On top of that, she claimed that her "path of travel" was obstructed by housekeeping carts sitting in the hallways. The "Dance Moms" star ended up suing the hotel for millions of dollars for emotional distress, negligence, unlawful discrimination, discrimination against individuals with disabilities, and false imprisonment.
Unfortunately, this wasn't the only time Miller struggled with her wheelchair publicly. Back in 2019, she denounced American Airlines for failing to assist her when she fell while getting into her wheelchair, per Today. According to her, she wasn't given the proper attention and care and had to ask someone to reach the paramedics. In a now-deleted Instagram post, Miller wrote that the transfer "should've happened on the bridge like usual and not in front of a hundred people waiting to board." American Airlines issued an apology and gave her a full refund.