Oprah Takes Controversial Excursion On Latest Vacation With Gayle King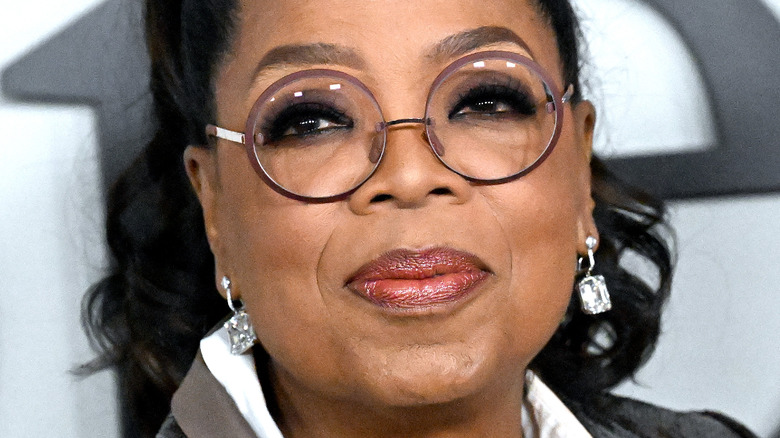 Albert L. Ortega/Getty Images
Besties for the resties Oprah Winfrey and Gayle King are known for doing life together, whether embarking on cross-country road trips, celebrating each other's career wins, or even launching their own video series, aptly titled "The OG Chronicles." You name it, they've done it... together. "Something about this relationship feels otherworldly to me, like it was designed by a power and a hand greater than my own," Oprah revealed in the August 2006 issue of O, The Oprah Magazine about her longstanding friendship with King. "Whatever this friendship is, it's been a very fun ride — and we've taken it together."
Recently, however, the famous gal pals took an extravagant vacation to Jordan and embarked on a very different ride — on camelback. "We visited the site where John the Baptist baptized Jesus, Petra and all its fascinations, camels, and the spot where the big boulder comes rolling out of Indiana Jones," the queen of all media gushed in an Instagram post about the once-in-a-lifetime experience, along with a photo of herself proudly perched atop a camel's back. But speaking of camels... 
Oprah posed while riding on a camel's back
Uh-oh... or should we say uh-O?
Shortly after Oprah Winfrey posted a photo from her exotic trip with bestie Gayle King, complete with historical sightseeing and camel rides, many Instagram users couldn't help but point out one little detail: riding a camel on vacation is controversial and frowned upon by many. "Love you to pieces. But pls stop riding animals. Check the piece about elephants distorted backs from years of abuse. Pls pls stop," one user pleaded. Meanwhile, another wrote, "I wish the camels weren't so mistreated. Beasts of burden, often used in tourism, have it tough worldwide. Looks like a lovely trip." But don't just take their word for it. According to PETA, a nonprofit organization that advocates for the ethical treatment of animals, using a camel as a means for rides "bears no resemblance to a natural existence." It should be noted, however, that the Born Free Foundation argues that there's no evidence to support that riding a camel is harmful to them.
Alas, this isn't the first time Oprah has landed herself in hot water, and probably won't be the last. But as she once famously said, "You get to know who you really are in a crisis."