Who Are Chance The Rapper's Two Daughters, Kensli And Marli?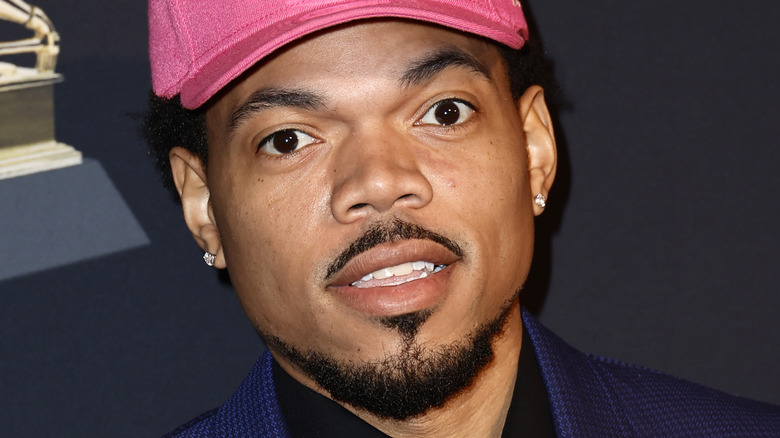 Frazer Harrison/Getty Images
Chance the Rapper made history in 2013 when at just 23, he became the first artist ever to win a Grammy for a streaming-only album thanks to his acclaimed debut, "Coloring Book." The fact that he wasn't even signed to a label was also historic and, since then, the Chicago native has remained uncompromising in his beliefs. Despite eventually inking a deal with Apple Music, he's adamant he's still independent, and most would agree.
But it's not just his career that's impressive. Chance's personal life has also been an inspiration to others as the rapper has been honest about his struggle with anxiety and living with PTSD. Then there's his unwavering faith and his beautiful family. Chance popped the question to longtime girlfriend Kirsten Corley during a Fourth of July bash in 2018, only a month after professing his love on Instagram and gushing, "You are responsible for everyone of the most wonderful things in my life." Jump to March 2019 and the couple tied the knot in a star-studded ceremony that took place at the Resort at Pelican Hill in Newport Beach, California, as People confirmed. Their daughter Kensli, who was born in September 2015, was a flower girl and, soon after the nuptials, they welcomed their second child, daughter Marli, in August 2019. Now, the cute duo often steals the show on social media and Chance has nothing but praise for them. Here's everything we know about Chance's little ones.
Chance the Rapper has the sweetest love story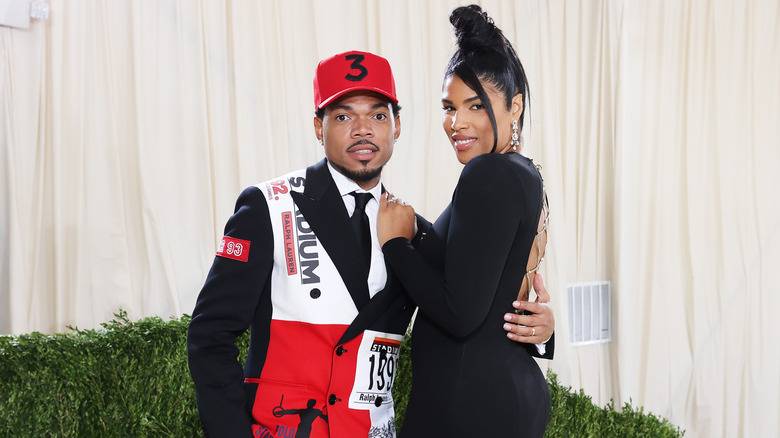 Cindy Ord/mg21/Getty Images
Whenever Chance the Rapper's mini-mes pop up on social media, they instantly melt hearts, but his love story with wife Kirsten Corley is equally adorable. Although the pair officially began dating in 2013, they actually met way back in 2003 when the artist was only 9 years old. As he recounted on Twitter in 2019, mere days before his wedding, Corley's mother was actually his mother's boss at a real estate firm. One day, they hosted an office party for staff and their family and that's where Corley wowed her future husband as she performed a dance to Destiny's Child "Independent Women Part 1." She was Kelly Rowland.
As Chance recalled, he was instantly smitten. "Now I'm locking eyes with the prettiest girl I ever seen in my almost-a-decade of life on earth," he wrote. While his dad encouraged him to join in and show off his own dance moves, Chance ultimately refused. "Not just because it wasn't my party, not because it was their moment to dance, not even cause I was nervous about dancing in front of folks," he explained. "It's cause I knew I was gonna marry that girl. And I ain't wanna jump the gun." Well, his premonition turned out to be correct — although it would take some time to come true. "I never saw her again until SXSW 2012 in Austin, Texas where we met and eventually when back in Chicago we connected the dots," he clarified on Twitter. After that, everything fell into place.
What we know about Chance the Rapper's adorable daughters
Balancing work and family is never easy, but Chance the Rapper ultimately chose to put his kids first. Following Marli's 2019 birth, he immediately postponed The Big Tour. "When Kensli was born, I went on tour 2 weeks later and missed some of the most important milestones in her life, but more importantly I was absent when her mother needed me the most," he explained on Instagram. "I need to be as helpful and available as possible to my wife in these early months of raising Kensli and Marli."
As for his parenting style, he told Complex in 2017 it's modeled after his father's hands-on approach. "I wanna have the type of relationship where I'm a trusted figure beyond a dad," he said. "I wanna be a good friend and a good example." That means spending as much time with his kiddos as possible, so when pandemic lockdown hit, he embraced it, telling Essence, "I'm waking up and going to sleep with my kids." During the day, they'd play games, dance, sing — "[Kensli] was born with perfect pitch," he told Jennifer Hudson — and tackle a slew of fun projects, from making terrariums to building a volcano. As for his daughters' personalities, "Marli is dramatic," he quipped. "She's very expressive and feisty." Speaking of Kensli, he told People, "She's so intelligent and she just speaks; She's very opinionated too." At the end of the day, "They make me laugh so often."