Shaquille O'Neal Recovers From Surgery After Alarming Hospital Bed Photo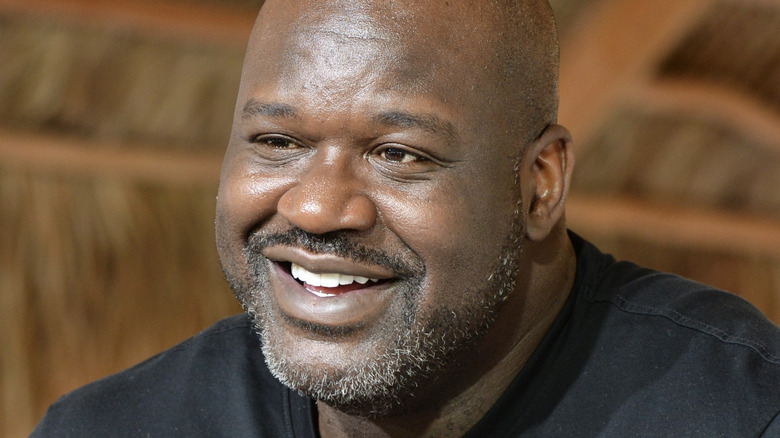 Manny Hernandez/Getty Images
With his staggering size and impressive athletic ability, Shaquille O'Neal can appear seemingly indestructible to viewers, but the NBA-star-turned-analyst has had a few health scares. In 2020, O'Neal gained weight as he struggled with personal tragedy. "My sister passed away before Kobe [Bryant]. And then Kobe passed away and then I had 28 other people pass away," he told Men's Journal in 2021. "[2020] was a really bad year and I didn't want to do anything," the former Los Angeles Lakers center added, while discussing how he had taken better care of himself since that difficult year.
Once he was more mindful about his diet, the pounds started to shed off of O'Neal, and he inched closer to his playing weight. "I lost 40 pounds," he told Entertainment Tonight in late 2022 as he mentioned his fitness goals. "I'mma get real chiseled up and do an underwear ad with my sons," the "Uncle Drew" actor joked.
Fans were glad to see the four-time NBA champion take his health seriously, as a few years earlier O'Neal revealed how much he had neglected his personal well-being. "I don't have a family physician, never had a doctor," he told Today in 2019. Eventually, O'Neal underwent a full physical and was diagnosed with sleep apnea. "Sleep apnea can cause hypertension or strokes, you could die," O'Neal recalled the doctor telling him, per a 2022 interview with GQ. When O'Neal tweeted a photo from a hospital, many fans were concerned.
The surgery Shaquille O'Neal underwent
On March 19, Shaquille O'Neal tweeted a photo of himself lying in a hospital bed. He wore a hospital gown and there were several cords connected to him including an IV. The Hall of Famer took time to shoutout his Turner Sports co-workers. "[I]'m always watching @TurnerSportsEJand @Candace_Parker miss y'all," he wrote alongside the snap where his eyes were closed. Without context, the photo understandably made some fans anxious about O'Neal's health, and questioned why he was hospitalized.
Fortunately, worries about O'Neal's health status were not completely necessary. That hospital visit was a scheduled one for the TNT analyst, as he underwent surgery on his hip. A day after the photo was posted, a source spoke to TMZ and confirmed the procedure was successful and O'Neal was "already on the mend." Prior to being admitted to the hospital, O'Neal had discussed the upcoming surgery on his "The Big Podcast with Shaq." He expected that going under the knife would keep him sidelined for about a month, and hoped to resume his on-air duties around April 16.
Almost two years earlier, the former Miami Heat big man was rushed to the hospital, albeit under much different circumstances. O'Neal was involved in an AEW tag team wrestling match in 2021. At one point, wrestler Cody Rhodes dove into the man they call Shaq Diesel, and slammed his body through a table. As part of the performance, O'Neal was carried out in a stretcher and placed in the back of an ambulance.