What George Lucas' Wife Mellody Hobson Really Does For A Living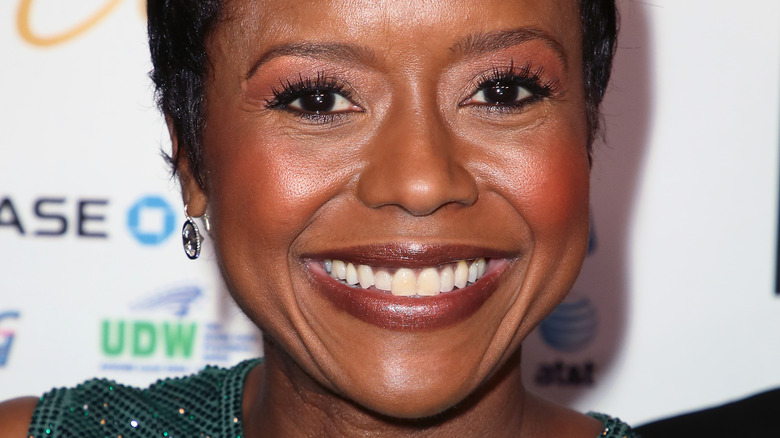 David Livingston/Getty Images
Even though Mellody Hobson is married to famed founding father of "Star Wars," George Lucas, she's more than just his wife. Hobson has a very impressive résumé and is a well-known businesswoman who's held major positions of power since the early 2000s. And even though the Force is obviously strong with these two, the Chicago businesswoman seems to have a magnetism all her own.
In a 2015 Vanity Fair feature on the Princeton University alum, every person who's worked with Hobson had nothing but spectacular things to say. Jeffrey Katzenberg, the CEO of DreamWorks Animation, told the outlet, "She has a grace and graciousness about her that is singular." He also said she was "remarkably unique" and an overall "stunning person." And Sheryl Sandberg, chief operating officer of Meta Platforms, said Hobson greatly inspired her best-selling book, "Lean In: Women, Work, and the Will to Lead." "She said she wanted to be unapologetically black and unapologetically a woman," Sandberg shared, referring to what Hobson said that inspired "Lean In," which turned into a movement and organization. "My life was altered by meeting her, and that's not something I say lightly ... She is such a big part of my path taken. I think she does that for everyone." 
So, who is this extraordinary person? Hobson truly seems to make an impact wherever she goes.
Mellody Hobson is a hugely successful businesswoman
Back in 2020, Forbes ranked Mellody Hobson at No. 94 on its list of the World's 100 Most Powerful Women. Even though she's no longer on the list, Hobson still holds powerful positions. She's currently the president and co-CEO of Ariel Investments, a Chicago-based investment company that she's been president of since 2000. She was appointed as co-CEO in 2019. She has also been the chairwoman of the Starbucks Corporation since 2021, making Hobson the first Black chairwoman of an S&P 500 company, according to the Chicago Defender.
Before becoming the chairwoman for the immensely popular coffee chain, Starbucks, Hobson was the chairwoman for DreamWorks Animation. She was also the first African American woman to lead The Economic Club of Chicago back in 2017.
Writing for Lean In, Hobson shared that she interned at Ariel Investments back in college, leading to her majorly successful career in investment and business today. This is where founder and president (at the time) John W. Rogers told her that, even though she'd usually be surrounded by people with more experience and higher titles than her, she might still have better ideas than them, basically telling her not to shrink herself in these high-profile positions. "It's one thing to be assertive but quite another to be abrasive. Similarly, there is a fine line between confidence and overconfidence," she wrote. "With that in mind, I have had to learn to balance leaning in with humility."
Mellody Hobson and George Lucas met at a business conference in 2006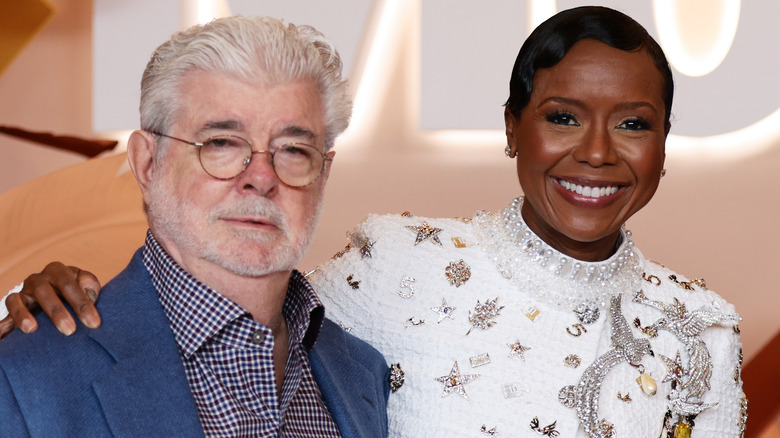 Dimitrios Kambouris/Getty Images
With her remarkable career in business, Mellody Hobson is definitely much more than just someone who married "Star Wars" creator George Lucas. But he's a big part of her life considering they've been together since 2006, when the two met at a business conference, according to Insider. They were long–distance because of her commitments in Chicago and his in California, but they married in 2013 at Skywalker Ranch.
There were many famous people at their wedding, including Lucas' longtime friend and colleague, Steven Spielberg, and "Star Wars" alums Harrison Ford and Samuel L. Jackson. Oprah Winfrey was also in attendance. "I think it works because we are extraordinarily open-minded people and we're open to what the universe brings us," Hobson told Oprah in a joint interview with Lucas about their relationship. "And I think we didn't have preconceived ideas about what a partnership should be and so we allowed ourselves to discover something that was unexpected." The happy couple is still married and welcomed a daughter via surrogate in late 2013 named Everest Hobson Lucas, according to HuffPost. 
In 2020, Hobson told the WSJ Magazine that marrying "Yoda's dad" comes with the perk of getting wise advice, especially at the start of the COVID-19 pandemic. Lucas reminded her of less fortunate people throughout history, including Europeans during WWII and Anne Frank. Seems like it's very "do or do not, there is no try" when Lucas is around.