The Star Wars Actor Who Had A Falling Out With George Lucas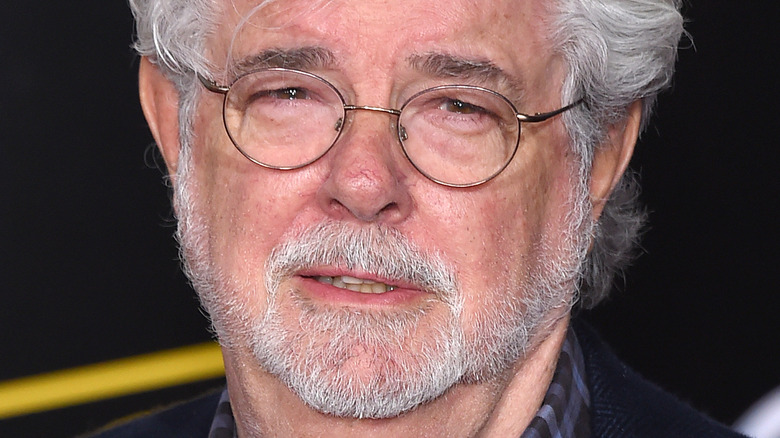 DFree/Shutterstock
"Star Wars" was first released in 1977, and has since become one of the biggest film franchises the world has ever seen. The original film was nominated for an Academy Award for Best Picture, Best Director, Best Original Screenplay, Best Supporting Actor, and earned a whopping 44 Saturn Awards. And since being released, George Lucas, the film's creator, has become a household name. Over the course of his decades-long career, Lucas has been nominated for four Academy Awards and has gone down in history as one of the most successful figures in modern cinema.
But, while Lucas's list of accolades has made headlines, so has his feud with some actors. In fact, Lucas's soured relationship with one actor, specifically, had fans shocked and continues to surprise "Star Wars" lovers today. Who was that actor, and what happened between them? Let's investigate which actor had a falling out with George Lucas. 
George Lucas did not get along with the actor who played Darth Vader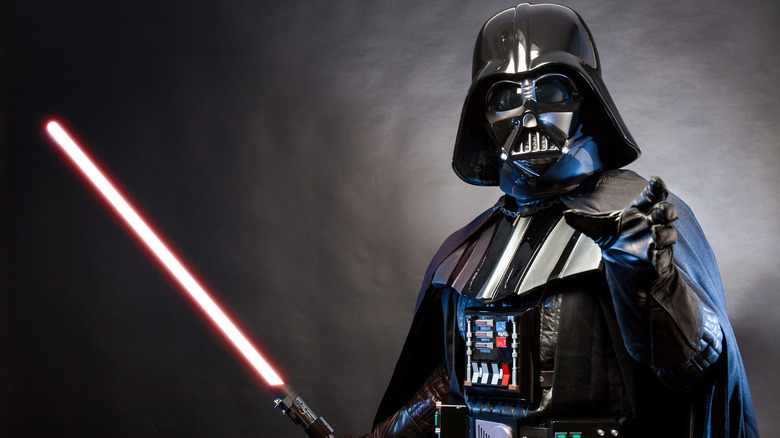 Stefano Buttafoco/Shutterstock
Many people connect Darth Vader to actor James Earl Jones, who voiced the "Star Wars" villain, but true fans are well aware that actor David Prowse was actually the body under the helmet. Unfortunately, however, Prowse and George Lucas did not get along too well. According to a 2015 News.com.au article, Prowse — who passed away in November 2020 — blamed  "Star Wars" for the state of his health, career, and marriage. In fact, when "Star Wars: The Force Awakens" was released in 2015, Prowse reportedly refused to watch the film. The outlet added that Prowse also refused to hold onto his Darth Vader mask. 
At the time of the interview, News.com.au reported that Prowse struggled with severe memory loss and had to use a wheelchair to get around. The outlet quoted him as saying, "Today I am a shadow of my former self. I can barely walk and struggle to even remember what I did yesterday.  My wife won't have anything to do with Darth Vader and says Star Wars has been an intrusion into our life." But why did the late actor blame these issues on Lucas?
David Prowse appeared in an anti-Lucas documentary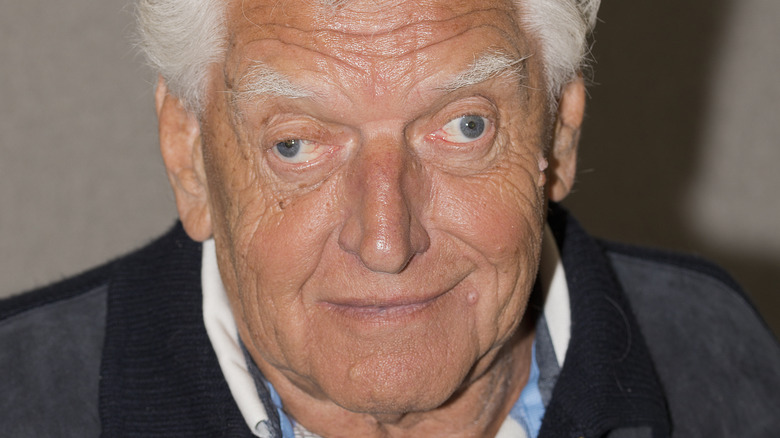 John Gomez/Shutterstock
According to News.com.au, things first came to a head between George Lucas and David Prowse when rumors surfaced that Prowse had leaked an essential plot twist — that Darth Vader was Luke Skywalker's dad — before the sequel was released in 1980. However, as later reported by Gizmodo, it would not have been possible for Prowse to know that at the time since the original script didn't include that reveal and it was saved for post-production. More likely, the outlet noted, Prowse was "making up spoilers" and guessed the big twist correctly. 
Prowse then appeared in the 2010 documentary, "The People vs. George Lucas," which intensified his feud with the acclaimed director. In an interview with Equity Magazine (via SlashFilm), Prowse claimed that Lucasfilm, the production company, had withheld residuals owed to him from "Return of the Jedi." The outlet quoted Prowse as saying, "I get these occasional letters from Lucasfilm saying that we regret to inform you that as 'Return of the Jedi' has never gone into profit, we've got nothing to send you. Now here we're talking about one of the biggest releases of all time." According to News.com.au, Prowse was banned from "Star Wars" events after appearing in the 2010 documentary. 
In November 2020, Deadline reported that Prowse died from complications related to COVID-19 at age 85.