Andy Cohen Says His Fiery Feud With Larsa Pippen At RHOM Reunion Was Personal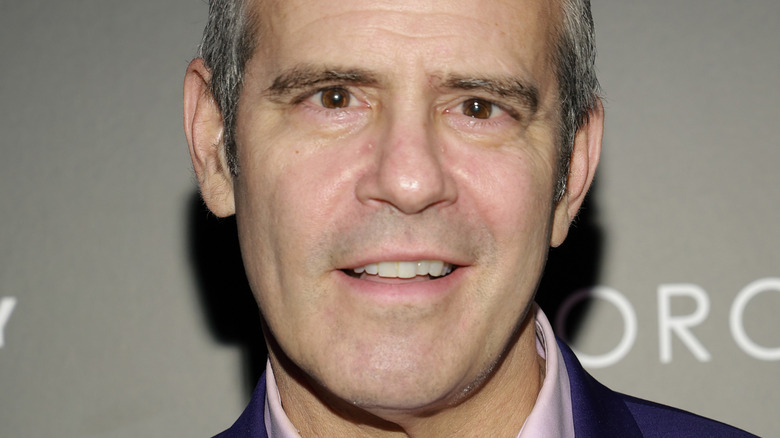 Jason Mendez/Getty Images
Television personality and resident Housewife wrangler Andy Cohen is known for keeping it cool while a bevy of beautiful women is duking it out all around him. (Never forget the time New Jersey Housewife Teresa Giudice tossed Cohen like a lousy throw pillow. YIKES.) Alas, even the Bravo king himself has a breaking point. 
During the "Real Housewives of Miami" Season 5 reunion, Cohen shocked viewers everywhere when he lost his cool, went toe to toe with Miami OG Larsa Pippen, and admonished her for her "a**hole behavior." In real-time, however, shortly after the squabble, Cohen took to his Instagram story to atone for his transgressions. "We're still shooting, and I didn't have screaming at Larsa on my bingo card today," he revealed during a break. Pippen then interjected, asking if he was going to apologize for his behavior, and Cohen quickly repented. "I'm sorry, Larsa," he apologized. And just like that, the beef was seemingly squashed. 
But why were Cohen's feathers so ruffled, anyway? As it turns out, the fiery feud proved to be more personal than just normal Housewives stuff...
Andy Cohen is a fierce papa bear
Andy Cohen's children are his Achilles heel, and he doesn't care who knows it. According to Cohen, he felt as though Larsa Pippen was "weaponizing to Nicole [Martin] that her child was born out of wedlock," and as a single father of two, that didn't exactly sit well with him. "It was a little bit of semantics because Nicole kept saying, 'You called my son a bastard,' and she said 'I didn't. I just said he was born out of wedlock,'" Cohen recalled during the March 20 episode of his "Radio Andy" show. "I got super sensitive to the idea of that being weaponized and that's why I jumped in there," he revealed about the moment his proverbial gloves came off. 
As you may recall, Cohen welcomed his first son, Benjamin Allen, via surrogate in February 2019. Then in April 2022, his brood grew by one more when he welcomed a baby girl, Lucy Eve, also born via surrogate. Cohen has always read like an open book when it comes to his choice to be a single parent. "It's not something in your mind — 'Oh, I want to do this alone.' But I like being alone," Cohen explained during an interview with People after welcoming baby Ben. "I didn't want to wait," he added. 
And there ya have it, folks. In the now-famous words of Teresa Giudice, DO NOT BRING UP ANDY COHEN'S FAMILY — directly or indirectly.