Dolly Parton Met Husband Carl Dean On Her First Day In Nashville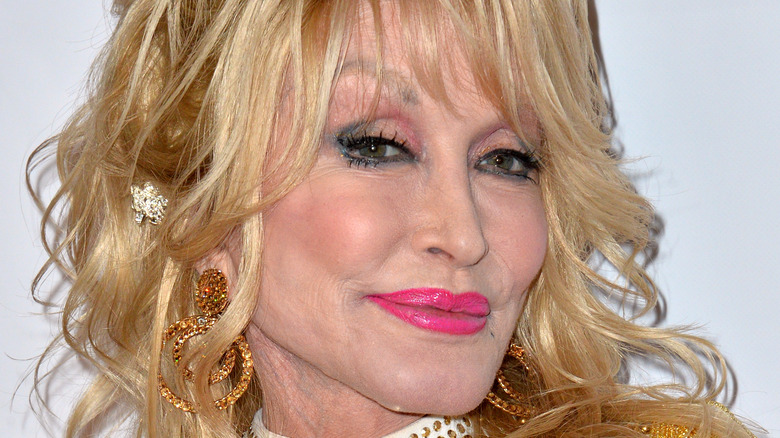 Featureflash Photo Agency/Shutterstock
Dolly Parton is known for her big hair, commitment to being herself, and iconic songs. Over the decades, the singer has only stuck to her guns more as her career has progressed. And did you know she was married the whole time? Yep, Parton married Carl Dean in 1966 and has had a strong marriage through all the hits, like "9 to 5" and "Jolene." But because of Dean's aversion to the spotlight, people have thought he doesn't exist. That's, of course, just not the case. They just have a secure relationship and live somewhat separate lives away from the public.
In the book "Dolly on Dolly: Interviews and Encounters with Dolly Parton," Parton talked to writer Laura Cunningham for Cosmopolitan in 1979 and shed some light on the inner workings of Parton and Dean's relationship. "I have my life on the road and my life with Carl," she said. "He has seen me perform, once. But we have our own life at home—without music people." While Dean is supportive from afar, Parton prefers it that way. "I think it's healthy for us to spend time apart," she shared, saying that she doesn't get jealous and he doesn't share that he does either. "I'm flirty, I love men, and I'm friendly," Parton continued. "But if I ever did somethin', I'd never say. I love Carl and we have a real happy marriage. He's a gentle man... combs my hair... If he died, I couldn't stand it."
Dolly Parton met her husband at the first place she visited in Nashville
Anyone can see that Dolly Parton has obviously always been very devoted to her husband, Carl Dean. In 2016, Parton and Dean renewed their vows after 50 years of marriage in a small ceremony at their home's chapel. Five decades prior, in 1964, the two met at the Wishy Washy Laundromat in Nashville when the singer was 18, per People. "I was surprised and delighted that while he talked to me, he looked at my face (a rare thing for me)," she wrote on their 50th anniversary. "He seemed to be genuinely interested in finding out who I was and what I was about." It was her first day in town and she came with only dirty clothes, saying she was in a hurry, and waved back at Dean when he "hollered" at her down the street. "Bein' from the country, I spoke to everybody," she told the New York Times. "And he came over and, well, it was Carl, my husband."
Dean wrote on Dolly's website that he knew he was going to marry her at first sight, saying his life began that day. They started courting each other very modestly, with their "dates" taking place on Parton's aunt and uncle's porch, where she was living at the time. And their first date off that porch was to Dean's house to meet his parents. He proposed two years later and they got married in 1966.
Dolly Parton and her husband, Carl Dean, have a strong bond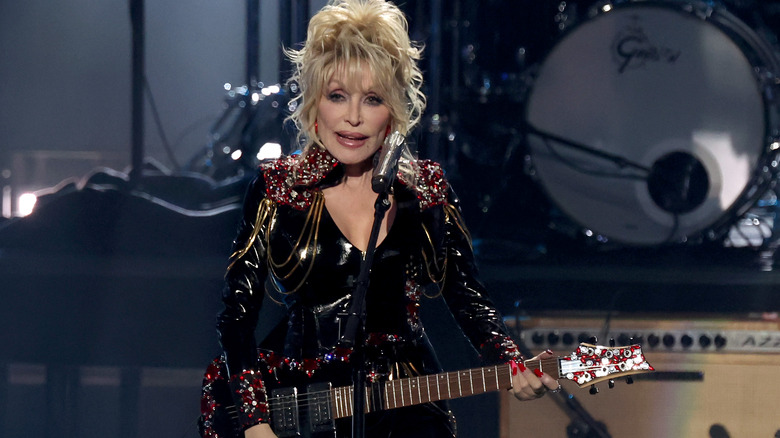 Kevin Kane/Getty Images
In 2015, Dolly Parton told Parade that she knows how lucky she is with Carl Dean. "I married a really good man, a guy that's completely different from me," the "Here You Come Again" singer said. He's not in the industry, and he's a "quiet, reserved" person. "I've always respected and appreciated that in him and I've always tried to keep him out of the limelight as much as I can," she said to Entertainment Tonight in 2020. "He said, 'I didn't choose this world, I chose you, and you chose that world. But we can keep our lives separate and together.' And we do and we have. We've been together 56 years, married 54."
Parton told Parade that being with Dean makes her just as joyful as performing. "I'm happy when I'm on stage, I'm happy when things are going great in the business, but I'm also very happy when I'm home with [Dean] and we do our little things together," she said. Those "little things" include sightseeing in Tennessee and Kentucky, staying in motels, and traveling in their RV. The way Parton "keep[s] things spicy" in their marriage after over 50 years is by dressing up for Dean. Her thinking is that if the "whole world" sees her done up, she's not going to go "just flop on him." She told E! News, "Nobody wants to make out with a slouch!"