Who Is Neil Diamond's Much-Younger Wife, Katie McNeil?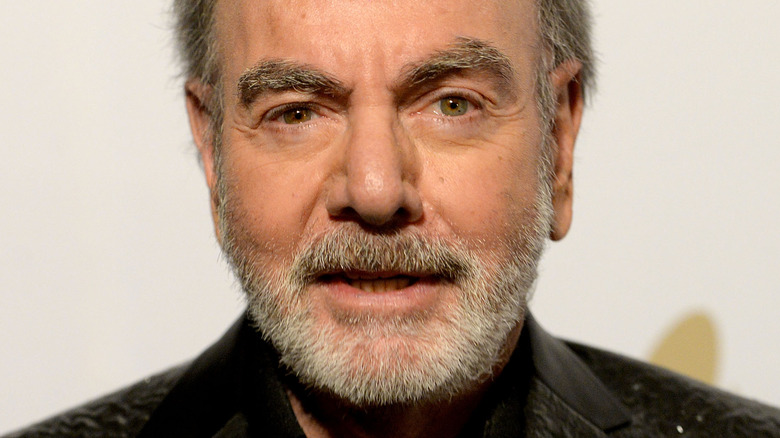 Scott Dudelson/Getty Images
Neil Diamond is one of music's greats. According to the Songwriters Hall of Fame, he's among the best-selling artists of all time, with 130 million album sales to his name. Diamond's songs span generations, like "Sweet Caroline," for instance. Per Yahoo! Sports, it's become a staple at sporting events, ringing out over Fenway Park during Red Sox games and across the pond during pretty much everything sport-related — even the darts (yes, Brits consider darts an actual sport, it's televised and they take it very seriously).
Diamond shines if you stick a guitar in his hands and a mic in his face. However, he's one of those singers who tried acting and bombed (although "The Jazz Singer" soundtrack is awesome, if you ask us). He's not such a maestro in the art of love, either. Despite the inevitable groupies, Diamond's a serial monogamist, moving from one failed relationship to another. 
Per Smooth Radio, he got hitched young, marrying his high school sweetheart. It only lasted four years, but they did have two daughters. Diamond jumped straight into a new relationship, resulting in his second trip down the aisle. They had two sons and lasted 25 years before it was love on the rocks again. Next up was an Aussie Diamond met while down under. They never said "I do," but lived together for a couple of decades. Finally (so far), he married his third wife, who wasn't even born when "Sweet Caroline" was released in 1969. So, who is Neil Diamond's much-younger wife, Katie McNeil?
He's hoping this love doesn't end on the rocks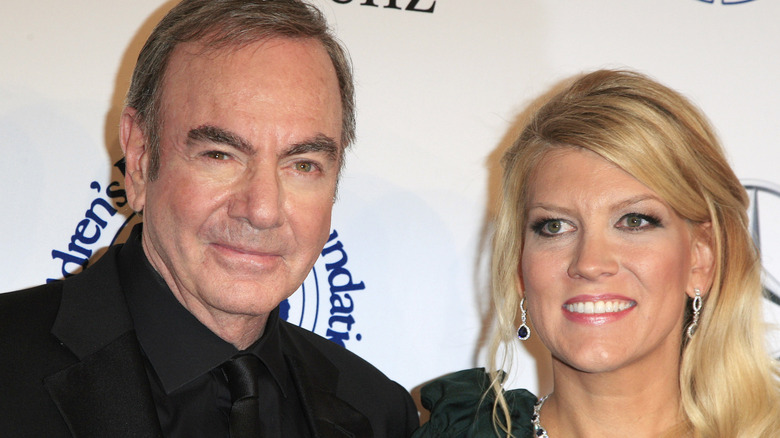 Joe Seer/Shutterstock
Proving he's never one to give up on love, Neil Diamond announced he was marrying Katie McNeil in 2011. "Good news coming from sunny LA/ and you're the first I want to tell/ Katie & I just got engaged/ and I hope you wish us well," Diamond tweeted. In 2012, the couple tied the knot. He was 71 and she was 42. "I've found the woman of my dreams," he told Parade. "I definitely don't feel like I'm 71. I feel like I did when I was between 30 and 40. The body ages. The mind doesn't," Diamond insisted.
According to The Telegraph, McNeil was a music video and concert film producer who also worked for the talent company that managed Diamond. "She campaigned with her boss Mr. Irving Azoff to handle my account. I guess because she loved my music so much," Diamond said. "Or she thought it was a feather in her cap to be in charge of Neil Diamond. I would like to think it was the first one."
He admitted the romance had been a slow burn for him. "We worked together for a year or so, and we kind of fell in love, slowly," Diamond shared. "I was interested in my work. But she wove her way into my heart, and I think she's a great person. I realized that I was in love with her after a year or so."
He doesn't want to die a solitary man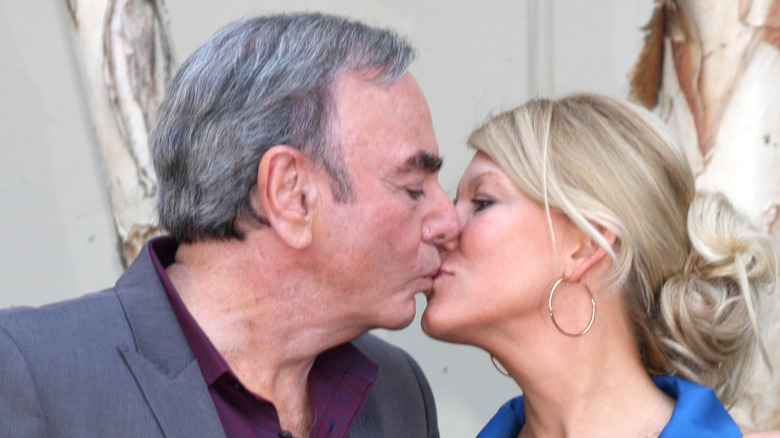 Kathy Hutchins/Shutterstock
In 2018, Neil Diamond shared a life-altering health diagnosis. The singer announced he was retiring from touring because of Parkinson's disease. "I plan to remain active in writing, recording, and other projects for a long time to come," he vowed. Keeping to his word, Diamond gave a surprise performance in 2020, belting out all of his greatest hits at the 24th annual Keep Memory Alive Power of Love gala in Las Vegas.
Meanwhile, Diamond keeps his third wife on her toes and ensures she lives up to his standards. "When I need my wife or when I need companionship or someone to talk to, I need it, like, now," he told Parade, admitting he's "very high maintenance" (via People). "So my wife will have to give up whatever she's doing at that moment to tend to my needs. And in the same way, I would tend to hers. That's not such an easy thing to do."
Diamond also expressed regrets over his past two failed marriages. He swore the third time was a charm and admitted he needed somebody by his side. "I don't want to end this whole fabulous journey alone," Diamond shared. He also vowed McNeil would be the final Mrs. Diamond. "By the way, I don't want a fourth wife. I have the best woman in the world, and I'm taking good care of our relationship," he told The Telegraph. "I'm making sure it's going to last forever."