Jamie Foxx And Tom Cruise Had A Tight Friendship Before Katie Holmes Romance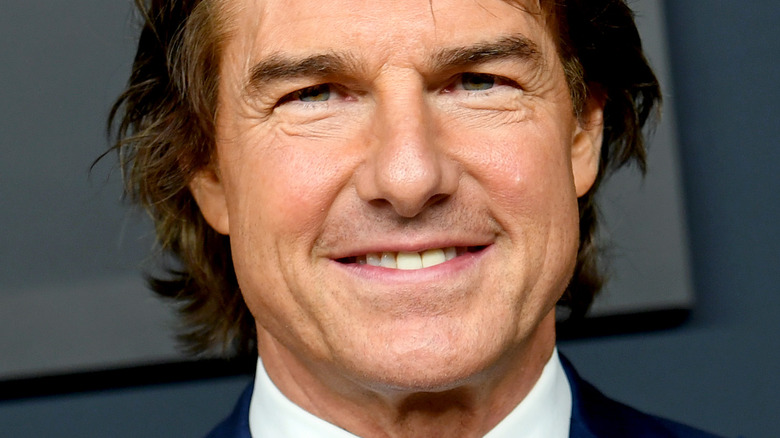 Jc Olivera/Getty Images
Katie Holmes was a tabloid fixture in the mid-aughts thanks to her whirlwind romance with Tom Cruise. However, she proved she's more than capable of keeping things quiet — even from her excitable husband — when she stunned everybody by slapping Tom with divorce papers in 2012, per The Hollywood Reporter. Undoubtedly, there are significant advantages to having a matrimonial law attorney as a father.
Shocking everyone further, when Holmes walked away from the five-year marriage, and moved to New York City, she took Suri Cruise with her. By all accounts, Tom has rarely seen his daughter since, with some outlets reporting it's allegedly been "over a decade" since they spent time together. However, it was more than Holmes and Suri that Tom lost. His friendship with Jamie Foxx ended after Holmes struck up a secret romance with him. According to Harper's Bazaar, they were first spotted — with Cruise — in 2006. No, it wasn't a date; they were all watching a Vikings game. In 2013, Holmes was spotted partying with Foxx in the Hamptons. Per People, "the actress even tried a sip of Foxx's cocktail." 
Despite never confirming their relationship, Us Weekly reported they split in 2019 after Holmes became sick of Foxx's womanizing — not a problem she ever had with Tom. So, let's dive into Jamie Foxx and Tom Cruise's tight friendship before his Katie Holmes romance went and ruined it all.
Jamie Foxx and Tom Cruise were bromance bros way before Katie Holmes appeared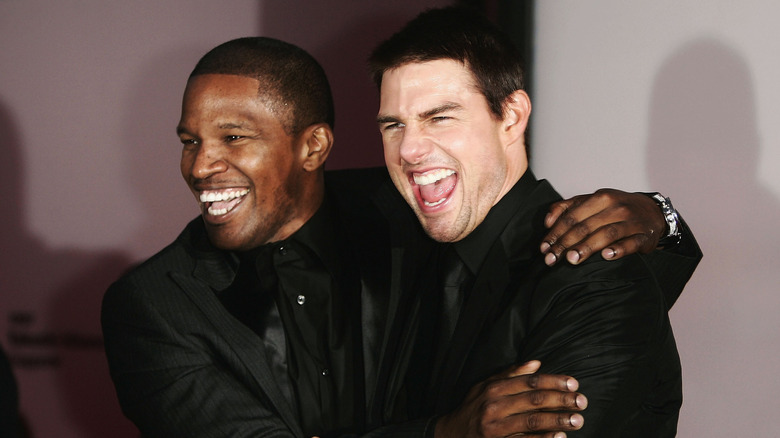 Pascal Le Segretain/Getty Images
Pre-Katie Holmes, Tom Cruise had another love: Jamie Foxx. They met when they both auditioned for "Jerry McGuire" in 1994. The actors enjoyed an endearing, super-tight relationship until Foxx began getting hot and heavy with the third ex-Mrs. Cruise. Foxx told Graham Norton that Cruise taught him the art of subtle acting. He also shared he learned what an A-lister his co-star was after Foxx crashed their stunt car while filming the 2004 action flick "Collateral" and the production team's only concern was Cruise's wellbeing.
In 2012, Foxx paid serious props to his friend. Ironically, he praised Cruise and Holmes for how they handled their divorce. "You have to commend them for settling everything and sort of like nipping things in the bud," Foxx told Extra, adding it was "testimony to both of their characters."
"Back in the day, they had a serious bromance," Entertainment Tonight reported. The two were clearly enamored with each other after filming "Collateral." They flirted at the movie's premiere, with Foxx telling Cruise he'd brought the hot to the red carpet and was looking mighty fine. The single dads also shared parenting tips and enjoyed playdates after Isabella and Connor Cruise became friends with Corrinne Foxx. "He's the most genuine and cool guy," Foxx told ET. "I told him from now on, you got a friend. When I say that, I really mean it." Until he started hooking up with Cruise's ex, presumably.
Tom Cruise and Jamie Foxx are mending their fractured bromance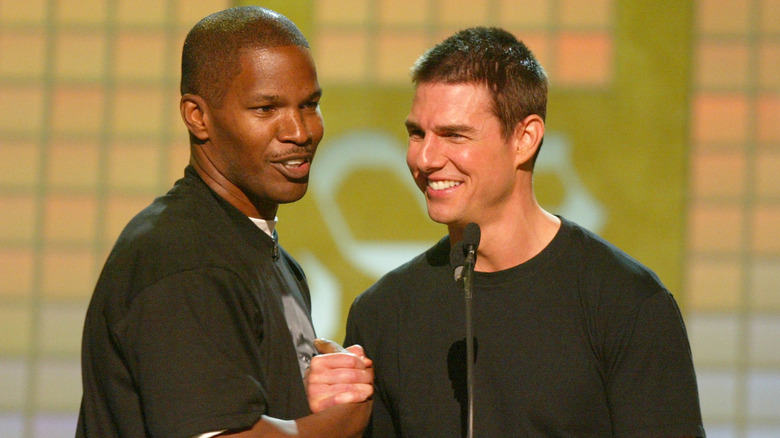 Kevin Winter/Getty Images
Jamie Foxx and Tom Cruise went from best bros to fierce foes after Foxx began dating Katie Holmes. Cruise was reportedly "furious" after learning that his bestie was secretly hooking up with his ex-wife. "Tom feels hurt and deceived," a source told the National Enquirer in 2014. Apparently, that had been a fear of Foxx and Holmes' from the get-go. "Neither of them wanted this affair out in the open," the source suggested. "Jamie wanted to keep it quiet because he figured Tom would consider it a betrayal of their friendship."
Meanwhile, Radar Online claimed that as part of their lightning-fast divorce settlement, Holmes agreed to Cruise's demand that she wouldn't publicly get involved with another man until 2017. "She's allowed to date, but she cannot do so in a public fashion, and she's not supposed to let any boyfriend near their daughter, Suri," a source said. "Katie wanted out of the marriage so badly, she agreed to the terms — and got $4.8 million in child support, plus another $5 million for herself."
However, there's a bright light on the bromance horizon. "Naughty But Nice" claims Cruise and Foxx kissed and made up once Holmes was out of the equation. "Tom Cruise and Jamie Foxx are friends again!" Rob Shuter announced. "It wasn't pretty, but now Tom and Jamie are mending their broken relationship," he claimed sources had told him.