Why Gwyneth Paltrow Didn't Live With Husband Brad Falchuk When They Got Married
Kevin Winter/Getty Images
Gwyneth Paltrow and Brad Falchuk have been happily married since 2018. The pair famously met on the set of "Glee" back in 2010, while Paltrow was still married to Coldplay's Chris Martin and Falchuk to producer Suzanne Bukinik. But even then, it was love at first sight — at least for Falchuk. "She's stunning and she's charming and she's completely disarming," the television producer told Harper's Bazaar of their first encounter. After separating from their spouses, he and Paltrow soon embarked on a romantic relationship, and, in September 2018, they tied the knot in a ceremony at her home in the Hamptons. "I believe I have found the man I was meant to be with," the GOOP founder gushed prior to their wedding. 
Speaking with Us Weekly, Paltrow said the key to her healthy marriage to Falchuk is "not withholding" from each other especially when things get difficult. "I sometimes handle it less perfectly than he does," she confessed. "But I think having that communication and also really wanting the same things and being aligned and wanting our marriage to deepen and grow is very helpful." She also noted how important it is to keep the fire burning by making time for romance despite their busy schedules. 
That said, giving each other space is also crucial — up until their first year of marriage, Paltrow and Falchuk did not live in the same house together. Paltrow has spoken out about their unique living arrangement and how it has helped strengthen her relationship with Falchuk in the long run. 
Gwyneth Paltrow and Brad Falchuk did it for the kids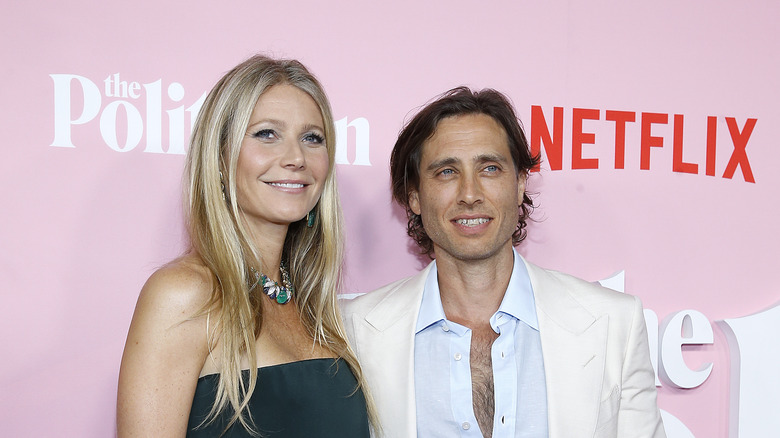 John Lamparski/Getty Images
Gwyneth Paltrow and Brad Falchuk each took their sweet time adjusting to their married lives, choosing to live apart instead of moving into the same house together. According to The Sunday Times, Falchuk would sleep at his home when his kids, Isabella and Brody (from his previous relationship), come over, and would stay the rest of the week at Paltrow's residence in L.A. Speaking of their unique living arrangement, Paltrow — who also has two kids, Apple and Moses, from his marriage to Chris Martin — said they did it out of respect for their children. "We each have two teenage children whom we love very much, but we were just trying to be mindful and give them a little space and not move too quickly," she explained to Jimmy Kimmel in 2019. 
However, it was also to keep things fresh and exciting for the couple, as advised by Paltrow's intimacy teacher, Michaela Boehm. After she and Falchuk moved in together in the summer of 2019 — just a few months shy of their first wedding anniversary — Paltrow reflected on their set-up and how it has impacted their marriage. "So our sex life is over," Paltrow joked to Harper's Bazaar. "I think [living apart] certainly helps with preserving mystery and also preserving the idea that this person has their own life. So this is something I'm trying to remain aware of now as we merge together," she added. Whatever works, right? 
Other famous couples have done it, too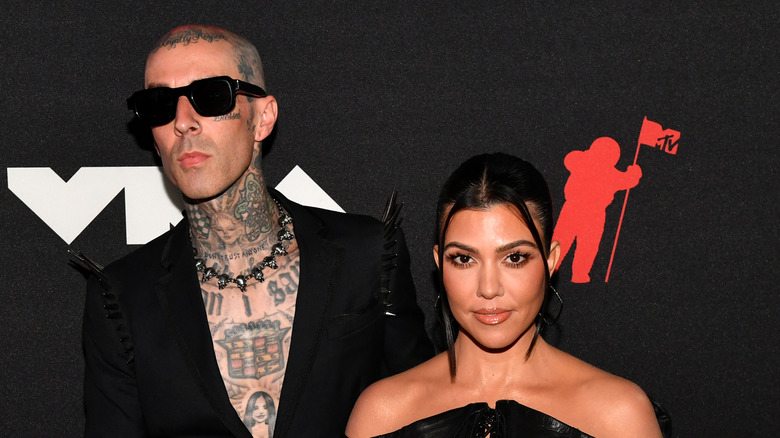 Jeff Kravitz/mtv Vmas 2021/Getty Images
Gwyneth Paltrow and Brad Falchuk are not the only famous couple to open up about their unique living arrangement. Other celebrities, like Kourtney Kardashian and Travis Barker, have similar set-ups, too. Appearing on the "Not Skinny But Not Fat" podcast, Kardashian said that she and the Blink-182 drummer still haven't moved in together since their Italy wedding in May 2022. And turns out, for the very same reason as Paltrow and Falchuk's. "There will be [a joint house]. [But] we want our kids to also feel really comfortable, and they have both lived in their homes their whole lives, for the most part," the Poosh founder explained. "And we are a block away." 
Another married pair who famously do not cohabitate is supermodel Ashley Graham and her cinematographer-husband Justin Ervin. Despite sharing three kids together, son Isaac and twins Malachi and Roman, Graham and Ervin live separate lives — and on opposite coasts. "We have a rule," Graham told Entertainment Tonight. "We don't go longer than two weeks without seeing each other." Graham, who lives in New York while her husband stays in L.A., says the distance actually helps spice things up in their marriage. "It's absolutely fabulous. I love it. We just meet in L.A. or New York," she said. "We meet in Paris, Miami. It's pretty sexy."