Details About Ben Affleck's Relationship With His Daughter Violet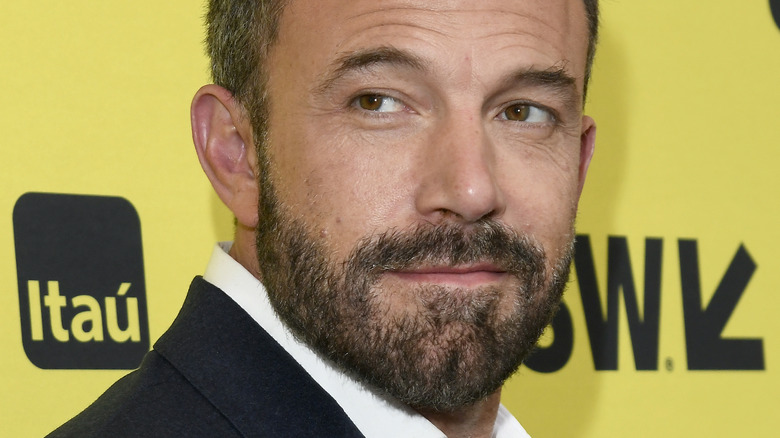 Tim Mosenfelder/Getty Images
Since the 90s, movie enthusiasts have followed the expansive and award-winning career of Ben Affleck. After getting his start in the entertainment industry with one-off appearances, the "Batman v Superman: Dawn of Justice" star soon found mainstream success for his standout roles in "Chasing Amy," "Pearl Harbor," and the Oscar-winning film "Good Will Hunting," which he co-wrote with Matt Damon. In addition to his extensive career as an actor, director, and producer, Ben has also made headlines for his somewhat tumultuous love life.
Over the last 20 years, the "Armageddon" star has been romantically linked to an array of high-profile women. However, one of his most notable relationships has been with fellow actor Jennifer Garner. After calling it quits with Jennifer Lopez in 2004, the "Daredevil" star embarked on a whirlwind and very public 13-year romance with the "Juno" star. While Ben's marriage to Garner ended in divorce, the two have maintained a friendly co-parenting relationship for their three children — Violet, Seraphina, and Samuel Affleck — whom he adores.
In a 2021 interview with "Good Morning America," the acclaimed director opened up about his children's profound effect on him. "My life is better, and I am happier the more I am around my kids," he revealed. "We all want to pass on the best of ourselves to our children." While Ben shares a close relationship with all of his kids, here's a closer look at the bond he shares with his oldest daughter, Violet.
Ben Affleck's dad antics and star power embarrass Violet now and then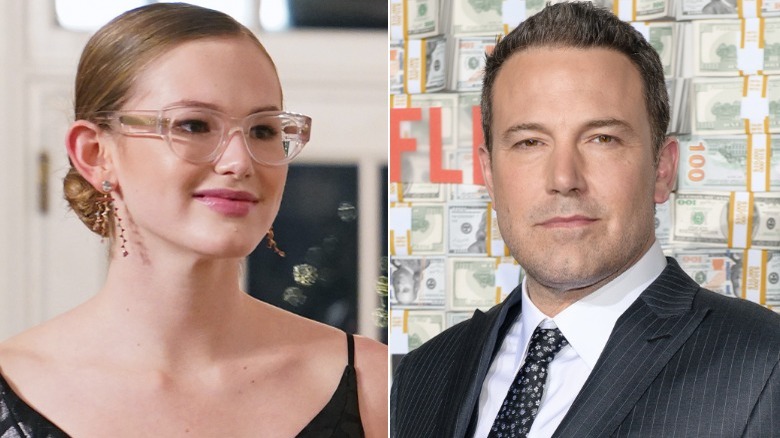 Nathan Howard & Noam Galai/Getty & undefined
While Ben Affleck is known as one of the most popular and successful actors in Hollywood, he also plays the role of your every day — and sometimes embarrassing — dad to Violet Affleck. While attending a 2020 screening of his film "The Way Back," Ben opened up about his daughter teasing him over his lack of texting and group chat skills. "My daughter is so funny, she teases me, she's 14, and she's like, 'Why do they let you on this group chat? You don't know what you're talking about. Don't pretend you have any idea what's going on,'" he recalled, according to PeopleTV. Ben's hilarious texting mishaps are not the only thing that his daughter has teased him about, though.
During the press tour for the 2017 "Justice League" film, the "Gone Girl" star revealed that his role as Batman embarrassed Violet to no end. "[For] my oldest daughter, I'm already embarrassing, you know what I mean?" he recalled during an interview with Entertainment Tonight. "I'm like, 'How can I be embarrassing? I'm Batman. That embarrasses you?' She's like, 'Dad, pick me up down the street." While Ben's dad antics and star power have sometimes had an embarrassing effect on Violet, his overall parenting skills have been praised by his ex-wife Jennifer Garner. "Our kids are lucky to have a dad who looks at them the way you look at them and loves them the way you love them @benaffleck," the "Elektra" star wrote on Instagram for Father's Day in 2018.
Ben Affleck and Violet Affleck share the same Spanish speaking talent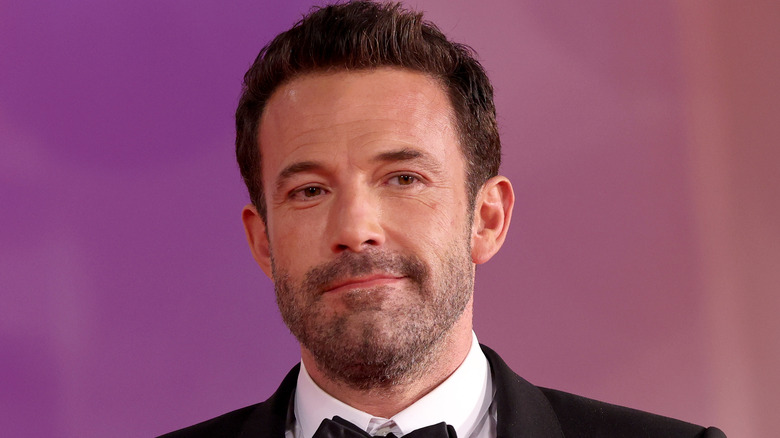 Franco Origlia/Getty Images
Since splashing onto the Hollywood scene, Ben Affleck has made a name for himself as an acclaimed actor, director and screenwriter. However, one talent that sometimes gets overlooked is his ability to speak fluent Spanish. Across various interviews with Spanish-speaking news outlets, the beloved star has effortlessly showcased his bilingual abilities, which he has attributed to the short time he spent in Mexico as a kid. "I did this little kids TV series when I was young, and when I was 13, that season that year was in Mexico," Ben revealed during a 2020 interview on "The Kelly Clarkson Show." "So I was in Mexico for a year, and that's how I picked it up."
While Ben continues to wow pop culture enthusiasts with his Spanish-speaking skills, he is not the only Affleck that shares this talent. In the aforementioned interview with Clarkson, the "Dazed and Confused" star revealed that Violet is also an expert Spanish speaker. "She's always been a very good student, and she's been interested in Spanish, and so I would often help her. Now all of a sudden, she's gotten into the grade where she's, like, in the harder Spanish classes, and she's getting better," he said. Ben went on to joke that Violet was so impressive with Spanish that she started to critique his skills, which prompted him to take classes "to keep up." "I was like, 'Nope. This is not happening," he joked.