What Tekashi 6ix9ine's Life Has Been Like Since He Testified Against His Gang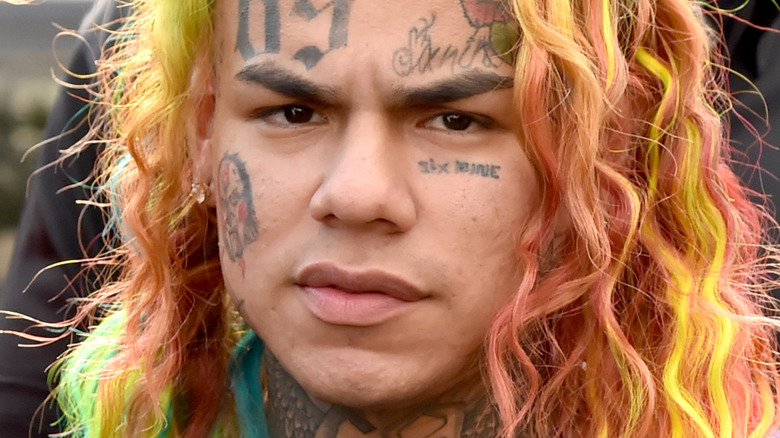 Kevin Mazur/Getty Images
This article references mental health issues and scenes of violence. 
Tekashi 6ix9ine has made a big name for himself since bursting onto the scene with his 2017 hit single, "Gummo." But more of it is because he's become one of music's biggest trolls. For much of his career, the Brooklyn, New York rapper has taunted all kinds of people on social media and gotten into beefs with a long list of artists.
He was also a self-proclaimed member of the Nine Trey Gangsters, an East Coast subset of the Bloods street gang. Tekashi was seen in music videos with them in the earlier part of his career, and they seemingly protected him while he tussled with others, per Okay Player. Nine Trey member Kifano "Shottie" Jordan also used to be Tekashi's manager.
But everything would change for the rapper and other members of Nine Trey after they were all arrested by federal agents in November 2018 on charges of attempted murder, racketeering, and other serious crimes. At the time, Tekashi was facing a 47-year prison sentence but after pleading guilty and deciding to testify against his fellow gang members, he was sentenced to two years. Of course, testifying against Nine Trey instantly put his life in danger, but he refused to keep a low profile. Since then, Tekashi's life has been complicated and he's found himself in some not-so-great situations — including being brutally assaulted in March 2023. This is how things have been going for him.
Tekashi 6ix9ine did some splurging on house arrest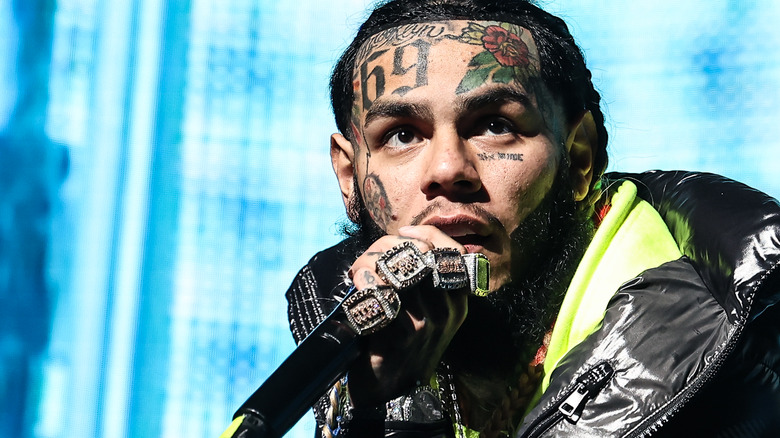 John Parra/Getty Images
In April 2020, when COVID-19 was still wreaking major havoc around the globe, Tekashi 6ix9ine was released from a New York holding facility and put on house arrest because he has chronic asthma. Right away, he allegedly began spending money like crazy. A source claimed to TMZ that the rapper had been purchasing a slew of pricey vehicles, including a Rolls-Royce, a McLaren, a Mercedes Benz G-Wagon, and an Aventador. He was also said to have bought a shark-shaped chain priced at $300,000, as well as four watches, one of them being a Richard Mille — and the average price for one of those bad boys is $200,000.
Additionally, another source claimed to TMZ that Tekashi signed a $10 million deal with the record label 10K Projects when he was locked up, so it's possible he used some of that money to treat himself. There were also rumors that he received a lot of show offers in places like Europe and Saudi Arabia. So, perhaps he received advances for those gigs and used the dough to do some splurging. Wherever the money came from, one thing was clear: Tekashi wasn't planning on living a simple, low-key life when he was done serving time, which he potentially proved once he was free.
He returned to music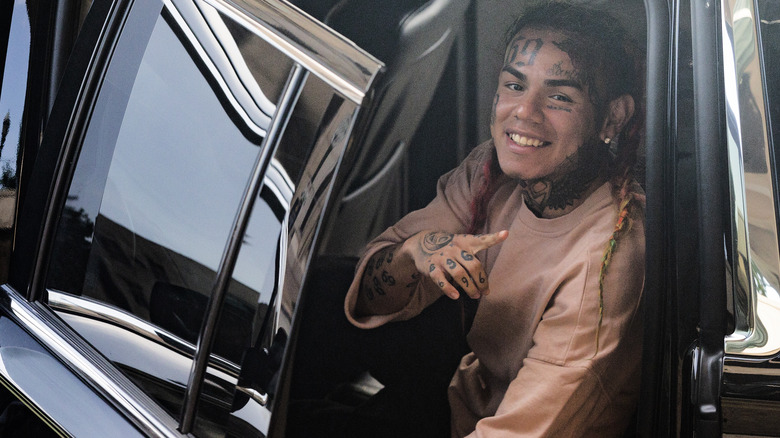 Bob Levey/Getty Images
It was evident that Tekashi 6ix9ine was still going to release music after his legal woes went away. One sign of that was "Gooba," a single that he delivered on May 8, 2020, while still on house arrest. The track's colorful music video — which was big entertainment news when it dropped — shows him performing energetically in front of the camera while women dressed in rainbow colors twerk and dance behind him.
Soon after "Gooba" was released, Chart Data reported that the video had received more views in 24 hours than any other hip-hop song since YouTube began. As of March 2023, it boasted 827 million views, which isn't too shabby for someone who's been all but shunned by the hip-hop community. Meanwhile, the song itself isn't short on the tough-talk and violent threats, so it was also apparent that Tekashi wasn't going to change his musical style, despite getting into legal trouble for gang activity. The rapper also addressed the snitching claim in the song. Referencing the sizeable fortune he earned while locked up, he rapped, "Tell me how I ratted, came home to a big bag."
Tekashi explained why he testified against his gang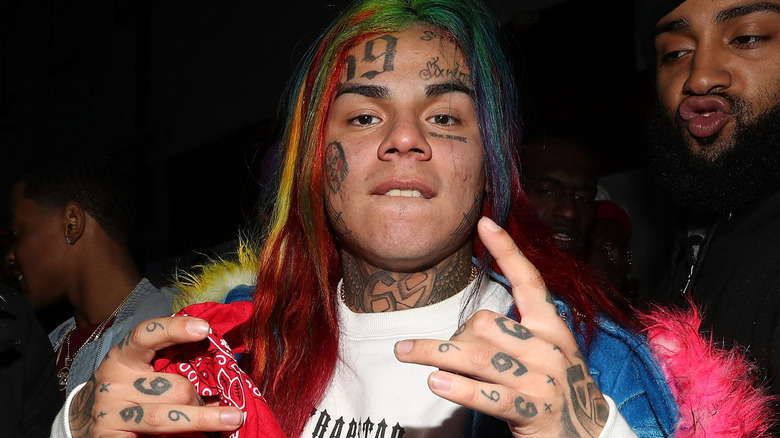 Shareif Ziyadat/Getty Images
The mafia and street gangs — shoot, even good friends — are known to live by the code of no-snitching, a term synonymous with no tattle-tailing. Tekashi 6ix9ine was certainly expected to live by that code since he considered himself a full-on member of the Nine Trey Bloods. So, he was seemingly ostracized by hip-hop for testifying. You name it, podcast and radio hosts blacklisted Tekashi, and rappers, as well as rap fans, said they were done with him.
But he didn't seem surprised by the backlash when addressing it on Instagram Live in May 2020, despite being bothered by the snitching claim. "If there is a street code and there's something so-called as loyalty and everything, and no snitching and all of that, I get it, right? But where was the loyalty when you was sleeping with my baby mother?" asked Tekashi. "Where was the loyalty when you was caught on the wiretap trying to kill me? Where was the loyalty when you tried to kidnap my mother? Where was the loyalty when you was stealing millions of dollars from me? ... So who broke it first?"
The "FEFE" rapper then brought up being allegedly kidnapped by Nine Trey members in 2018, saying he would never be loyal to those guys. "Y'all understand why I snitched, y'all understand. Y'all don't want to understand," Tekashi proclaimed.
His secret address was leaked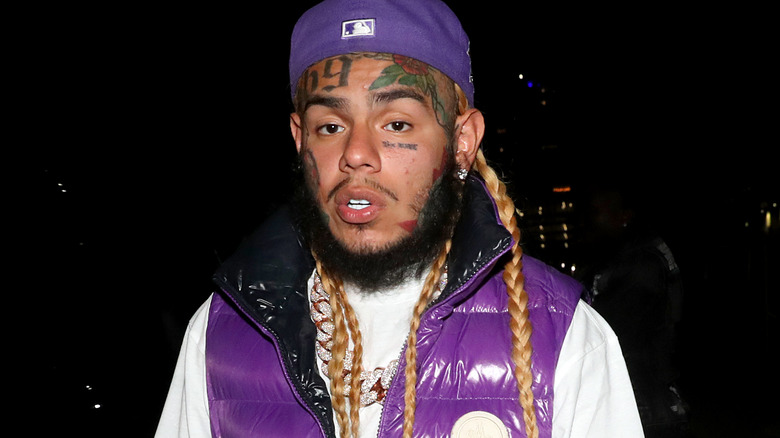 Johnny Nunez/Getty Images
So, if you're staying at a secret location because the gang members that you testified against want payback, it's probably not wise to give them a hint about where you are. But that's what Tekashi 6ix9ine did in May 2020 when he shared a photo of himself on Instagram holding two stacks of cash while on a deck. Besides the money, the photo shows a small part of the house in the background, as well as the adjacent home. It's safe to say that Tekashi's neighbors didn't want to be involved in any form of gang retaliation and he chose to put them in the direct line of fire, both figuratively and literally.
Plus, a woman who lived near the home captured a video of Tekashi and posted it online while sharing the address. In the video, the woman is incredulous as she describes realizing the rapper had moved into the house behind hers and that he wasn't exactly hiding that fact. Laughing, she comments, "He's taking pictures on the back deck!" That meant the rapper had to be relocated and the feds involved with his case needed to be alerted. You can almost hear those agents, as well as the judge saying, "Nice going, Tekashi. Cease with the antics, already."
Tekashi entered enemy territory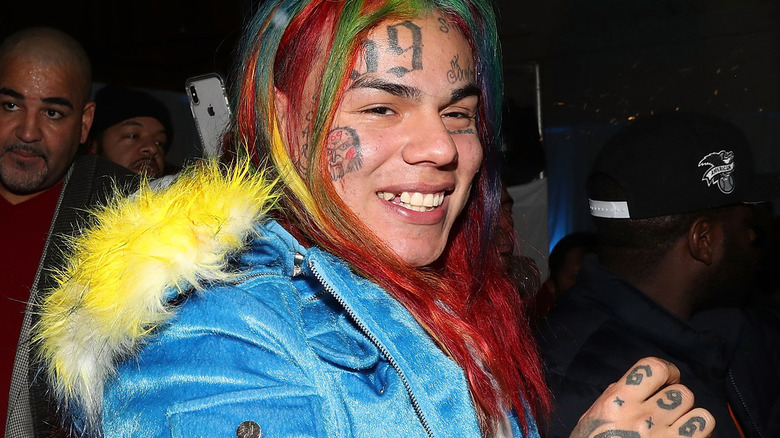 Shareif Ziyadat/Getty Images
In August 2020, right after he was taken off house arrest, Tekashi 6ix9ine made the bold declaration on Instagram Live, "I'm free. I'll be in my city outside." One doesn't have to be a detective to figure out the message served two purposes. One, Tekashi wanted to give the official word that he was a free man. But secondly, he also wanted to show that he wasn't scared to freely walk around Brooklyn, despite the threats on his life. He also had security with him while traipsing around the borough, a move that that many probably consider super smart.
The "Gummo" performer was also seen handing out $100 bills to children in New York and posing for photos with them. Again, the whole thing seemed like a well-crafted effort to show that he had zero fear of Nine Trey retaliation. The security he rolled with suggested otherwise, however.
He was heard desperately trying to get an interview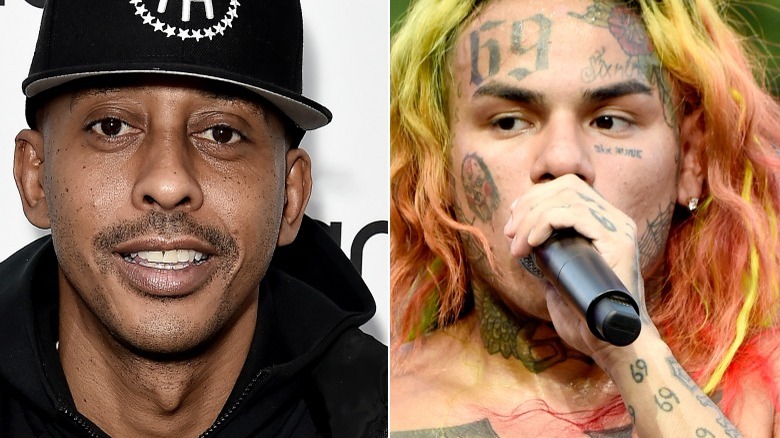 Kevin Mazur, Steven Ferdman/Getty
Remember how we said that podcast hosts were included in the people who blacklisted Tekashi 6ix9ine? Rapper and podcaster Gillie Da Kid is one of them because he refused to have him on his show, "Million Dollaz Worth of Game." In September 2020, a video surfaced that showed Gillie playing an apparent recorded phone conversation between him and Tekashi where the rapper can allegedly be heard desperately trying to get an interview. 
"I think this is a perfect one-on-one conversation," he told Gillie. "I met you in Philadelphia. You seen my growth. This is probably the biggest thing you gon' ever touch, brother ... There's nothing that you can't ask ... One-on-one, chair to chair, two cameras, mic'd up, we let it all out. Ain't no censor. There's nothing that you can't ask me." He then paid Gillie a compliment by calling him the voice of the streets.
Unimpressed, Gillie stated outright that he and his team declined to take him up on the opportunity. "Just for the record, I know I'm the voice of the streets. You ain't got to tell me that," he said. "I've been the voice of the streets for 20-plus years. Second ... the biggest thing I did in my life was the birth of my kids, not interviewing a f***ing rat." No more was said between the men after that. At least not publicly.
Tekashi nearly fought Meek Mill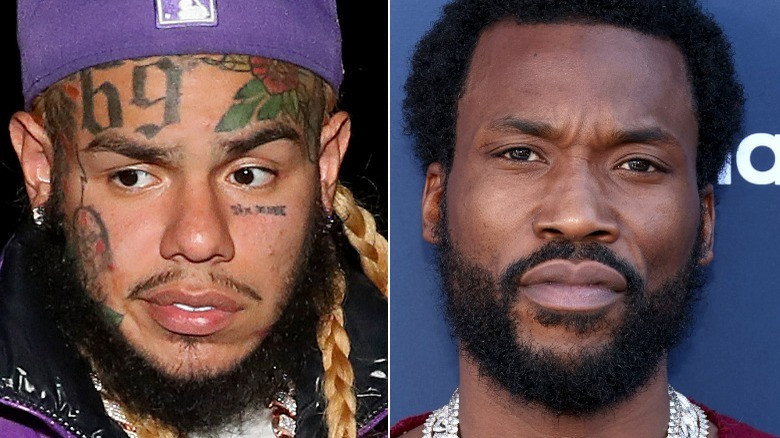 Jesse Grant, Johnny Nunez/Getty & undefined
Meek Mill was one of the celebs who came down hard on Tekashi 6ix9ine for testifying against the Nine Trey Gangsters, and he blasted him on social media. But their beef wouldn't stay online forever because in February 2021, the two almost got into a fight inside a Miami parking garage after Mill left a restaurant. TMZ published a video that appears to show Tekashi screaming at the Philly rapper, insulting him, and saying that he isn't as tough as he claims since he was rolling with a security team.
Round two of the altercation came on Twitter, where Mill accused Tekashi of working with authorities to get him in legal trouble, writing, "69 waited outside the club for me. They tryna get us." In another post, he tweeted, "We did not run into each other. I was getting in my car he just popped out ... we almost was smoking on that 69 pack for the love of a viral moment ... He tryna get something locked up no cap lol." In a final post, he added, "Why did he pick me wtf lol."
The following month, Tekashi posted a since-deleted video on Instagram where he challenged Mill to a brawl while showing off some of his luxury vehicles. "Y'all tell Meek Mill come fight me," he said. "Tell Meek Mill I want to fight ... one-on-one."  He then claimed to have more money than Mill.
He felt depressed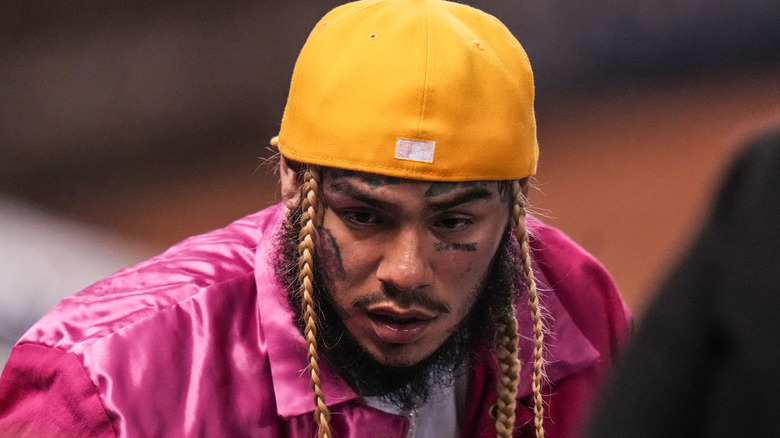 Mark Brown/Getty Images
After doing a lot of trolling and beefing with others, Tekashi 6ix9ine took a trip to the Dominican Republic where he revealed that despite making money, purchasing cars, and being famous, he was feeling down. The rapper explained why he wasn't making new music as well.
"I'm sorry I been away from music. In all reality I'm not happy," the rapper wrote in a since-deleted Instagram post. "The fame and the money doesn't mean anything to me because it doesn't bring me joy. I say all this because when [you're] chasing your dreams in life remember God comes first. Never lose sight of that. He blesses you in life because he sees the good in your heart and with that blessing you learn to bless others."
In August 2022, Tekjashi took to Instagram Live to discuss his mental state and why he hasn't been able to make music. Stating that he was slightly inebriated while opening up to fans, he explained, "I'm just trying to better myself, so I won't be pretty dark. I find myself in a pretty dark place all the time, and obviously I love my fans. I'm always here for you guys. Still the king of IG, still the king of the internet ... I barely be in the studio"
If you or someone you know needs help with mental health, please contact the Crisis Text Line by texting HOME to 741741, call the National Alliance on Mental Illness helpline at 1-800-950-NAMI (6264), or visit the National Institute of Mental Health website.
Tekashi 6ix9ine was assaulted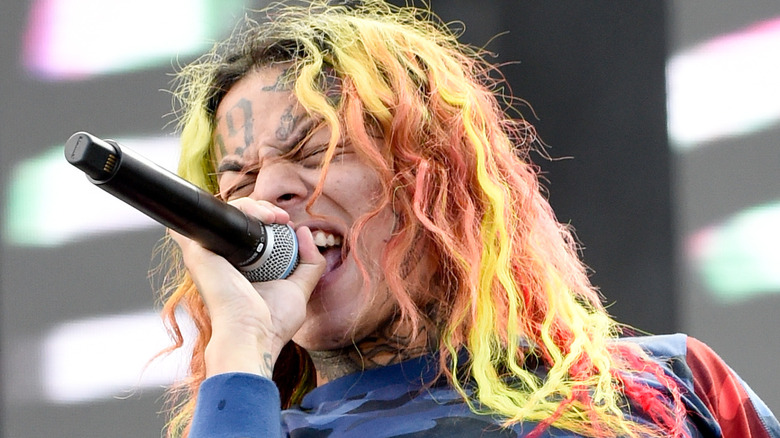 Kevin Mazur/Getty Images
Ever since Tekashi 6ix9ine was taken off house arrest, and despite people expressing their intense dislike for him, he walked around unscathed for the most part. But that wouldn't last. In April 2022, he was assaulted while leaving Pilo's Tacos Tequila Garden in Miami. In a video published by TMZ, the "Dummy Boy" rapper can be seen walking through the crowd while being led out by security. A man then throws a haymaker at Tekashi, which hits him in the head. The polarizing artist said that he didn't know the guy before the punch and had no past issue with him, but that person had a different story.
The man goes by ItzMrBHN on social media, and he claimed that Tekashi and his security team had taunted him in the venue before the incident. He claimed that the final straw was when Tekashi started posting insulting videos of ItzMrBHN and his friends on Instagram Stories and decided to teach him a lesson for bothering other people. "It was the right thing to do. Hopefully, that humbled him a little bit," he told TMZ. "I'm just tired of this guy bullying everybody, dog. He's bullying too many people and then he came in the club and when he came in the club he started videoing our section." 
Someone threw beer at him during a game
Kevin Mazur/Getty Images
On March 17, 2023, Mexico faced Puerto Rico in Miami for the World Baseball Classic. Tekashi 6ix9ine was in attendance, and he cheered for the Mexican squad while waving the country's flag. But he did it in his usual trolling way and received a stern couple of middle fingers for his effort. Plus, someone threw a can of beer at him — and that was before he got kicked out of LoanDepot Park for being intoxicated, per Page Six.
If all of that wasn't enough action for him, he got into it with some people outside of the stadium about disowning his Puerto Rican heritage and rooting for Mexico's team because his mother is Mexican. "My dad abandoned me. [He's] Puerto Rican ... My mom raised me Mexican, an immigrant," said Tekashi in Spanish, according to HipHopDX. "I love my mom with all my heart. She played the role of mother and father for me."
Sadly, shortly after that video surfaced of Tekashi talking about his parents, he'd have to face a lot more than having a can of beer thrown at him — something that would land him in the hospital.
Tekashi was brutally attacked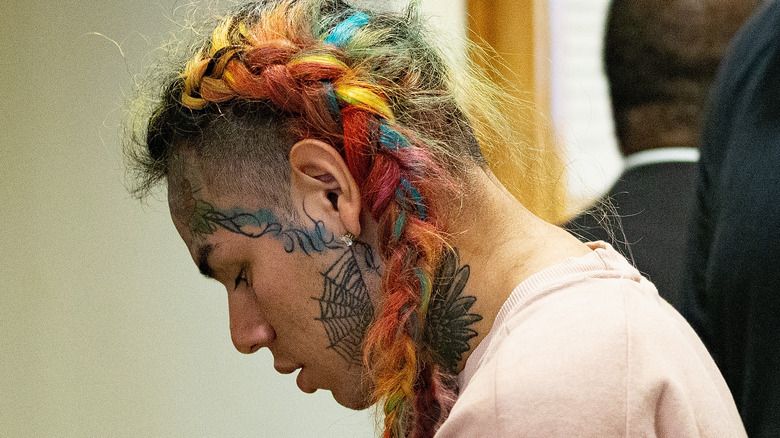 Bob Levey/Getty Images
On March 21, 2023, Tekashi 6ix9ine was jumped by a group of men at an LA Fitness in Lake Worth, Florida. In disturbing and graphic video footage published by TMZ, he can be seen lying on the ground of a sauna while trying to cover his face from kicks and punches. A large-sized bald man can then be seen grabbing Tekashi by his hair, taunting him, and landing a kick. "Take a picture," the guy told someone else who was in the sauna. "I want to be famous now." A second person kicked Tekashi after that.
The rapper — who didn't have security at the time — was, fortunately, able to walk away from the incident, albeit bloody. He was taken to the hospital by EMS soon after with injuries to his jaw, ribs, and back. A photo surfaced of Tekashi in the hospital as well and he can be seen with a bloody, swollen face. His attorney, Lance Lazzaro, told TMZ that he plans to speak to federal agents about giving Tekashi protection. That seems to suggest his legal team believes the attack could've been a result of his client's testimony against Nine Trey, instead of it being random.
TMZ reported that Tekashi often goes to that same gym and never had an issue before the attack. As of this writing, the men who committed the assault haven't been arrested.