What Caused Evan Peters And Halsey's Split Is Still A Mystery (Or Is It?)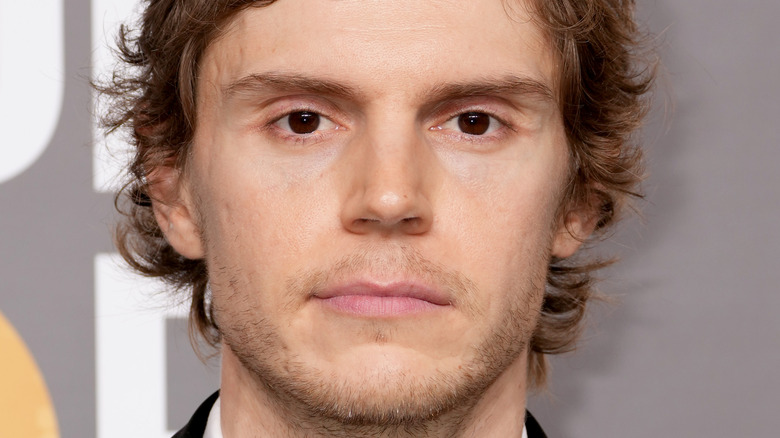 Kevin Mazur/Getty Images
For a brief-but-passionate period in 2019 and 2020, Evan Peters and Halsey captured fans' hearts with a whirlwind romance. On the heels of their respective breakups from Emma Roberts and Yungblud, the two celebs were seen giddily holding hands at Six Flags Magic Mountain in September 2019. As the dating rumors flew, inside sources shared that the "Dahmer" star and "Stay with Me" crooner first formed a connection over social media. Very apt, considering that a Halloween 2019 Instagram post from Halsey first confirmed their relationship. 
By the dawn of 2020, the two entertainers were already cohabitating, with one source telling E! News that the artsy duo was "happily attached at the hip." As another insider shared with Us Weekly, Halsey also had Peters' friends' stamp of approval, describing them as "both weird in the same ways." They even shared their joyful Valentine's Day 2020 on Instagram, with Halsey posting a snapshot of the two frolicking in a pool in Switzerland.
One month later, however, all photos of Halsey and Peters were unceremoniously removed from her Instagram feed (save for the Valentine's Day post). The cryptic gesture seemed to signal a breakup, but the reason for their split remains nebulous to this day. However, upon a careful examination of the ex-couples last (indirect) interaction on social media, it's possible a schism in their political beliefs was the culprit.
Did Evan Peters and Halsey come to blows over Black Lives Matter?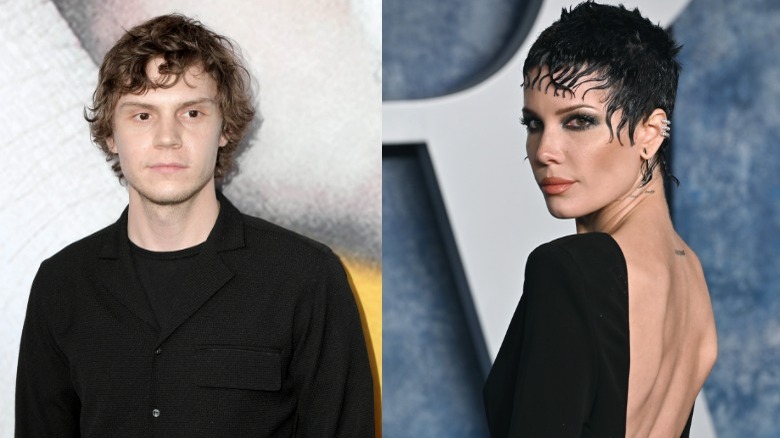 Kathy Hutchins & Featureflash Photo Agency/Shutterstock
Although both have stayed mum on the issue, it seems Evan Peters' most controversial Twitter incident can clue us into why he and Halsey called it quits. In June 2020, amidst the height of the COVID-19 pandemic and Black Lives Matter protests, a choice video found its way onto Peters' Twitter feed. Showing footage of looters being chased and tackled by police, the cameraman can also be heard yelling, "Get them!" Captioned "I can watch these piece of s*** looters get tackled all day" by another user, the video garnered Peters massive and immediate backlash. The "American Horror Story" star deleted the retweet quickly, explaining on his now-deactivated account that he "unknowingly retweeted" the clip and did not condone the original user's message. "I sincerely apologize if anyone was offended. I support black lives matter wholeheartedly," Peters added.
While Peters' reputation has been largely unmarred, some fans were skeptical at the time of his "accidental" retweet. Enter Halsey. Before Peters deleted his retweet, one user bluntly asked him, "Is this why Halsey broke up with you?" While the "You Should Be Sad" hitmaker didn't address the fan, she did "Like" their tweet. Moreover, a few days before Peters' Twitter mishap, Halsey and her ex-boyfriend, Yungblud, attended a Black Lives Matter rally in Los Angeles, at which she even claimed to have been fired upon with rubber bullets by police.
Evan Peters and Halsey seemed fated to date
Matt Winkelmeyer/Getty Images
While Evan Peters and Halsey may now be ancient history, the lead-up to their erstwhile romance remains inspo fodder for the ages. Dating all the way back to 2012, Halsey has been wishing Peters into her love life via a series of since-deleted tweets. In 2012, the singer praised Peters' portrayal of several serial killers on FX's anthology series, "American Horror Story," wistfully tweeting, "Seriously Evan Peters stop making me attracted to alleged sociopaths and accused murderers." Following up that doozy, Halsey restated her intentions in an October 2013 tweet, simply musing, "I just want cookies and Even Peters." The persistent pop star even rephrased her mission statement in actionable terms, announcing in November 2013 that she was starting a "petition for Evan Peters to date me." (Sadly, such a petition never existed — we checked...)
Six years later — to the day, no less — since Halsey asked the universe for "cookies and Evan Peters," she confirmed they were dating via a Halloween couple's costume Instagram photo. Whether it was luck, connections, and/or "The Secret," the "Without Me" singer's crush game inspired legions of fans to follow suit. As one quipped, "Halsey manifesting her relationship with Evan Peters is iconic. So, watch out Harry Styles I'm coming for you." That kind of collective positive thinking can never hurt (just no stalking, please).