What Really Happened Between Whitney Houston And Jermaine Jackson?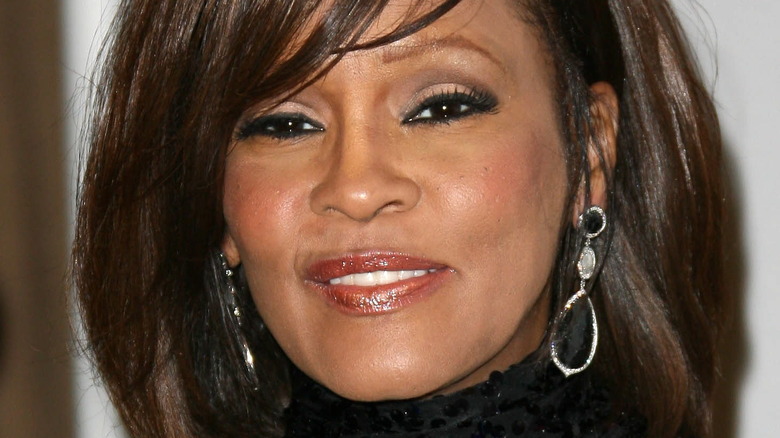 s_bukley/Shutterstock
Whitney Houston and Bobby Brown's destructive marriage, which lasted from 1992-2007, is one of the largest blemishes of Houston's iconic career. During their time together, the superstar pair dealt with substance use, infidelity, and domestic conflict, which permanently sullied her public persona. "The violence that we incurred was using, and that is violence in itself," said Brown to Entertainment Tonight. He continued, "We abused drugs and alcohol. We fought hard verbally. And we loved even harder." 
Still, Houston loved and deeply admired Brown. "She loved him," shared a source with People. "She truly did. In some ways, Bobby provided stability in her life, and she had someone who truly cared about her." With that said, Houston was involved in several notable relationships over her adult life ... including most famously, an alleged romantic relationship with her longtime friend, Robyn Crawford, and a little-known courtship with Jermaine Jackson, which adds another layer of intrigue to Houston's turbulent life. 
Houston's friendly-yet-platonic relationship with Jermaine has been well documented. However, Houston's bond with the third oldest brother of Michael Jackson reportedly went way deeper than most casual fans were aware of. And if the rumors are true, both parties definitely had good reason to keep things quiet.
Whitney Houston and Jermaine Jackson started off as friends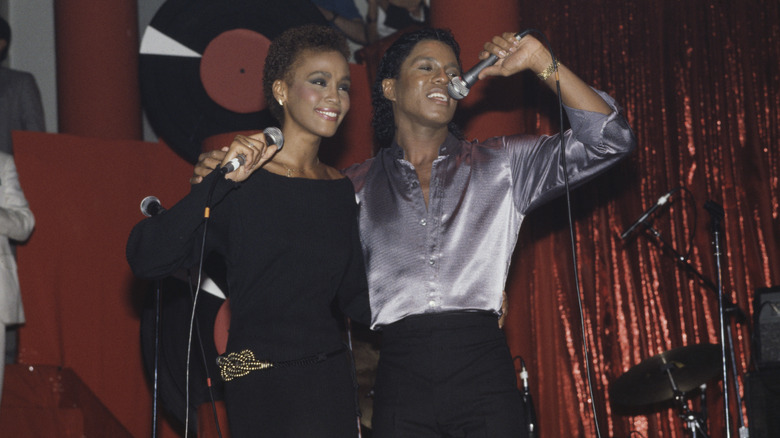 Dave Hogan/Getty Images
Whitney Houston and Jermaine Jackson were supposedly just friends and musical collaborators. However, there have been reports which put into question the true nature of their bond. According to The Sun, the musicians had an affair while working together, during Jackson's marriage to Hazel Gordy. "In those early days ... he was smuggled into her hotel rooms, they worked extra late in the studio, and she even had a code name for him. She referred to him as 'Ji,' " shared an anonymous source (via the New York Post). 
Houston reportedly called things off after Jermaine refused to choose her over Gordy, but they never lost their former affection. "[Whitney's] death has devastated Jermaine because of the history between them," shared a source with the publication (via the Daily Mail). "No one understood the scale of his grief because they didn't know what they shared." Despite the enduring rumors, neither Houston nor Jermaine ever went public with their relationship, though Jackson wrote about their close friendship in his closeness in his memoir. 
And though Jermaine's recollection of their dynamic proved to be rather chaste, his sister LaToya Jackson once provided a different angle. "I think that Jermaine wrote that in his book to protect Whitney at that particular time ... and he has admitted that they had an affair," shared La Toya during an episode of "The Talk" (via I Love Old School Music).
Did Michael Jackson and Whitney Houston ever date?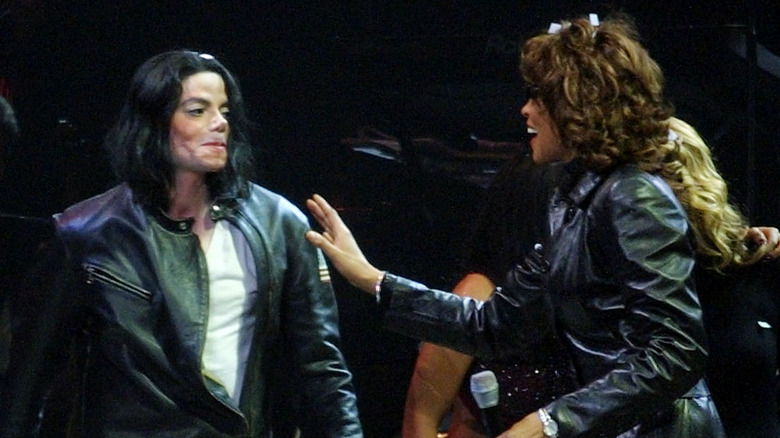 Scott Gries/Getty Images
There are few musicians who've ever given Whitney Houston a run for her money, fame, or talent-wise. However, Michael Jackson definitely fits the bill. Additionally, Houston and Jackson also endured complicated private lives which countered their legendary run in music, helping to set the foundation for their long friendship. 
However, Jackson's former bodyguard, Matt Fiddes claimed that the two stars once had an affair. "One of the many stories that has never been told about Michael is that he had an ultra-secret affair with Whitney Houston that he never got over," Fiddes shared with The Sun in 2012 (via Yahoo!). "They met because they were two of the biggest recording artists on the planet and mixing in the same circles. They instantly connected as kindred spirits because they understood each other's fame." 
Fiddes continued, "Whitney practically moved in to Michael's ranch and they had a fling like any other young couple. But Michael said later he had always hoped the relationship had gone further, and I know he dreamed of marrying her." TV personality David Gest also claimed that Houston and Jackson's friendship was anything but platonic. "[Whitney] really loved Michael and he adored her," said Gest to The Sun (via She Knows)."Michael told me they once shared a passionate kiss and she told me she was at one time very much in love with him."