What Steve Buscemi Did For A Living Before He Was Famous
Ron Adar/Shutterstock
Steve Buscemi fans have been obsessing over his talents for decades. The actor has been cast in numerous memorable roles, such as Mr. Pink from "Reservoir Dogs," the meme-worthy Crazy Eyes from "Mr. Deeds," and the unforgettable Enoch "Nucky" Thompson in Scorcese's "Boardwalk Empire." Despite his on-screen bankability, Buscemi's humility remains one of his most endearing traits. He told Collider that he initially found it hard to believe he had scored the leading role in "Boardwalk Empire." He said, "When Terry did call me and he said that he and Marty [Scorsese] wanted me to play this role, my response was, 'Terry, I know you're looking at other actors, and I just appreciate that my name is being thrown in.'" Buscemi elaborated, "He said, 'No, Steve, I just said we want you.' It still didn't sink in."
Buscemi may have found it hard to believe because, at one point in his career, he held some pretty ordinary jobs. He told ShortList, "I used to sell newspapers in the toll lane on the Triborough Bridge ... But I've worked in gas stations. I drove an ice-cream truck. I was a furniture remover. I was a dishwasher. I was a bus boy." Talk about an upgrade, as Buscemi is now one of Hollywood's most sought-after leading men. He also told the outlet that he may have been a blue-collar worker if he had not succumbed to his thespian yearnings.
Steve Buscemi was a real-life hero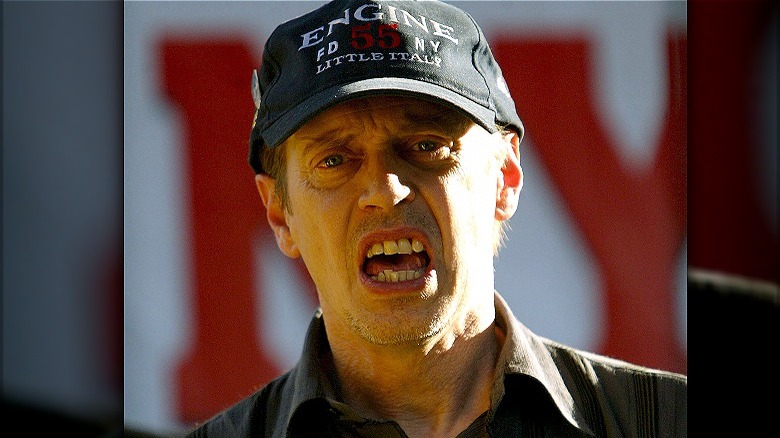 Paul Hawthorne/Getty Images
Steve Buscemi might still be working shifts as a New York City firefighter at the Engine Co. 55 firehouse in Little Italy. He told ShortList, "I'd probably still be on the fire department. I would have had 30 years on, so I no doubt would have continued doing that." He spent four years putting out fires while taking acting classes. In an interview with GQ, Buscemi revealed that his co-workers didn't know about his hidden talent until he drank too much while partying with them. He then started mimicking his colleagues. Luckily, they loved it. Buscemi shared they started supporting his shows, saying, "They started coming to see the plays I was doing." 
And Buscemi is no shirker. He was a real-life hero when he returned to Engine Co. 55 following the terrorist attacks that devastated New York City on 9/11/2001. A Facebook post revealed that Buscemi worked 12-hour shifts "digging and sifting through the rubble from the World Trade Center looking for survivors." The post noted that "very few photographs and no interviews exist because [Buscemi] declined them. He wasn't there for the publicity." Two years later, Buscemi was arrested for rallying with the firefighters as they demanded an increase in wages. In 2020, Buscemi was cast as a firefighter in "King of Staten Island" and spoke about his on-the-job experience as a fireman. "Firefighters are really funny and they can be brutal with each other and I think that's captured really well in the film," he told Entertainment Weekly.
Funnyman Steve Buscemi bombed as a comedian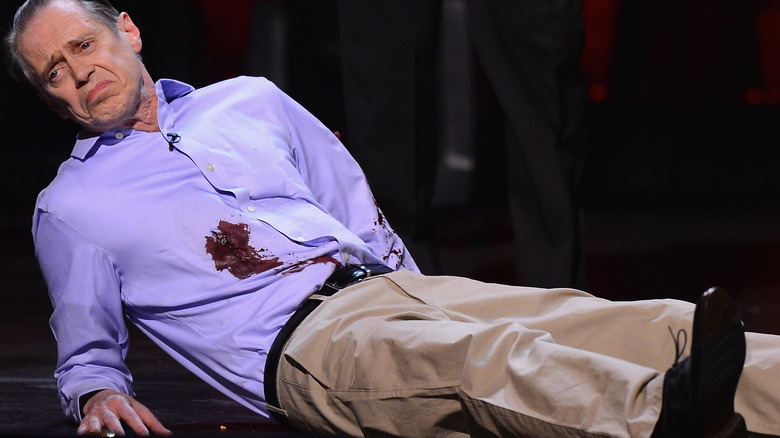 Stephen Lovekin/Getty Images
In the 1980s, Steve Buscemi and "Sons of Anarchy" star Mark Boone Jr. formed a comedy duo. While The New York Times classified their show as "theater in the absurdist vein," Buscemi told ShortList he liked acting more than being a stand-up comedian. He shared, "I just felt like, for me, it just... I couldn't find my own comedic voice." Buscemi also revealed that, sometimes, he bombed on stage. "It's terrible when you're not connecting with the audience," he said. It's hard to imagine that the actor, who excelled as God in the comedy "Miracle Workers," could ever fail at being funny.
Mister Shhh (from "Things to Do in Denver When You're Dead" fame) also realized he enjoyed working with others and that stand-up comedy is generally a solo act. "I like having other people around, I like playing off them and having that camaraderie. And doing stand-up, it's just you. And um... I guess I didn't like the aloneness." Multi-talented, humble, and someone who gives back — there's far more to Steve Buscemi than his crooked teeth.