Here's Who Julianne Hough's Ex-Husband Brooks Laich Is Dating Now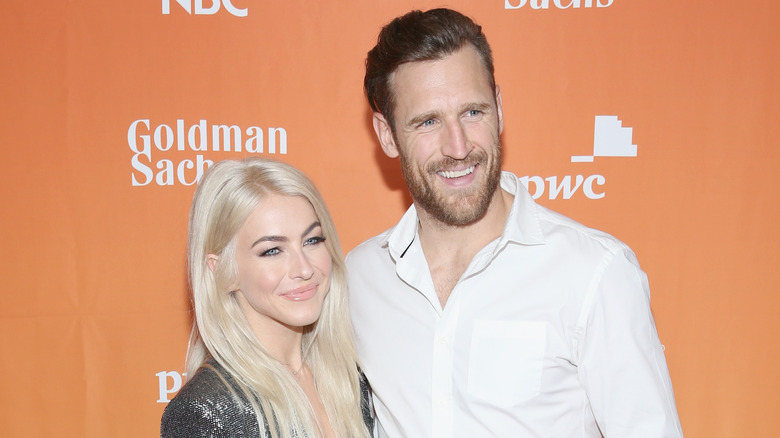 Phillip Faraone/Getty Images
From the dominating the dance floor to walking down the aisle, Julianne Hough thought she'd found the one when she married Brooks Laich. The "Dancing With the Stars" alum was head over heels for the NHL player from the jump and knew she wanted to spend the rest of her life with him, per ET. She shared, "I mean, I've never really been the person to think about 'when you know you know'. But it was just kinda just that. When we first met each other we were like, 'And we're done.'" The couple was done because they decided to get married in 2017.
For a while, they seemed to be on a newlywed high and couldn't get enough of one another, per People. However, as time passed, rumors began to swirl that the couple was struggling in their marriage. A source told the outlet, "They've been having problems for months. She's [Julianne] very independent and a free spirit, and that's been tough for Brooks and their marriage."
In May 2020, Hough and Laich officially announced they were splitting, per People. Their statement said, "We have lovingly and carefully taken the time we have needed to arrive at our decision to separate. We share an abundance of love and respect for one another and will continue to lead with our hearts from that place." Now that it's been two years since their divorce, the former couple has seemingly moved on. But who's the new woman in Laich's life?
Brooks Laich is dating Katrín Tanja Davíðsdóttir
No one knows how long it'll take for someone to jump back in the dating pool after a breakup, but for Brooks Laich, it was fairly quick. Although the NHL player and Julianne Hough split in the spring of 2020, the pro dancer didn't officially file for divorce until that November, according to People. Less than a year after filing for divorce, Laich was already in a relationship with CrossFit athlete Katrín Tanja Davíðsdóttir.
Laich and Davíðsdóttir were rumored to be together for a while before they decided to make it Instagram official in August 2021, per People. Both shared photos of them taking a vacay on the beautiful island of Hawaii. Davíðsdóttir posted, "Life is better with a couple coconuts & this favorite human of mine." At the time, it was unclear whether Davíðsdóttir was just a rebound from his recent divorce, but as time passed, they proved everyone wrong.
In February 2023, Laich shared a sweet Instagram post of Davíðsdóttir for Valentine's Day. He wrote, "#HappyValentinesDay to my lovely lady @katrintanja! Every day with you is a gift my love, and I am so lucky to walk with you through life! I love you..." The couple is nearing their second anniversary. Perhaps the hockey player will give marriage another go with Davíðsdóttir?
Katrín Tanja Davíðsdóttir is a CrossFit athlete
Brooks Laich and Katrín Tanja Davíðsdóttir have one major thing in common — fitness. Laich is a famous NHL player, but Davíðsdóttir is also known for competing in CrossFit athlete competitions. According to CrossFit, the Iceland native truly got her start in the sport in 2012 when she came in 30th for the CrossFit Games. Her athleticism made her a force to be reckoned with, and in 2016, she won the CrossFit Games for a second time. Davíðsdóttir was the third person in history to ever do such a thing. Davíðsdóttir's passion for the sport is evident, just one look at her Instagram page and it is flooded with posts of her in the gym training.
Laich has been more than supportive of his girlfriend's passions. In June 2022, he shared an Instagram post of Davíðsdóttir competing with a loving caption: "Champions are champions because they are the hardest to kill. Pick any sport you want and you'll find this to be true. They are the 'toughest out' as we say. Never more does that ring true than when I watch @katrintanja compete." The NHL player even stated that Davíðsdóttir is his "favorite competitor," although he may be a little biased. Regardless, it seems Laich's happier than he's ever been, and we feel Davíðsdóttir has a lot to do with that.