Lil Wayne's Supposed Ban From NBA Games Began With His Chris Bosh Beef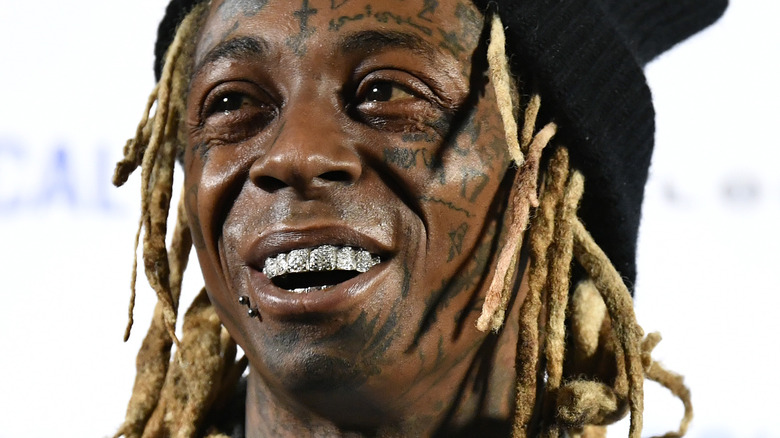 Michael Tullberg/Getty Images
Lil Wayne openly talked trash about the Miami Heat super team in the early 2010s, featuring LeBron James, Dwyane Wade, and Chris Bosh. During an explosive interview in January 2011, the "A Milli" rapper called out James and Wade for never acknowledging him whenever he watched Heat games from his courtside seats. "N***a spent all that money on them f***ing tickets," Wayne told Rolling Stone. "Come holla at me. We sit right by them little b***h-a** n***as."
A month later, the beef between Wayne and the Heat appeared to be squashed as James gave "Tha Carter" artist a head nod when he arrived to watch a game. Reports were that Weezy was satisfied with the gesture, although Wade seemed unimpressed by his teammate acquiescing to the rapper. "You did?" Wade asked his teammate about the head not, per NBC 6. "Did I?" James coyly responded.
Two years later, in February 2013, the feud was reignited when Wayne claimed he was kicked out of a Heat game. "So I'm @ da Heat game right, rootin 4 da Lakers kuz dats my team & would u believe they got police 2 make me leave?! Wow! F*** da Heat," he tweeted, via E! Although a rep for the team claimed Wayne left of his own volition. Days later, the "Lollipop" rapper went on an expletive-filled tirade against the team and took a cheap shot at Bosh.
Lil Wayne's salacious claim about Chris Bosh's wife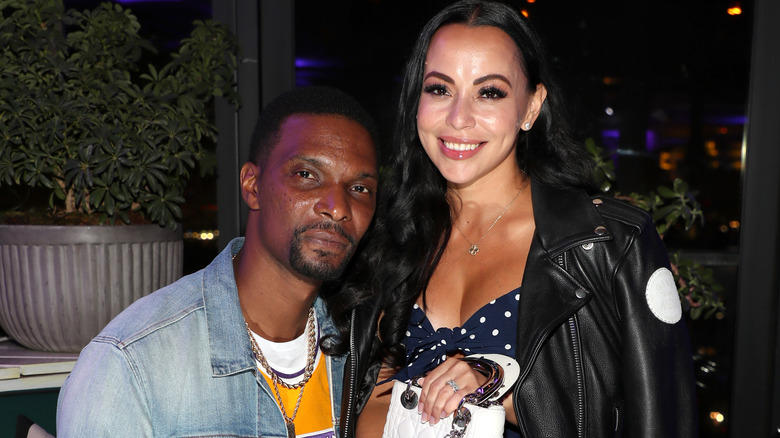 Jerritt Clark/Getty Images
During the 2013 NBA All-Star Weekend in Houston, Lil Wayne was absent from any official league-sanctioned events, but he performed in the city on February 16, 2013. Lil Tunechi used the opportunity to explain why he had not attended the All-Star festivities. "The NBA banned me from all NBA events. It's because the Miami Heat told them to ban me," he said on stage, per TMZ. Then Wayne bashed the Miami Heat superstars. "F*** LeBron, f*** She-Wade, f*** Chris Bosh, f*** all of them n***as, man," Wayne said before dropping the hammer. "And ... I f***ed Chris Bosh's wife," he told the Houston crowd.
Prior to that rant, rumors had spread that the "Mirror" rapper had a tryst with Chris Bosh's wife, Adrienne Bosh — back when she was a model who went by the nickname "Short Stack," and before she had met her future husband. Shortly after Wayne's tirade went viral, Adrienne retweeted a quote that appeared to refute the rapper's claim. "Truth prevails. Today stand in your truth and ignore the chatter around and about you," Adrienne retweeted in February 2013.
Shortly after his anti-Heat rant, Wayne doubled down on his position. Appearing on Miami's 99 Jamz in February 2013, the artist claimed his outburst was not the result of being intoxicated. "Let me start off by saying I don't apologize for that night," he said, via Spin. Months later, however, Wayne would change his tune about Bosh. 
Lil Wayne sets the record straight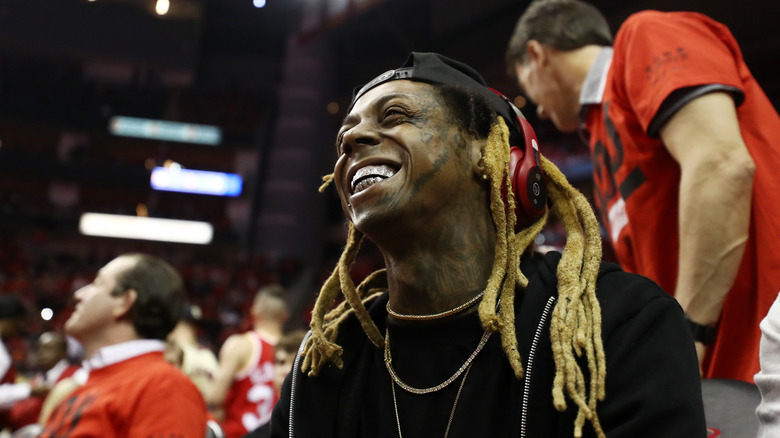 Ronald Martinez/Getty Images
Once the dust had settled later in the year, Lil Wayne walked back his claims about Adrienne Bosh. "I said that? I was too turnt up that night," the "I Feel Like Dying" artist said while appearing on "Jimmy Kimmel Live" in June 2013, via HipHopDX. In fact, he even came clean about his supposed ban from NBA events. "It's not true, I didn't get banned [by the Heat]. They did tell me I'm allowed back whenever I want," Weezy said. However, he did believe his relationship with the team and their star players was irreparable. "I don't think they want me there, so I won't make it hard on either of us."
A few years after the anti-Heat debacle, Wayne was supportive of Chris Bosh. The "Dedication" rapper compared his own dicey label situation with Cash Money Records to the NBA player being sidelined by the Heat due to blood clots. "That's what it looks like they're doing to Bosh, and I hope he make[s] a comeback," Wayne said on ESPN's "His & Hers" in 2016, via Billboard.