Why Kate Upton Made Justin Verlander Think She Didn't Like Her Engagement Ring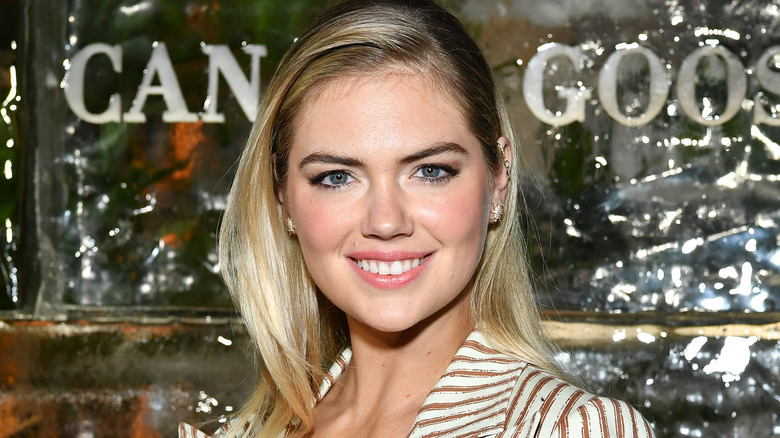 Amy Sussman/Getty Images
Kate Upton and Justin Verlander share a sweet love story with a unique twist where Verlander got the idea that Upton didn't like her engagement ring — which is a big deal since he custom-made the ring. SI Lifestyle reports that the pair met when they were both on the job. According to the outlet, the soon-to-be couple first laid eyes on each other while filming a commercial for Major League Baseball 2K12 back in 2012. At the time, Verlander pitched for the Detroit Tigers, and while the baseball pro tried to play it cool, there was a little hiccup during their first meeting. 
"We first met at a commercial shoot, and I had my microphone on and didn't realize. I told my friends that I was gonna get her number, and she heard me!" he explained to Us Weekly. Um, awkward! But hey, Verlander added that "it worked" and the two struck up a romance. Upton and Verlander briefly broke up in 2013 (in the interim, Upton dated "Dancing With the Stars" pro Maksim Chmerkovskiy), but it didn't take them too long to reconnect in 2014. 
Throughout their relationship, both Upton and Verlander have let their love shine on social media, and one thing's for sure — these two like to have fun! In 2016, Upton shared a photo of herself and the MLB star dressed as Danny and Sandy from "Grease" for Halloween. They also have a fun engagement story that they ended up sharing on a late-night show. 
Kate Upton didn't want to seem materialistic during proposal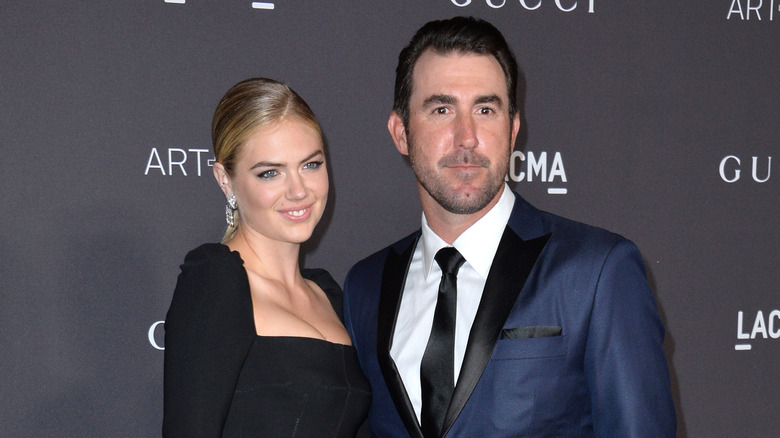 Featureflash Photo Agency/Shutterstock
Kate Upton and Justin Verlander are honest about most things, including a funny moment with the proposal. During a joint appearance on "The Tonight Show Starring Jimmy Fallon," the couple shared details about the proposal and why Upton made Verlander think she didn't like the stunning engagement ring that he selected. "It was this great elaborate proposal," Upton said. "He's very romantic. He gets down on one knee, and he pops open the ring box. In my mind, I'm like, 'Don't look at the ring. He's going to think you're materialistic. Just look in his eyes; listen to what he's saying," the model told Fallon, pointing out that her "internal dialogue" was playing in her head. After Upton said yes, Verlander asked if she even liked the ring since she "didn't look at it once.' Obviously, it was just a misunderstanding, but it still made for a funny and memorable moment between the pair. 
In 2016, Upton showed off her engagement ring to E! News as she walked the red carpet at the Met Gala. "I'm really excited, he asked me right before [the] season started so we've been keeping it on the down low for quite a while," she told the outlet. "So I'm excited to finally be able to share it with the world!" Jewelry designer Anita Ko revealed that she and the baseball star collabed on "the most perfect one-of-a-kind ring." Aww!
Inside Kate Upton and Justin Verlander's incredible wedding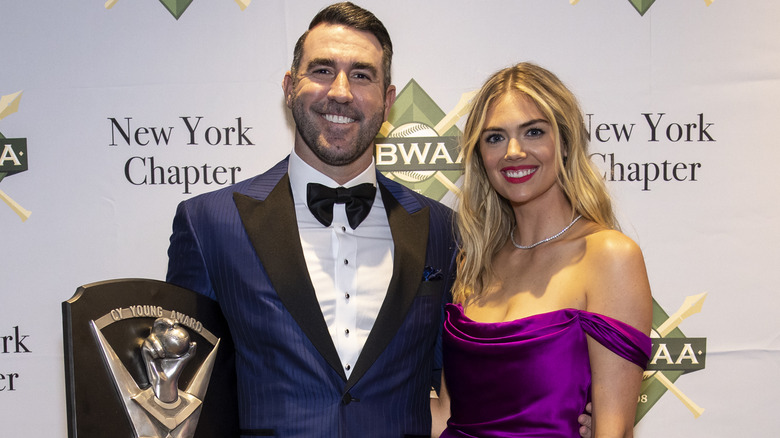 Michelle Farsi/Getty Images
Following their engagement, Justin Verlander and Kate Upton didn't take long to make things official. Just days after Verlander and the Houston Astros won the World Series, he and Upton wed — talk about an excellent year for the baseball star! It wasn't long before Upton and Verlander welcomed their first child together. People reported that the pair hopped across the pond and married in the picturesque town of Tuscany, Italy. According to Vogue, the couple chose the Rosewood Resort as their ceremony location, and Upton sported a custom Valentino gown. Verlander also looked dressed to impress in a Cicchini Custom Clothier tuxedo. 
It's no shock that the baseball star has fond memories of that day. "It was a very special moment. It was pretty storybook. The moment the gates opened, and I saw her walking down the aisle, I lost it," he told People. "She looked so beautiful, and I had been looking forward to that day for a long time."
The after-party was just as great, and Upton revealed to Vogue that it took place at the Michelangelo Greenhouse. "Justin and I didn't want to take away from the natural beauty of the location, so Michelangelo Greenhouse constructed an actual greenhouse for our reception," the model told the outlet. "The romance theme continued with lots of chandeliers, candles, and flowers. My favorite touch was the blue and white plates, which gave it the pop of color." For the reception, Upton also did a wardrobe change (because why not?), rocking a Christy Rilling Studio gown.