Ben Affleck Makes Another Excuse For His Viral Grammys Frown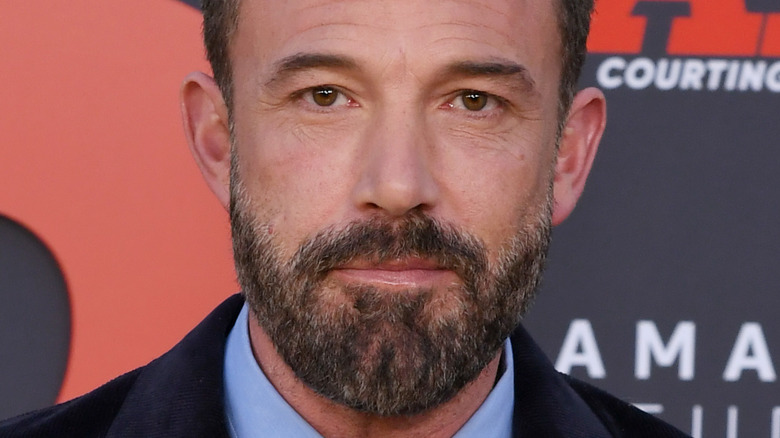 Jon Kopaloff/Getty Images
Batman is finally laying to rest rumors that have since swirled about his famous Grammys frown. Between the numerous performances and the surprise wins, the 2023 Grammys was no doubt a night to remember. And one thing we sure won't be forgetting anytime soon is Ben Affleck's look at the event which suggested that he wasn't happy to be there. But while many considered that Affleck's morose face pointed at trouble between him and wife Jennifer Lopez, a source explained that the "Batman" star was merely exhausted from working. "Jen and Ben had a fun date night out at the Grammys, but they have both been very busy working on several projects, and Ben was feeling tired," the insider told ET. "He wanted to go and support Jen, but he wasn't his usual self."
Affleck, who has now become the subject of many internet memes, has also attempted to ward off the rumors including those that suggest he was drunk. "I've gone to award shows and been drunk a bunch. Nobody ever once said I'm drunk. [But at the Grammys] they were like, "He's drunk." And I thought, that's interesting," he said in a March 2023 interview with The Hollywood Reporter.
Despite these attempts though, Affleck's excuses have done very little to change people's minds — so now, the actor is speaking his truth.
Ben Affleck says God made him look 'unhappy'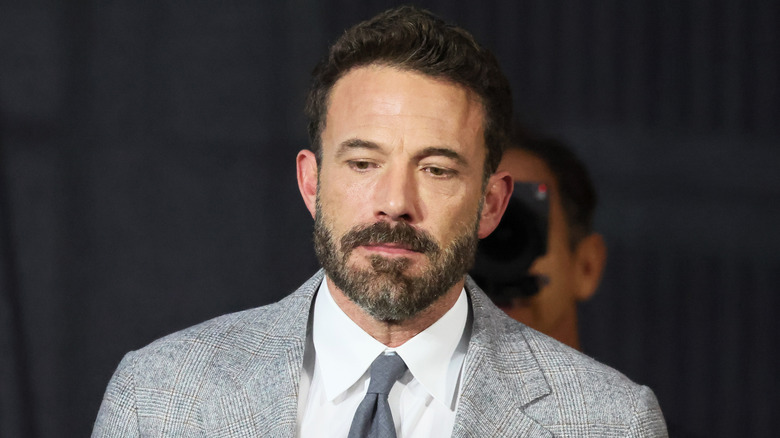 Michael M. Santiago/Getty Images
In a recent appearance on "Jimmy Kimmel Live," Ben Affleck touched on the subject of his frown, reiterating yet again that it was not what it seemed like. "That's a common misconception about me. Listen, I have a very unhappy-looking resting face," Affleck told Kimmel. Backing up his comment with action, Affleck demonstrated to the audience what he would ordinarily look like when he's feeling good. "This is me content. This is me amused. That's how God made me. You don't have to punish me for it," he quipped. But award shows are not the only places Affleck wears his signature long face as Kimmel revealed the actor had the same expression at a private gathering last December. "I wanted to, first of all, thank you. You invited me and my wife Molly to your house for Christmas ... It did seem like you weren't quite as psyched about the party as everybody else," the talk show host teased.
Affleck and Lopez got married in July 2022, and hosted their first Christmas as a married couple that December. "We have blended families, doubled the people, doubled the fun, doubled the love, doubled the presents, and tripled the chaos!" Lopez later recounted to fans in a newsletter(via Daily Mail). "The party was filled with family, friends, colleagues, and people we've known from over the years. We sang and danced and had the most amazing time!"