Brooke Shields' Ex Andre Agassi Once Had A Meltdown Over Her Friends Scene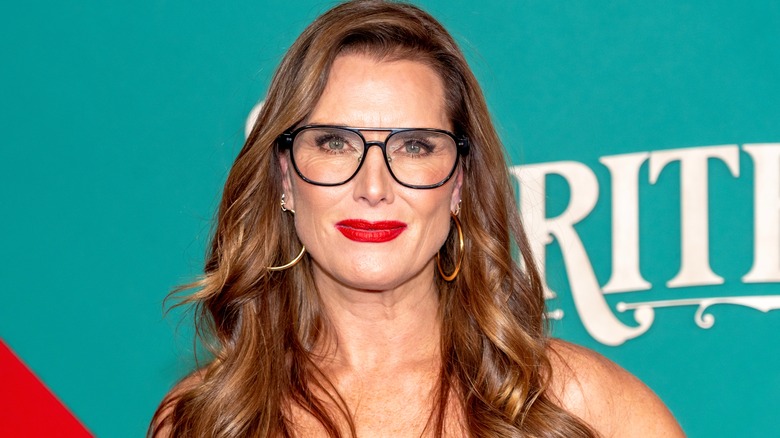 lev radin/Shutterstock
Brooke Shields has starred in a wide range of acting projects — including one particularly hilarious episode of "Friends." In 1996, Shields appeared in "The One After The Superbowl: Part 1," as a peculiar character named Erika Ford. Convinced that Joey Tribianni (Matt LeBlanc) was actually his soap opera character, Dr. Drake Ramoray, Erika sought him out in an attempt to strike up a romance. Against his better judgment, Joey decided to humor her and arranged a romantic evening for them, although entertaining her delusion eventually led to a famous scene of him being doused with water by Erika and most of the other characters.
In addition to being a favorite episode among fans, it also broke records for garnering the biggest audience in the show's history. According to NBC (via Life & Style), Shield's episode of "Friends" raked in more than 52 million viewers, a feat no other episode matched during its 10 seasons on the air. Unfortunately, Shields didn't have the best experience filming the episode. It wasn't because she felt like an outsider among the famously close cast (as was the case with Kathleen Turner). It was all because of her ex-husband, Andre Agassi. 
Andre Agassi destroyed all of his tennis trophies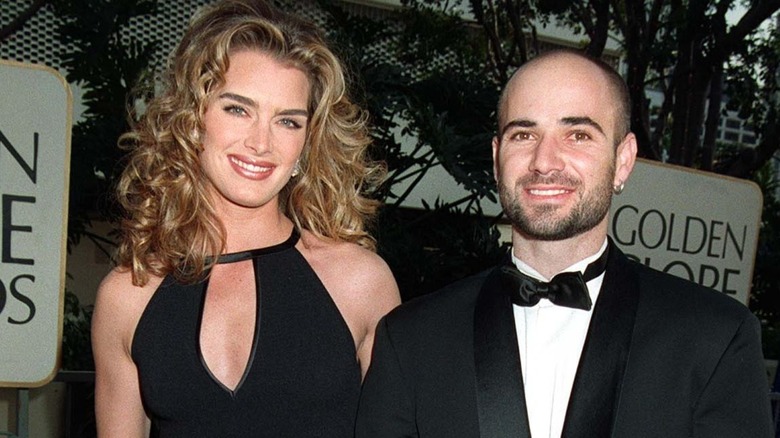 Featureflash Photo Agency/Shutterstock
In March 2003, Brooke Shields participated in a profile with the New Yorker and spoke about several pivotal moments over her career, including the time her would-be husband, tennis star Andre Agassi, ruined her experience working on "Friends." After shooting a scene with Matt LeBlanc where she licked his fingers, Agassi became angry. "Andre was in the audience supporting me, and he stormed out," said Shields. She described the moment, "He said, 'Everybody's making fun of me. You made a fool of me by that behavior. I'm, like, 'It's comedy! What is the matter with you?'" She continued, "I learned later that he was addicted to crystal meth at that point, so that irrational behavior I'm sure had something to do with that."
Unfortunately, Agassi didn't reserve his tantrum for just the film lot. In a previous retelling of Agassi's meltdown in her memoir, "There Was a Little Girl: The True Story of my Mother and Me," Shields revealed Agassi also destroyed several of his tennis trophies. "Upon arrival he systematically smashed and destroyed every single trophy he had won, including Wimbledon and the US Open, never mind all the others," said Shields in the 2015 release (via the Daily Mail). 
Andre Agassi admitted to getting angry over Brooke Shield's scene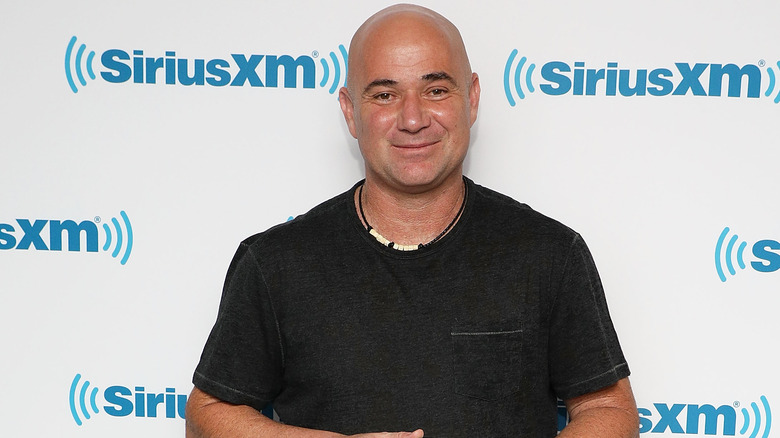 Taylor Hill/Getty Images
Interestingly, Brooke Shields wasn't the first person to share how Andre Agassi reacted to her famous "Friends'" scene. The former tennis pro wrote about the incident in his own memoir, "Open," which was released in 2009. "Of course I've watched Brooke kiss men onstage before ..." wrote Agassi (via USA Today), continuing, "This is different. This is over the line. I don't pretend to know where the line is, but hand licking is definitely over it." 
Although Shields and Agassi agree about the trophy-destroying ordeal, they weren't able to find common ground in all of their recollections. "I was asked to read [the memoir] by him so that I could correct things that I believed were not correct, because he told me his memory was not that good," shared Shields during an appearance on "Watch What Happens Live" (via Entertainment Tonight). She said, "So he called me in, and I spent five hours with his ghostwriter." Ultimately, Agassi's ghostwriter didn't honor her input due to Agassi's insistence. "Then I got a letter back that said, 'I'm so sorry I couldn't change anything because it wasn't how I remembered it,' Shields explained. "It's the oldest trick in the book and I just didn't get it."