Honey Boo Boo Speaks On Sister Anna 'Chickadee' Cardwell's Private Cancer Diagnosis
According to TMZ, Anna "Chickadee" Cardwell is battling stage four cancer. The outlet reported that Cardwell, the daughter of reality star Mama June, has adrenal cancer that has spread to other areas of her body. 
Unlike most of her family, Cardwell's reality TV presence has been rather scarce in recent years. According to her IMDb, her last television appearance came in 2014 in an episode of "Dr. Phil." Prior to that, Cardwell appeared in 24 episodes of "Here Comes Honey Boo Boo," her younger sister Alana Thompson's show. Recently, Cardwell revived her Instagram account after a long social media break. "Well, I ain't posted here in a while. Your girl is back," wrote Cardwell on March 28. "Sorry for the photo dump that's going to happen ... I love y'all and I hope y'all are having a good week." That same day, the mom-of-two updated her followers on her parenting adventures in a separate Instagram post. 
Cardwell's posts are now filled with encouraging comments from her followers, although she's yet to confirm her own diagnosis to the world. However, Thompson, better known as Honey Boo Boo, has made her family's first public statement. 
Honey Boo Boo confirms Anna's cancer diagnosis with passionate Instagram story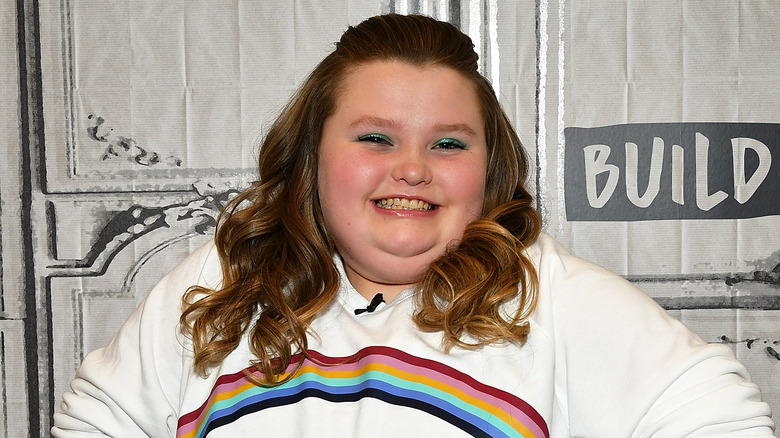 Slaven Vlasic/Getty Images
Alana Thompson has confirmed the news of Anna Cardwell's diagnosis with an Instagram story. Sharing a screenshot of the original TMZ story, Thompson urged the public to show her family a little compassion. "And this is what I mean when I say you never truly know what someone is going through at home. No matter how famous they are," she wrote over the screenshot. "Yes, I'm very famous, but normal s*** happens to me and my family, and yall need to realize that ASAP." So far, none of Cardwell's other family members have commented publicly. Given how fresh this news is, it would make sense if they needed time to collectively make a statement.
Thompson's message comes just days after she posted a controversial TikTok video where she spoke in a surprising accent. The move garnered backlash from some who believed she was speaking in a "blaccent" — a term used to describe attempts to mimic Black people. Thomspon promptly apologized. "No, I wasn't attempting to offend anyone!" she said in a follow-up TikTok video (via Daily Mail). "I did this because people frequently comment on how 'ghetto' my speech is. Which I feel in no way I do! I feel I am my own true self and if you don't like it, you simply don't have to comment on it!"