Rowan And Grier Henchy: Brooke Shields' Daughters Take After Their Famous Mom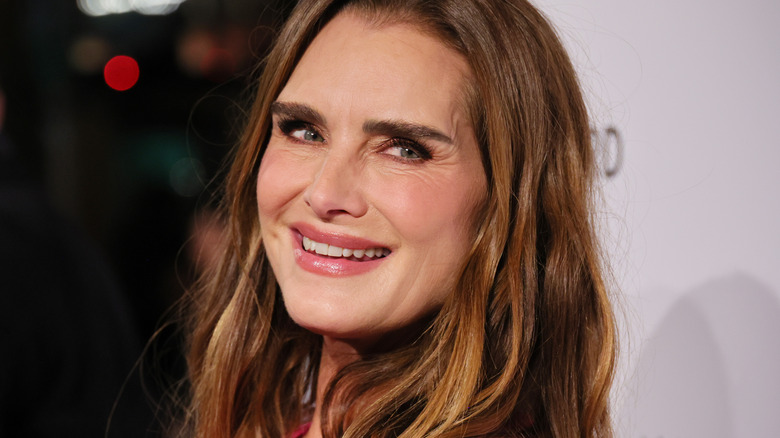 Theo Wargo/Getty Images
Brooke Shields had a complicated relationship with her mother, Teri Shields — a far cry from Brooke's relationship with her own daughters. As a child, Brooke also often found the mother-and-daughter dynamic reversed. "I'd been parenting [Teri], in a way, from the time I was a little girl. When you grow up in an alcoholic household, you learn to navigate it at a very young age," she told The New Yorker.
Brooke also found herself defending the career decisions Teri made on her behalf. Teri notoriously allowed Brooke to appear nude in the movie "Pretty Baby" when Brooke was just 11. "I don't know why she thought it was all right," the model told The Times while promoting her Hulu documentary, "Pretty Baby: Brooke Shields." When she became a mother, Brooke confessed that she never would have allowed her own two daughters, Rowan Francis Henchy and Grier Hammond Henchy, to appear in the film.
By all accounts, Brooke's relationship with her daughters is happy and healthy. Rowan and Grier, whose father is filmmaker Chris Henchy, do, however, pop up in the "Pretty Baby" documentary to discuss their mom's controversial movie, and they also don't understand how it got made. "They're so much more mature than I ever was, and they're so much more confident than I ever was," Shields told Access Hollywood of her daughters. And they've given her plenty of other reasons to be proud of them.
Rowan Henchy is interested in a broadcast journalism career
When Rowan Henchy attended prom in 2021, she raided her mom's closet and decided to borrow the strapless red gown that Brooke Shields wore to the Golden Globes in 1998. But the styling nod didn't mean that Rowan wanted to follow in her mom's fashionable footsteps by pursuing a career as a model.
After graduating from high school, Rowan enrolled in college at Wake Forest University in North Carolina, where she started studying broadcast journalism. In 2022, she got to put what she'd learned so far to use when she interviewed her own mom for Entertainment Tonight at the Fashionphile event in NYC. Rowan quizzed Shields about her favorite fashion moments, and naturally, the topic of her prom dress pick came up. "I felt confident when I wore your Golden Globes dress to my prom," Rowan told her mom. (Awww!)
Rowan has also proved that she can handle discussing much heavier topics. In her documentary, Shields opens up about the postpartum depression she experienced when she was pregnant with her oldest daughter. Ahead of the documentary's release, she warned both Rowan and Grier that the topic would be touched on. "I said to [Rowan], 'You know, the important piece that I want you to take away is that I never wanted to hurt you, but I wanted to disappear,'" Shields recalled in an interview with People. Rowan reacted to her concern with compassion and understanding, telling her, "Mom, I'm still here."
Grier Henchy modeled with her mom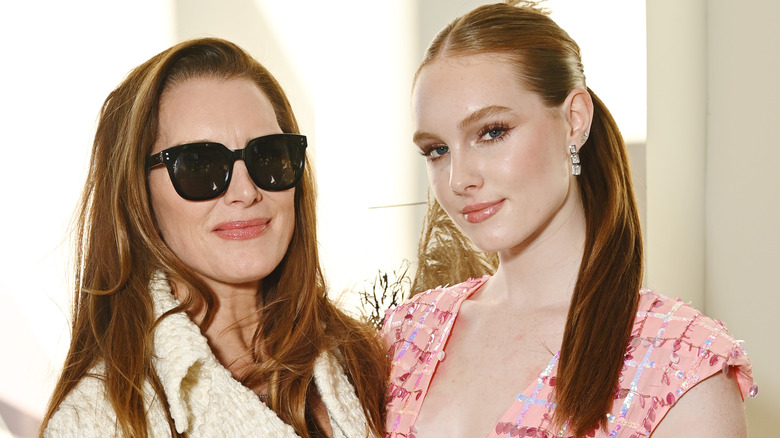 Bryan Bedder/Getty Images
When Tom Cruise criticized Brooke Shields for taking antidepressants to treat her postpartum depression, it sparked a firestorm. So it was the most bizarre of coincidences that Cruise's ex, Katie Holmes, caused another media frenzy by giving birth to Suri Cruise mere hours before Shields and Chris Henchy celebrated the birth of Grier Henchy at the same hospital. Cruise later extended an olive branch to Shields by inviting her and Chris to the TomKat wedding, and Grier and Suri even had a joint first birthday party.
Like style star Suri, Grier developed a passion for fashion. At age 15, Grier appeared with her mom in a 2022 Victoria's Secret campaign. Shields was happy to show Grier the modeling ropes while rocking the brand's cozy PJs. "For [Grier] to participate in modeling ventures that embrace women in so many facets of their lives is such a gift in this industry," Shields told InStyle.
In 2023, Shields boasted to People about impressing her fashionista daughter by rocking some hip pieces from the white-hot Off-White label. "She's like, 'Mom, do you realize how cool that is? You're cool,'" Shields recalled. Her daughters also manage to impress her. In an interview with Romper, Shields marveled over the thoughtful advice Grier gave her when they were shooting their Victoria's Secret campaign: "You spend so much time and energy on other people, your family, obviously — just don't always forget yourself."