What John Goodman Thinks About The Roseanne Controversy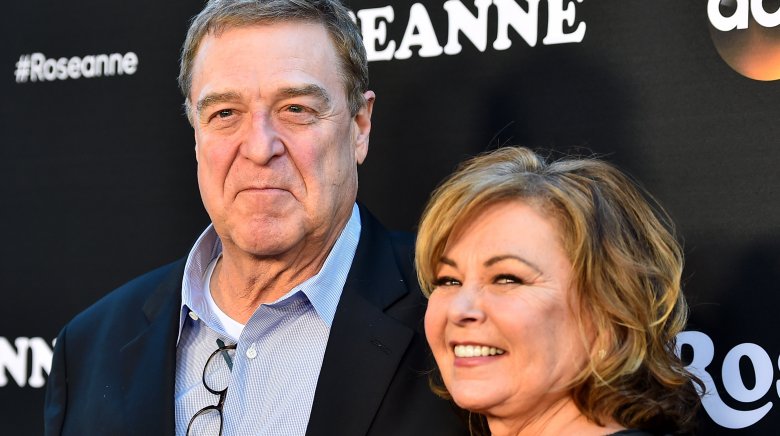 Getty Images
John Goodman has broken his silence regarding ABC's cancellation of Roseanne.
On Wednesday, May 30, 2018, Entertainment Tonight reported that the actor had finally spoken up about Roseanne Barr's recent controversial tweets and their show's subsequent cancellation. But unlike some of his sitcom co-stars, Goodman was hesitant to address the matters at hand, explaining that he'd "rather say nothing than to cause more trouble."
Discussing Barr's recent remarks — and the media scrutiny surrounding them — he said, "I don't know anything about it. I don't read it." Goodman also admitted to not knowing much about ABC's rumored plans to rework the series into a spinoff focusing on his character.
As for how he's doing now that he's out of a job (for now, at least), Goodman reassured that things were going okay for him. He said, "Everything's fine."
"I wasn't gonna get an Emmy anyway," Goodman continued. "I've been up there [11] times already, and if I didn't get one I'm not gonna get one."
As noted by ET, Goodman has received 11 Emmy nominations over the span of his career, including six that were for his role as Barr's on-screen husband, Dan Conner, on Roseanne. While the show never helped him actually snag an award, he did manage to take home an Emmy in 2007 for Outstanding Guest Actor in a Drama Series for his work on Studio 60 on the Sunset Strip.
As Nicki Swift previously reported, Barr sparked outrage when she tweeted out that Valerie Jarrett, an African American woman who served as a former White House advisor to President Barack Obama, was what you'd get if the "Muslim brotherhood & planet of the apes" had a baby. Barr later apologized for her words, but she's also defended them, claiming that her remarks were the result of late-night tweeting while on Ambien. For the record, Sanofi, the company that produces Ambien, noted, "While all pharmaceutical treatments have side effects, racism is not a known side effect of any Sanofi medication."
As a result of Barr's tweets, ABC canceled the series, and the president of ABC Entertainment, Channing Dungey, released the following: "Roseanne's Twitter statement is abhorrent, repugnant and inconsistent with our values, and we have decided to cancel her show."
Following suit, a number of channels and streaming services have also pulled Roseanne reruns from broadcast.