What Paula Deen's Sons Jamie And Bobby Are Doing Today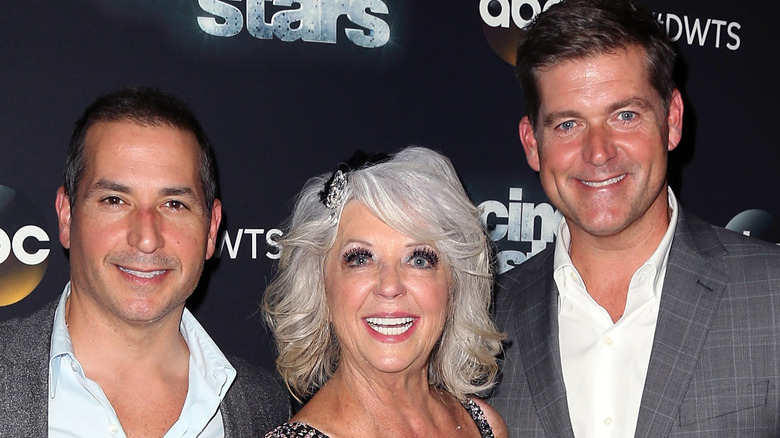 David Livingston/Getty Images
Paula Deen's Food Network show "Paula's Home Cooking" was probably how most people were introduced to her decadent, southern recipes and sweet personality. However, the Georgia native had been killing it long before her show premiered in 2002. In 1996, Paula opened The Lady and Sons, a restaurant based out of Savannah, Georgia, specializing in the same country cooking that her TV audience obsessed over. As Paula's star grew, she and her sons, Jamie and Bobby Deen, who helped run their family business and often appeared on her shows, became household names. 
Unfortunately, Paula lost her footing in the food world in 2013 after her former employee accused her of using racial slurs, along with other disturbing allegations. The Food Network eventually cut ties with the chef – and we stopped hearing about Paula. However, her sons — who rose to fame on the back of her success — have stood by their mother. At the height of Paula's fallout, they spoke out in their mother's defense. "Our mother is one of the most compassionate, good-hearted, empathetic people that you'd ever meet," said Bobby on CNN's New Day. "These accusations are very hurtful to her, and it's very sad. I'm disgusted by the entire thing, because it began as extortion and it has become character assassination."
Here's what Jamie and Bobby are doing today.  
Jamie and Bobby Deen still work under their mother's brand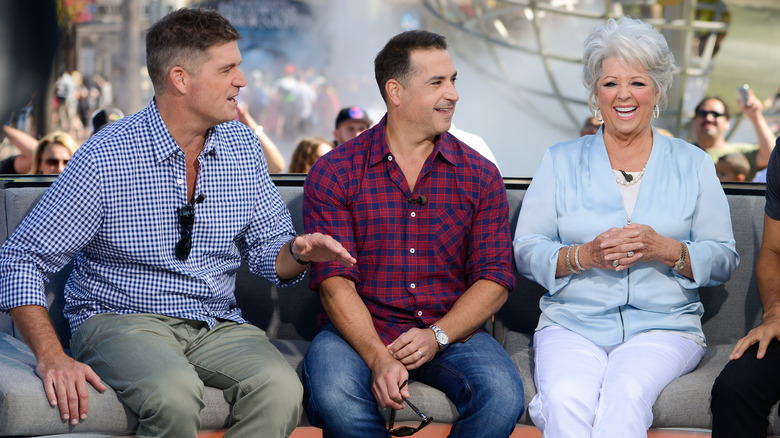 Noel Vasquez/Getty Images
Before Paula Deen's fallout, her sons Jamie and Bobby Deen often appeared on her various Food Network shows. They also made numerous public appearances with their mother. Briefly, Bobby and Jamie had their own show, "Road Toasted," where they sought out the best food from across the country. Since Paula's racial scandal ended her partnership with the Food Network, she's pivoted to self-hosted creative endeavors, including her website and YouTube channel (in addition to her restaurant empire). 
Jamie and Bobby make frequent appearances on Paula's platforms, which include 500,000 subscribers on YouTube alone. Judging from the video's thumbnails, the brothers alternate with their mother to give cooking tutorials on a variety of soul food recipes. Bobby and Jamie also have a joint Instagram account which boasts 34,000 followers. Over the pandemic, Jamie and Bobby helped Paula convert The Lady and Sons, which had previously been a buffet-style restaurant, into a family-style establishment. "Buffets are a dying dog," shared Jamie to South Mag. "I'd been wanting to change to family style for a long time. We'd literally just never had the amount of time to close and redo everything."
Jamie and Bobby Deen are building their own families
Jamie and Bobby might be Paula Deen's sons, but they also have growing families of their own. Jamie Deen has three children with his wife, Brooke Terry Deen. Their youngest was born in 2020. Jamie took to Instagram to announce the birth of his youngest child. "He's finally here, y'all! Meet the newest Deen, Davis," wrote Jamie alongside a snapshot of the then-newborn. On Father's Day 2020, Jamie posed with all three of his children. "Being a father has been one of life's biggest blessings for us both. So here's to our fellow dads out there and the kids that keep us going," posted Jamie to Instagram. "Happy Father's Day!"
Bobby also has three children. He and his wife Claudia got their blessings all at once when they welcomed triplets in 2018. And although they were born premature, they're doing much better today."Our babies are now home and thriving, and we have settled into our new normal," wrote Bobby on his mother's website in 2019. "Caring for triplets is far from easy, but it's all we know. Three is our watermark. Sometimes I think having one baby would be easy, but I know that isn't true. Being a parent is hard no matter how many you have, and everyone's circumstances are different. We know we are blessed beyond belief."