The Rumors About Jack Nicholson's Deteriorating Health Explained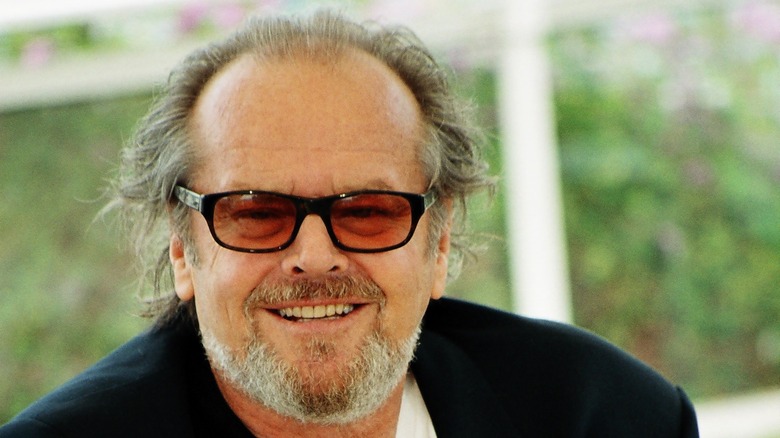 Denis Makarenko/Shutterstock
Since Jack Nicholson disappeared from Hollywood screens over a decade ago, he's been subject to rumors about his declining health. RadarOnline reported Nicholson had "quietly retired from the movie business" in 2013. Rumors swirled that he quit because of retention issues. "Jack has memory issues and can no longer remember the lines being asked of him," a source claimed. "His memory isn't what it used to be." Nicholson shut down the gossip in an interview with The Sun. "I have a mathematician's brain," he insisted.
In a way, Nicholson should be flattered by the speculation and conjecture. Because let's face it, you're nobody in Hollywood if you haven't reportedly died at least once. "I've been killed several times throughout the years!" Willie Nelson told CBS News after he wrote and released a song in 2018 titled "Still Not Dead."
In 2017, rumors that Nicholson may be retiring from acting began swirling again after his pal, Peter Fonda, told reporters at a BAFTA tea party event, "I think he is ­basically retired. I don't want to speak for him, but he has done a lot of work, and he has done very well as a person financially." Retired or not, Nicholson looked healthy and alive when he sat courtside at a Lakers game with his son in 2021. "He looked great and was so into the game!" An onlooker told E! News. So, what's with all the chit-chat and tittle-tattle? Here are the rumors about Jack Nicholson's deteriorating health explained.
It's more pipe and slippers than sex and drugs nowadays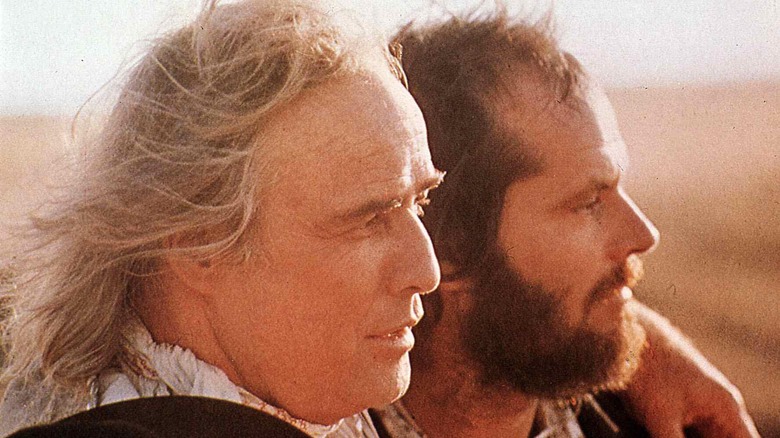 United Archives/Getty Images
At the time of posting, Jack Nicholson is still alive, despite the Google search "is Jack Nicholson dead?" bringing up over 12 million results. Rumors surged again after RadarOnline (again) reported Nicholson's friends "fear the legendary lothario" will become one of the celebs who went into hiding before their death "like his late buddy Marlon Brando."
"People just wish he'd come out of the house and pop up to tell them how — or at least reassure folks he's OK," a supposed insider told Radar. They said Nicholson's in touch with relatives, and his kids visit regularly, but "It's like he doesn't want to face reality anymore — and that's just sad." Apparently, Nicholson's "inner circle" worries that he has dementia. "Physically, he is fine — but his mind is gone," a purported pal claimed. "It's really sad to see such a super-talented actor like Jack go out this way."
Nicholson and Brando were such close buddies that they lived in adjacent homes with a shared driveway. During their heyday, it was a hotbed of sex and drugs. However, Brando died in 2004, and Nicholson is just weeks shy of turning 86, per Britannica, so it's hardly surprising it's no longer party central. "I'm still wild at heart, but I've hit bio-gravity," Nicholson told The Sun. "I can't hit on women in public anymore. I didn't decide this. It just doesn't feel right at my age."
He's happy in his dinky little mansion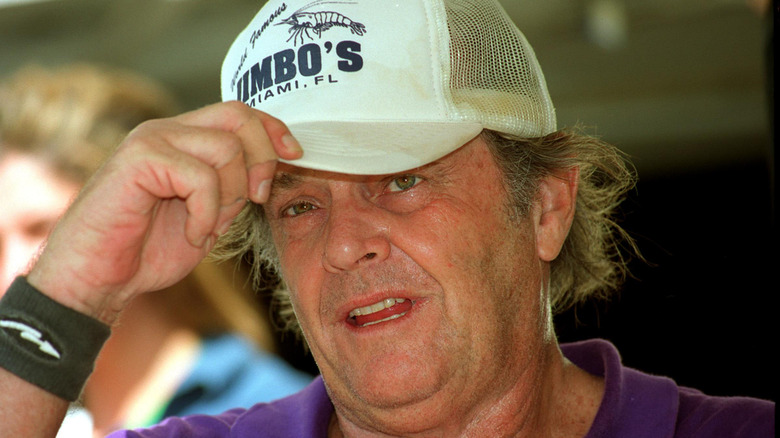 Dan Callister/Getty Images
According to Closer (via Daily Mail), Jack Nicholson now likes to sleep past noon and drink lots of milk "to soothe his stomach," which sounds like many an octogenarian's dream lifestyle. Nicholson admitted to The Sun that he can't be bothered with going out anymore. "I got tired of arguing with women about going to have dinners, so I hired a cook. The food is better at my house," he said, adding, "I'm happier in my dinky little house."
When asked if he ever thinks about dying, the actor confessed that he regularly does. "Yes, these are subjects that we think about all the time but don't necessarily talk about," Nicholson told The Talks. "Everybody has thought about if they want to be cremated, buried, or whatever." As for regrets? He hasn't even got a few. "When you look at life retrospectively, you rarely regret anything that you did, but you might regret things that you didn't do," Nicholson said.
In 2022, a hoax video popped up on YouTube: "R.I.P. We are very sad to report about sudden death of actor Jack Nicholson." It received over 65,000 views and has nearly 200 comments, most of which are consolatory, proving people really will believe anything these days. In fact, the channel it's posted on, Recuerda Gente Famosa, also has videos announcing the tragic death of Kevin Costner, Matthew McConaughey, Michael Keaton, George Clooney, and Val Kilmer, among other not-dead stars.