Jennifer Lopez Once Had Harsh Words To Say About Ben Affleck's Ex Gwyneth Paltrow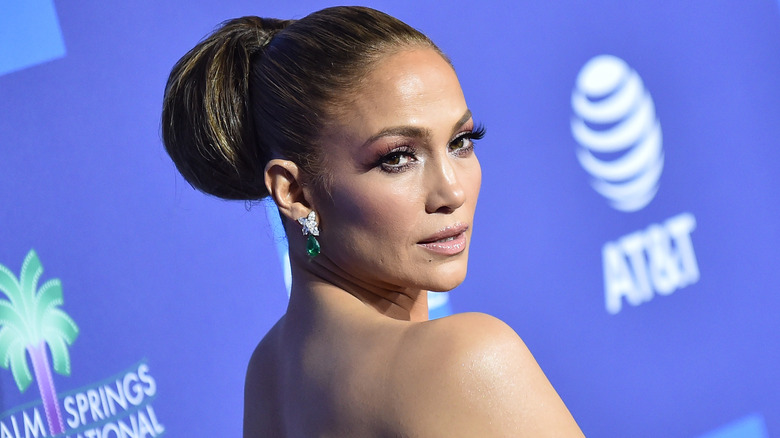 DFree/Shutterstock
Jennifer Lopez has soared to magnificent highs across several fields. Since debuting in the early '90s, Lopez has proven to be a skilled singer, thrilling performer, and capable actor, too. Unfortunately, she's made quite a few celebrity enemies along the way. Today, the "Jenny from the Block" songstress may appear to be quite chill, but there was a time when many celebs just couldn't stand J.Lo. And, while it's impossible to speculate the true origins, it's possible that her overinflated sense of self contributed to her unpopularity. Example? Back in 1998, the "Out of Sight" star gave an iconic interview with MovieLine, where she completely trashed all of her female acting peers at the time.
In the piece, which periodically goes viral on Twitter, Lopez shared some rather choice words for everyone, from Claire Danes to Cameron Diaz to Madonna, the latter of which she had a rather crushing opinion about. "Do I think [Madonna is] a great performer? Yeah. Do I think she's a great actress? No. Acting is what I do, so I'm harder on people when they say, 'Oh, I can do that — I can act.' I'm like, 'Hey, don't spit on my craft.'" And while Lopez's scathing attack rivals even the most opinionated takes today, her thoughts on fellow actor Gwyneth Paltrow, who also dated her current hubby, Ben Affleck, were particularly noteworthy.
Jennifer Lopez downplayed Gwyneth Paltrow's success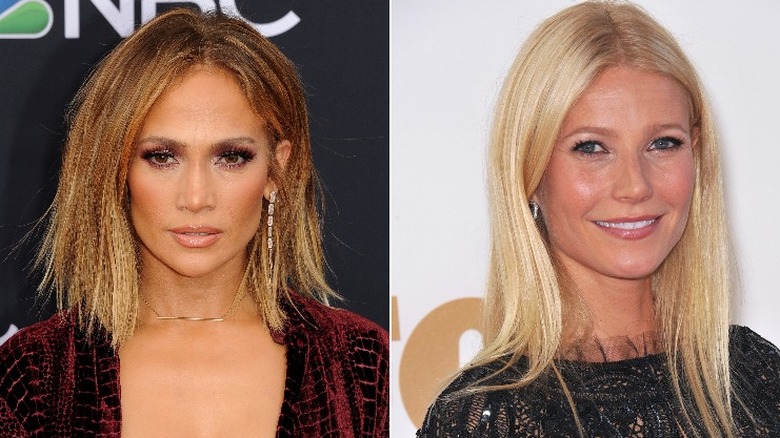 Jaguar PS & Tinseltown/Shutterstock
By 1998, Gwyneth Paltrow was a serious actor who'd appeared in films such as "Emma," "Great Expectations," and "Shakespeare In Love. However, J.Lo didn't understand the hype, basically amounting Paltrow's résumé to nothing more than a waste of paper. "Tell me what she's been in?" asked Lopez during her interview with MovieLine. "I swear to God, I don't remember anything she was in. Some people get hot by association. I heard more about her and Brad Pitt than I ever heard about her work."
And while it's true that Paltrow's breakup with Brad Pitt the year prior did make major waves — a phenomenon she even questioned in '98— she was also building a respectable acting career that wouldn't be eclipsed by her controversial wellness brand for more than a decade. So what was Lopez's deal with Paltrow? It was possibly the same deal she had with every other big name at the time: a superiority complex. However, the timing of Lopez's thoughts on Paltrow raised an eyebrow or two. Paltrow started dating Ben Affleck in 1997 (the same year she and Pitt broke up), maintaining the relationship until 2000. Don't chalk it up to jealousy, though. In '98, Lopez was still married to her first husband, Ojani Noa, and wouldn't meet Affleck for two more years. So it could all be one big ol' coincidence. That said, it'd be super interesting to hear what Lopez thinks of Paltrow today.
Gwyneth Paltrow isn't holding a grudge
Kevin Winter/Getty Images
Unfortunately, Jennifer Lopez seemingly hasn't mentioned Gwyneth Paltrow since her infamous MovieLine interview. However, Paltrow has referenced the "All I Have" singer on a couple of occasions and both times involved her relationship with Ben Affleck. But it's not exactly what you might think. 
In 2003, Paltrow spoke out about Affleck and Lopez's recent breakup. "Ben makes life tough for himself," she shared with ABC News.  "He's got a lot of complication, and you know, he really is a great guy. So I hope he sorts himself out." Given Lopez's negative comments, no one would've really blamed her had she been less than graceful, but she didn't even mention Lopez by name (and even appeared to scold Affleck instead). Further proving that Paltrow is not holding on to any negative feelings concerning Lopez and Affleck, she even had rather sweet things to say once they finally got married in 2021. "Love!!! So romantic!!!" wrote Paltrow via her Instagram Stories, according to Style Caster. "Very happy for them."