Why Becky G Once Got Accused Of Shading Selena Gomez (& Where They Stand Now)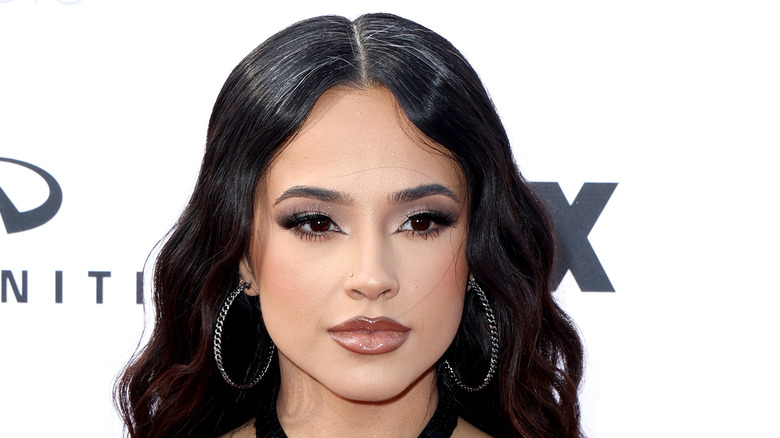 Joe Scarnici/Getty Images
There have been countless pop star feuds in the music industry, from Taylor Swift and Katy Perry to Nicki Minaj and Cardi B. There are so many that exist that there are probably some you weren't even aware of, including Becky G and Selena Gomez's speculated spat.
Becky G and Gomez have a lot of things in common. As noted by J-14, both are stunning, share the same last name, and are Mexican-American musicians. Many have even wondered if they are related, given their countless similarities. While it's not true, fans have continuously hoped that their resemblance in music would result in a collaboration between the two.
Although Becky G primarily sings in Spanish, Gomez has also explored her Latin roots in music. In 2021, the "Lose You To Love Me" singer released her first Spanish-speaking EP, "Revelación." But this wasn't the first time Gomez has sung in Spanish, as she was featured in the hit collaboration "Taki Taki," which actually got the attention of Becky G — but not in the way that many had hoped. Rather than potentially brewing a collaboration, many fans believed that Becky G was throwing shade at the Rare Beauty creator. So, what was it that got fans so riled up? We've got the details on why Becky G was once speculated to be dragging Gomez.
Becky G was confused by Selena Gomez's verse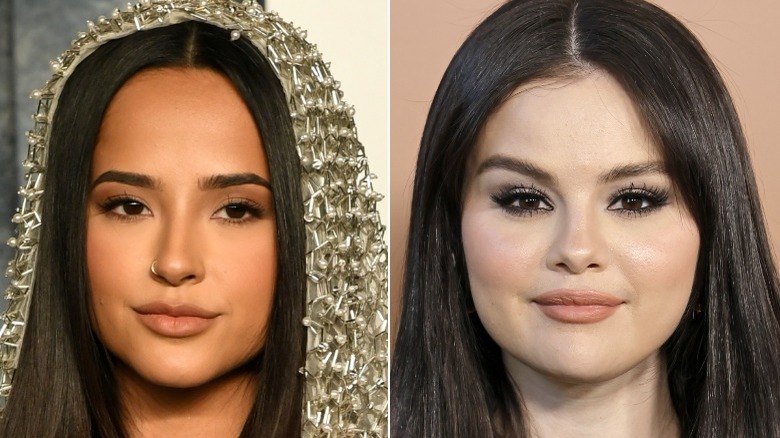 Jon Kopaloff & Kevin Winter/Getty
Becky G knows firsthand not to mess with Selenators after they accused her of throwing shade at Selena Gomez. It all started when the "Shower" singer took a lyric test for Seventeen magazine on some of the biggest Latin hits, including "Taki Taki." And when the song came up, Becky G wasn't afraid to share her thoughts on Gomez's verse. She said, "Oh, I know this one. I'll never forget this one because when I heard it, I was a little confused because it says, 'Come in the party, have a fiesta, blow out the candles and have a siesta.'" Siesta means nap in English, which is what confused the musician. She continued, "But I don't want to have a siesta in the middle of the fiesta. Like, I want to party. I wouldn't take a nap. You know what I'm saying?"
Fans quickly jumped to Gomez's defense, believing that Becky G had slighted the singer. However, Becky G denied this — saying her words were misconstrued. She tweeted, "I have always loved & supported a true queen like Sel. To cut a snippet of a video & take it completely out of context is what is so wrong about this 'Stan' culture. Sad to see yet another 'fan' going against what their favorite artist believes in by putting other females down." Regarding the possibility of a rift between the two singers, Becky G added: "We don't do that here."
Becky G has no beef with Selena Gomez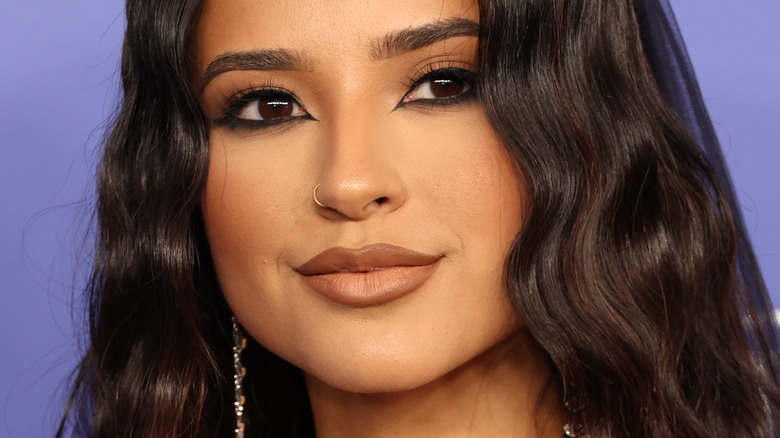 Monica Schipper/Getty Images
Becky G has made it clear that there's no beef between her and Selena Gomez. After the video of her commenting "Taki Taki" was released, Becky G shared how much she adores Selena on Twitter. She lauded Gomez, writing, "WHO DOESNT LOVE A KIND AND PRECIOUS SOUL LIKE SELENA GOMEZ!? You got your facts wrong. I'm a Gomez myself."
The "Sin pijama" singer has echoed that sentiment multiple times, clarifying to ET that she was not "throwing shade" or dragging Gomez. Becky G also revealed that she and Gomez have met in the past and had a wonderful time with each other. She said, "I actually have had nothing but the most incredible experience meeting her and spending time with her." Clearly, the supposed shade is not the reality of their relationship.
Although Gomez has never commented on the situation, her entire mantra has been about kindness. As noted by USA Today, Gomez explained in 2019: "I do not stand for women tearing women down and I will never, ever be by that." With that, she also encouraged fans to stop sending hate to other people in the industry. Gomez's kindness is evident, so it's safe to say that she and Becky G do not have any tension, despite what fans may think.