Why Brooke Shields Initially Shut Down Her Daughter Grier's Modeling Career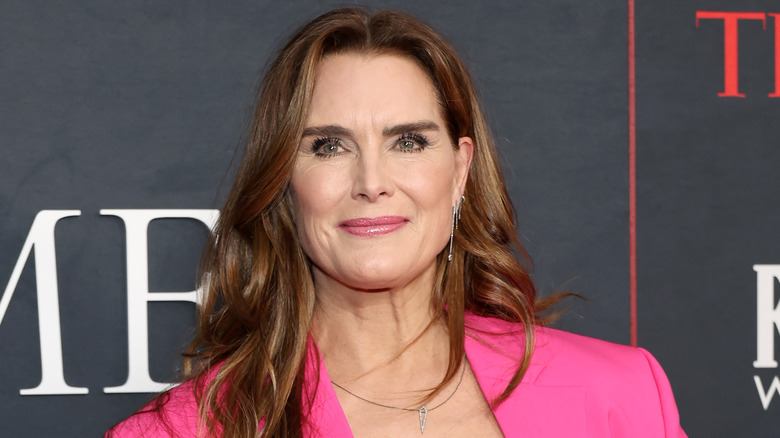 Amy Sussman/Getty Images
Brooke Shields knows a thing or two about the world of modeling: the good, the bad, and the ugly. Over the past four decades, Shields went from teen idol to Hollywood star, and there were more than a few bumps along the way. So it's understandable why she'd be nervous about her daughter, Grier Henchy, following in her fabulous footsteps. Per The Guardian, Shields was only 11 when she unintentionally sparked a firestorm by portraying a teen sex worker in the 1978 flick "Pretty Baby."
She was a figure of controversy again just two years later after she stripped down and got naked on a tropical island for the '80s classic, "The Blue Lagoon." And she was the name on everybody's lips after starring in the now iconic Calvin Klein jeans ad when she was 15. "You want to know what comes between me and my Calvins?" a doe-eyed Shields asks the camera. "Nothing."
After the ad was released, she was subjected to a cringe-worthy interview with Barbara Walters that still haunts her to this day. "She asked me what my measurements were and asked me to stand up," Shields later told Drew Barrymore (via Page Six). "And I stand up, and she was like comparing herself to this little girl. And I thought, 'This isn't right. I don't understand what this is.'" Shields also told Dax Shepard on his "Armchair Expert" podcast that Walters' interrogation felt "practically criminal." Well, you can totally understand why Brooke Shields initially shut down her daughter Grier's modeling career, then.
Brooke Shields' model mini-me
The complicated relationship Brooke Shields had with her mother wasn't helped by Teri Shields' questionable management decisions. Per The Guardian, Brooke's first naked photo shoot was for Playboy's "Sugar'n'Spice" when she was 10. And she featured in endless swimwear campaigns before she turned 16.
Brooke's daughter, Grier Henchy, looks just like her mom, so it wasn't a shocker when she announced that she wanted to become a model. However, she was still a minor then, and Brooke didn't want Grier to experience the negative sides of modeling she was subjected to as a child. During an appearance on "The View," she explained, "I fought it for a while. I gave in because these kids, she's going to fight me, fight me, fight me. The more I fought her, the more she was going to fight me to do it."
Brooke said that, in the end, she decided that if Grier was going to model, she'd make sure she did it safely and with the right guidance. Brooke wouldn't be her momager. Instead, she introduced Grier to the renowned agency IMG, which only books campaigns for their clients once they're 18. "But what I said is, 'Alright, if you're going to do this, you're going to listen to me. I'm going to put you with the right people to teach you' ... You need to not fall prey to being skinny," Brooke explained. "You need to learn how to walk."
The importance of body positivity and self-confidence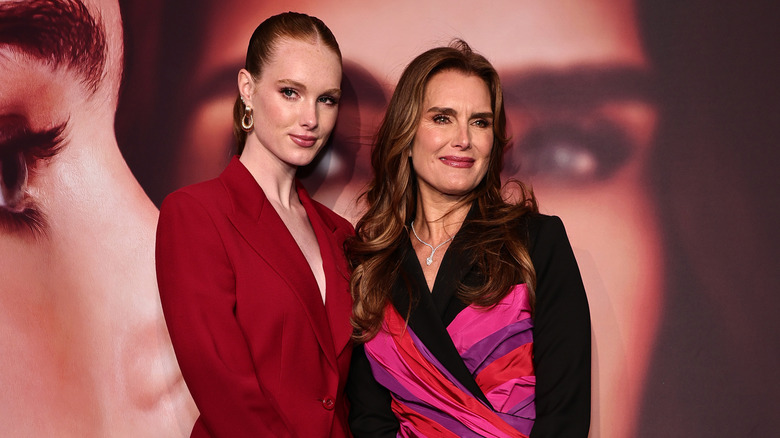 Jamie Mccarthy/Getty Images
Brooke Shields was determined for neither of her daughters to suffer from body image issues as she did. Given that she spent much of her teens naked in front of cameras, it's hardly surprising that Shields became hyper-aware of her weight, as many models do. "I was always called the 'athletic' one, which is a euphemism for 'not skinny.' 'She's the athletic type. She's a handsome woman. She's a workhorse, a mule,'" Shields told The Times Magazine. "I never fit into any catwalk clothes, and then you are just the Vogue model from the neck up, comparing yourself with every skinny actress and model," she continued.
"I had a very strong disconnect to my body," Shields told Yahoo! Life. "I was the face on the covers. I was the eyebrows or the face or whatever the thing was that people and the press and everybody focused on. And because I was never really skinny, I never did runway. So I was always the one that was doing the magazines but often never fit into the samples." She said she vowed to raise her children to be body-positive and self-confident.
"I'm trying to present to them the image of a whole woman, which was very different from the way I grew up," Shields said. "I don't want them to have any of that shame, but I want them to maintain a sense that their body is their body, it's their own."