Why Rob Lowe Wasn't Happy About His Bizarre SNL Moment With Brendan Fraser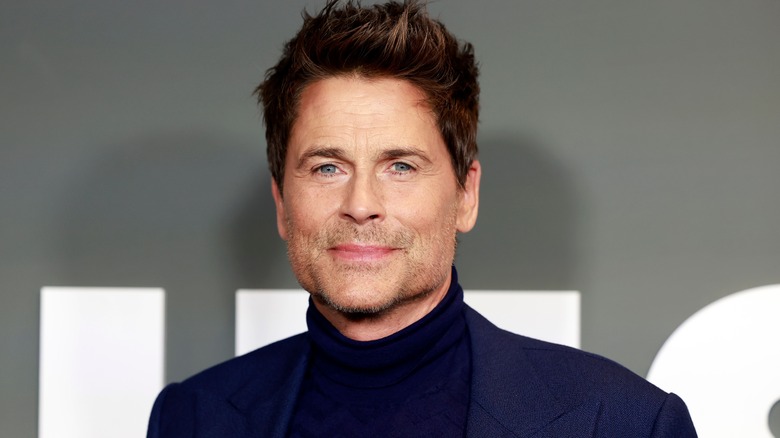 Emma Mcintyre/Getty Images
Rob Lowe takes his "Saturday Night Live" appearances seriously, so he was miffed when comeback kid Brendan Fraser disrupted one of his moments on the show. In the grand scheme of each episode, celebrity hosts don't get much time to make their mark, so every second they appear in front of the camera is precious. Plus, for Lowe, "SNL" holds a special place in his heart.
Lowe's fondness for the sketch comedy series goes way back. "I grew up watching 'Saturday Night Live.' Everything I knew about comedy I learned from SNL," the three-time host told Collider. But, as he explained to Entertainment Tonight, hosting the show didn't always hold the prestige it does now and once was considered a risky move. "'I had people in my life telling me not to host 'Saturday Night Live,'" he said. Lowe ignored their advice and agreed to appear on the show for the first time in 1990. Two years prior, a sex tape featuring Lowe had leaked, and one of the two women in the video was just 16 years old, according to People. Lowe addressed the scandal in his opening monologue, saying, "I regret it. It's been very difficult for me." Yes, he dared to fish for some sympathy.
Lowe told The New York Times in 1992, "I think 'Saturday Night Live' was also a kind of redemption." So, with all this in mind, it's understandable why he's so perturbed with Fraser for spoiling his "SNL" experience.
Brendan Fraser was just trying to promote a movie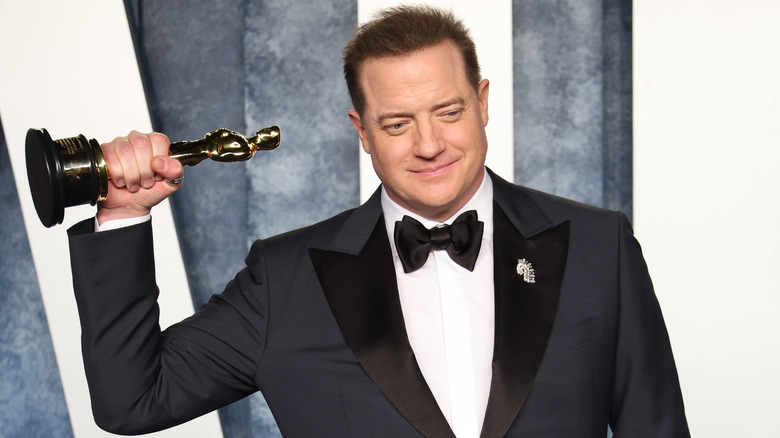 Daniele Venturelli/Getty Images
In a 2021 episode of his "Literally" podcast, Rob Lowe and former "Saturday Night Live" player Vanessa Bayer reminisced about some of their experiences on the show. For Lowe, one memory he doesn't look back so fondly upon is his sign-off for his third "SNL" appearance in 2000. He recalled how Brendan Fraser tried to hijack his final moment on the stage by using it to promote "Bedazzled," his rom-com co-starring Elizabeth Hurley. 
"I'm going, 'Goodnight. Thank you! I want to thank everybody!'" Lowe recalled. "And in the background, he's yelling, 'Bedazzled! Bedazzled! Bedazzled!'" Lowe knew that this was the title of Fraser's soon-to-be-released film but would later muse on why "The Whale" star was so desperate to grab some last-minute attention. "I've spent many years trying to figure out what was going on with Brendan that night," Lowe said. "And the nearest I can come to is that he was somehow promised a walk-on during the show, and the show ran long, and he was just like, 'F*** it! I'm going to go up and yell 'Bedazzled' behind Rob Lowe's head."
Per The One SNL a Day Project, Fraser did, indeed, get cut from a sketch before he committed what Lowe clearly views as a serious breach of "SNL" etiquette. Fraser originally landed a juicy role appearing alongside Chris Kattan's fan-favorite character Mango, but their sketch was axed. Instead, Fraser made a brief, silent cameo in an "'SNL Olympics" sketch. 
Rob Lowe and Brendan Fraser got career assists from SNL icons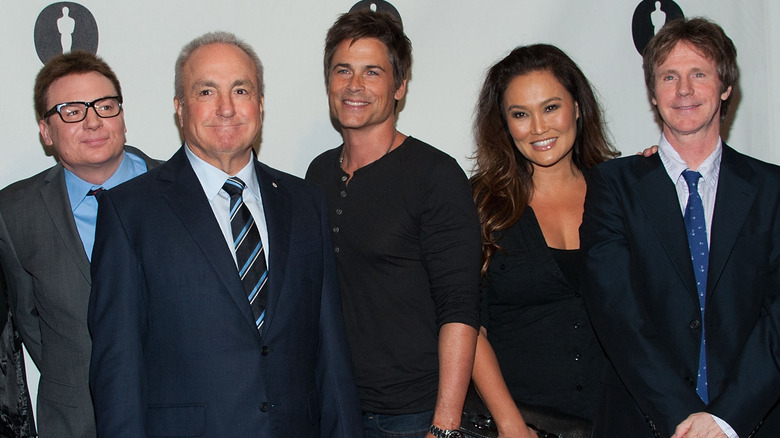 Valerie Macon/Getty Images
It's impossible to know whether Brendan Fraser's "Bedazzled" shout-out on "Saturday Night Live" gave the movie any measurable box-office boost, but what we do know is that an "SNL" player helped him land one of his early comedic roles. When Adam Sandler and Fraser interviewed each other for Variety, Sandler surprised Fraser with a revelation about their 1994 movie "Airheads." Two years before they co-starred together in the comedy, Fraser had played a thawed-out Neanderthal in "Encino Man" and apparently did such a convincing job that "Airheads" director Michael Lehmann found it impossible to imagine him playing any other character. "[He] was very against you," Sandler told Fraser. "He was like, 'I don't get it. I don't see the caveman being in the movie.' And I just said, 'He can do other s**t, man.'" Sandler even told Lehmann he wouldn't do the film without Fraser, and he won that game of casting chicken.
Rob Lowe can also thank an "SNL" heavyweight for one of his movie roles. Lowe told Collider that the show's head honcho himself, Lorne Michaels, is responsible for his casting as the villain in the 1992 classic "Wayne's World." As Lowe explained, Lorne wanted him for the job because he had something that the stars of the film, Dana Carvey and Mike Myers, did not: Years of experience starring in movies. "That little 'SNL' corner of my career is something I'm really proud of," he said.