Brendan Fraser's Reaction To His Standing Ovation Is Tugging On Fan Heartstrings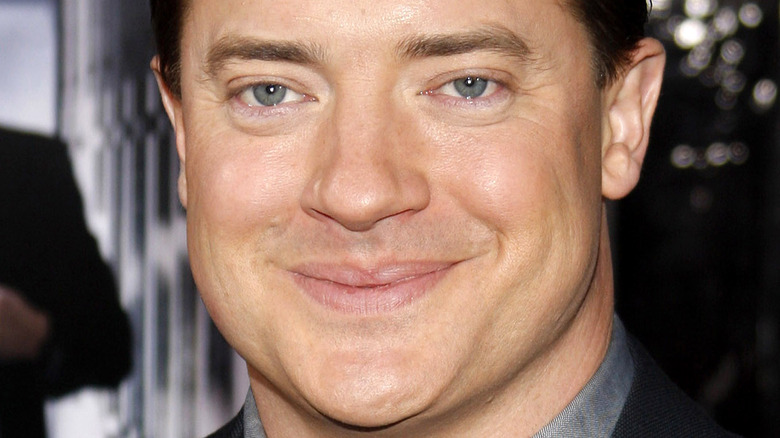 Tinseltown/Shutterstock
Brendan Fraser is one of the most beloved actors in Hollywood, despite taking a bit of a step away from the spotlight. The star is probably most famous for starring in "The Mummy" movies, and has also appeared in the likes of "George of the Jungle," "Dudley Do-Right," and the Showtime drama "The Affair," but Fraser has also been open about his personal struggles that saw him go under the radar in Hollywood for a few years.
In 2018, Fraser explained that he had to have a number of surgeries after doing stunts in many of his blockbusters. "I believe I probably was trying too hard, in a way that's destructive," he told GQ for a piece titled "What Ever Happened To Brendan Fraser?" He shared that he particularly struggled when filming "The Mummy: Tomb of the Dragon Emperor" in 2008, admitting, "I was put together with tape and ice." His surgeries included a laminectomy to relive the pressure on his back — which had to be done twice alongside other back operations — plus a knee replacement, and work on his vocal chords.
Fast-forward to 2022 and Fraser was ready for his big screen comeback after sharing his harrowing story of abuse, transforming into a man who weighs 600 pounds to appear in "The Whale," per Entertainment Tonight. The movie is already getting rave reviews, too. So much so that Fraser was brought to tears during a screening.
Brendan Fraser's tear up
Grab those tissues, because this one is downright adorable. Brendan Fraser dissolved into tears in a viral video shared on September 4, which showed the actor getting a huge standing ovation following a screening of "The Whale" at Venice Film Festival. The video, shared on Twitter by Variety's Co-Editor-in-Chief, Ramin Setoodeh, showed Fraser standing on stage with his co-stars as he was surrounded by applause. "The standing ovation for #TheWhale was so enthusiastic, Brendan Fraser tried to leave the theater but the crowd's applause made him stay," Setoodeh tweeted. CNN reported the ovation lasted six minutes.
The video got a lot of attention, being viewed more than 15 million times in the first two days of it being uploaded, while plenty responded with gushing messages. "This makes my heart so happy! He just seems like the best guy. And so talented!" TV host Renee Paquette tweeted, while a fan wrote, "Brendan Fraser having a comeback and everyone being insanely supportive is the purest thing that's ever come from the celebrity world."
The internet previously threw its support behind the actor in August 2021 in an adorable TikTok video. Fraser admitted to a fan that he was feeling pretty nervous about his comeback in "The Whale," to which they responded, "You've got this. Just know that the internet is so behind you!" before gushing over the actor. He then sweetly responded, "Shucks, ma'am" while looking pretty glass eyed. Seriously, guys. Protect Brendan Fraser at all costs.