Ice Spice: 12 Things To Know About Rap's New It Girl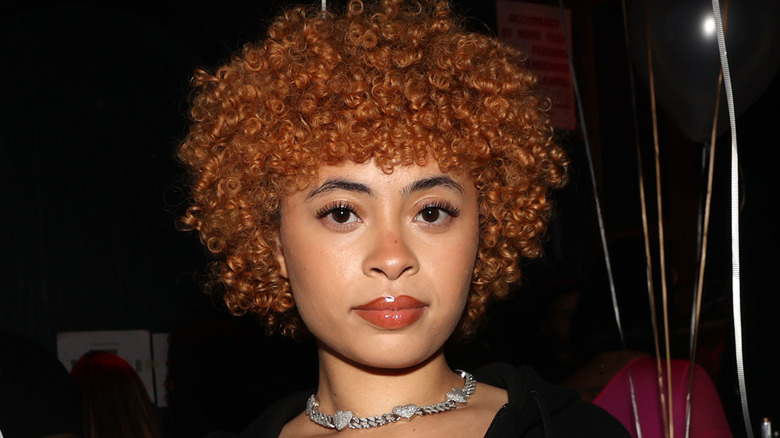 Shareif Ziyadat/Getty Images
At one time, it wasn't all that easy for someone to release a song to the public if that person didn't have a record deal. They'd have to pay for studio time, for one, which could be a major expense. Then there was the challenge of trying to get a song or album distributed. But thanks to the Internet, all of that has changed. If an unsigned artist wants to release a song, they can record it in their bedroom and share it on social media. They can even grab their phone to shoot a music video, and if it goes viral, boom! This person is a famous musician all of a sudden.
Isis Naija Gaston has definitely taken advantage of achieving fame through a viral song. You might know her better as Ice Spice, who had major success shortly after deciding that she wanted to rap. Ever since 2022, the New York City native has become the talk of hip-hop, and just like Nicki Minaj and Cardi B before her, she's the new female rapper that seems to be everywhere.
But despite Spice's rising fame, and all of the interviews she's been doing, there's still a lot to learn about her. No worries, though; we've got you covered. So, here are 12 things to know about rap's new It girl, as we walk you through her life before and after fame.
Ice Spice revealed her ethnicity on Twitter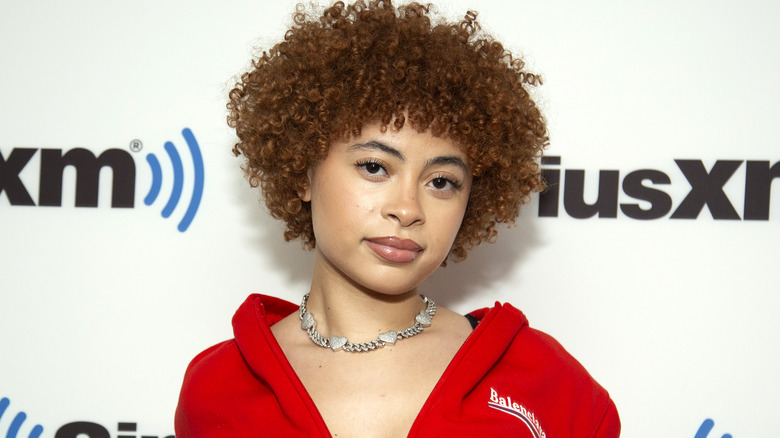 Santiago Felipe/Getty Images
When a Twitter user said that Ice Spice looked Igbo in November 2022 — which the University of California, Riverside says is one of the largest ethnic groups in Africa, who are mostly located in Southeastern Nigeria — she revealed her ethnic background. "I'm Nigerian but idk which tribe maybe u right !" Spice tweeted. "[D]ominican too chill sisters," wrote the rapper in a second message. 
Per Audiomack, Spice's father — who was an underground rapper — is Nigerian and her mother Dominican. And although her parents didn't live together when rap's new It girl was a youngster, they resided in the same Bronx neighborhood, and she would go back and forth between them.
Her parents have differing reactions when their daughter does something that might not be PG-rated. Spice and Ebro Darden on Apple Music discussed the racy cover of her EP, "Like..?," seen here on Spotify. "Mom's a baddie so she know what it is," Spice explained, seeming to say that her mom has a younger, more open-minded way of thinking than her dad on certain issues. "But my pops, though, I'm his baby girl," she added. "He going to be like, 'You couldn't do a different pose?'" Interestingly enough, Spice said that her parents didn't see the "Like..?" cover at the time of that interview. 
Her song Munch (Feelin' U) exploded
For some, music success comes after a long while, maybe after releasing a few projects. Not for Ice Spice, though. She became a rap star rather quickly after her 2022 single "Munch (Feelin' U)" took off. As of this writing, it has 36 million views on YouTube. Spice has become a media darling as well, already getting a magazine cover while doing interviews left and right. One of them was with Billboard, where the rapper spoke about her viral single.
"I figured it was gonna be a pretty big song, but I didn't realize how big it was gonna be," she said. "It's funny because people I showed the song to wasn't too excited about it. But I'm confident in it. So I was just like, 'My fans gon' f*** with it. I don't care.'"
It's not just the song that people love, though; it appears they also adore Spice's look, as she's now famous for her red curls. Rapper Lil Nas X, for example, dressed up as Spice on Halloween by copying the signature look from her "Munch" video. However, Spice said it took time for her to embrace her natural features and her true artistic identity, telling The Cut in 2023: "Once I brought it back to the real me and my roots, and I put my Jordans back on, and I just wore my natural hair, and I was just really being authentic to myself, that's when my views started going up again." 
Ice was praised, then seemingly dissed by Drake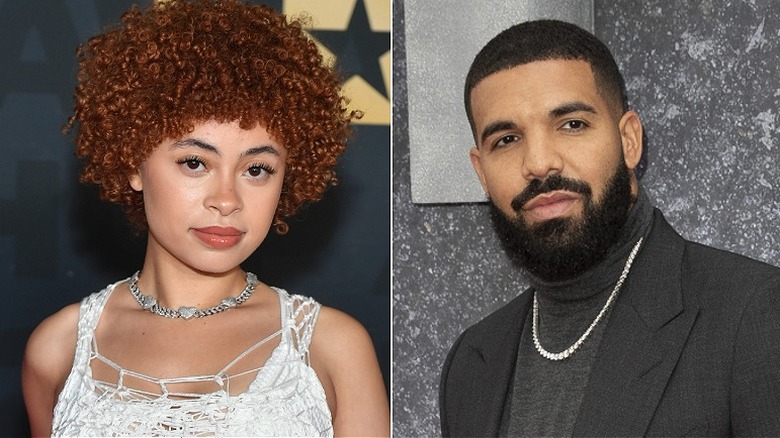 Paras Griffin & John Phillips/Getty
Not too long after "Munch (Feelin' U)" was released and it was getting some serious traction, a few things happened to Ice Spice that would give her level of fame another bump upward. And they all had to do with Drake. First, in August 2022, the Canadian rapper and Spice were seen watching a set at OVO Fest in Toronto, and the clip went viral. Spice later told RapCaviar that Drake sent her a direct message on Instagram and he praised "Munch (Feelin' U)" as well as a freestyle that she did for "On the Radar Radio." She also called Drake "nice and respectful."
But for some reason, per HotNewHipHop, he unfollowed her sometime before Spice's RapCaviar interview, and theories arose about there being a rift between them. Drake was accused of dissing Spice in the song "BackOutsideBoyz" on top of that, rapping, "She a ten trying to rap, it's good on mute." Spice responded to the possible jab by tweeting, "At least ima 10," adding laughing and shrugging emojis. 
In 2023, the Bronx rapper spoke to The New York Times about the rumored beef, saying that all is fine between herself and Drake since they conversed after "BackOutsideBoyz" was released. Perhaps Drake eventually re-following Spice on Instagram, as Complex shows, proves that.
She raked in the dough rather quickly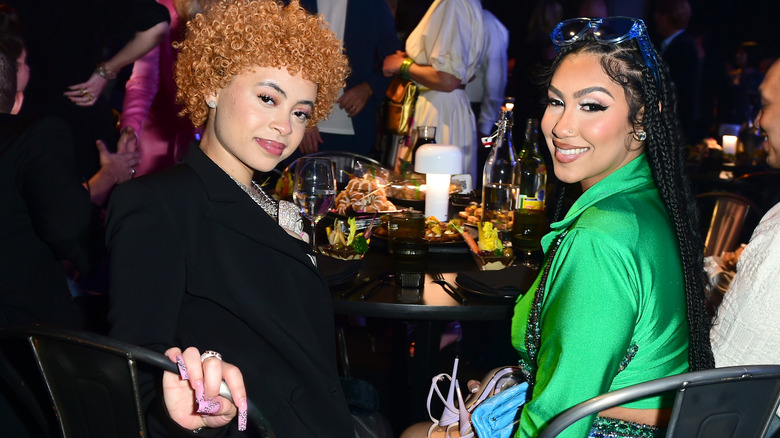 Vivien Killilea/Getty Images
Sadly, in music, an artist may have a hit song and still not reap the financial benefits for a variety of reasons, like signing a bad contract. Ice Spice can't be put into that category, however, because she claimed to make $2 million from "Munch (Feelin' U)." She revealed that little piece of info in the YouTube comments section of her song "Bikini Bottom." Spice also said she'd be giving away some of that money to her fans.
She inked a record deal with 10K Projects/Capitol Records after "Munch (Feelin' U)" went viral, per The New York Times, and probably got an advance in addition to that $2 mil. But as the money was rolling in, so was the guilt, since Spice saw that a lot of people needed assistance. "It's just weird now being at a certain place and not being able to just help everybody that you want to help," Spice explained. 
Now, as for how the buzzed-about rapper spent some of that $2 million, a portion of her earnings have gone toward clothes. Spice told The Cut there was a time when she practically lived in Fashion Nova outfits since they're relatively inexpensive. But after her career took off, she graduated to way more expensive duds.
Writing captions led to writing songs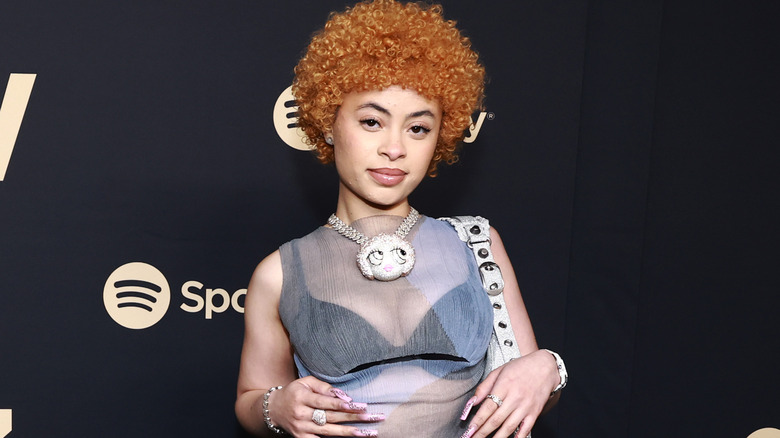 Matt Winkelmeyer/Getty Images
Ice Spice began making songs after meeting Bronx producer RIOTUSA, and her first cut was "Bully Freestyle," she told "On The Radar Radio." But she started writing songs before that and was introduced to the craft in what could be considered a pretty unique way. The red-haired rapper began by writing captions, of all things. "I like to hear catchy stuff and I always be thinking like, 'Damn, what should I caption this?' So I just started coming up with mad captions," she told The New York Times.
But get this — Spice began rapping only a year before her "Munch" success, after being inspired by RIOTUSA's beats. Spice was consuming the genre much earlier; rappers she listened to as a child included Nicki Minaj and Drake.
And here's some advice she'd probably give songwriters looking to go viral: Don't think too long and hard about what you'll write. Explaining this approach to Sirius XM, Spice said, "I was challenging myself to make the quickest song I could make, and I was just like, 'I'm not going to think too much,'" referring to her hit "Munch (Feelin' U)." She continued, "I didn't overdo the takes and stuff in it. It was just fun, I was feeling the vibes. I think I was a little wine drunk."
Ice Spice addressed a sex tape rumor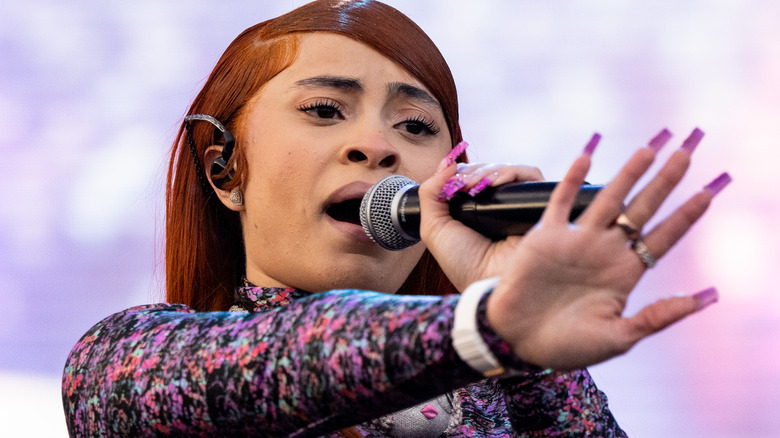 Scott Dudelson/Getty Images
The Internet is a crazy place. That's not a developing news story. But some may still be shocked at how easily people can latch onto an online rumor and take it as fact. In October 2022, some seemed to believe that Ice Spice was seen in a leaked sex tape. The woman in the clip reportedly had more or less the same curly hairdo that she does. One person even tweeted a theory about the guy in the video being Drake and accused him of exposing it, writing, "damn drake leaked y'all sex tape. you really finna blow up now."
Others, meanwhile, expressed their intense desire to see the tape, with one person writing, "DM me the link so I can help you get it off the internet." But understandably, Spice didn't seem to be in a joking mood when she addressed the chatter. Her now-deleted response, however, captured by AllHipHop, is nearly as X-rated as the clip itself, so we won't quote it. It was still highly effective, though, because it pretty much shut down all of the sex tape talk. 
Some of Spice's Twitter followers also applauded her for addressing the rumor in the way she did. "Get them queen theyre [sic] so obsessed," one of them wrote. "they're sooooo weird. broke behavior!" another message read.
She held a volleyball before a microphone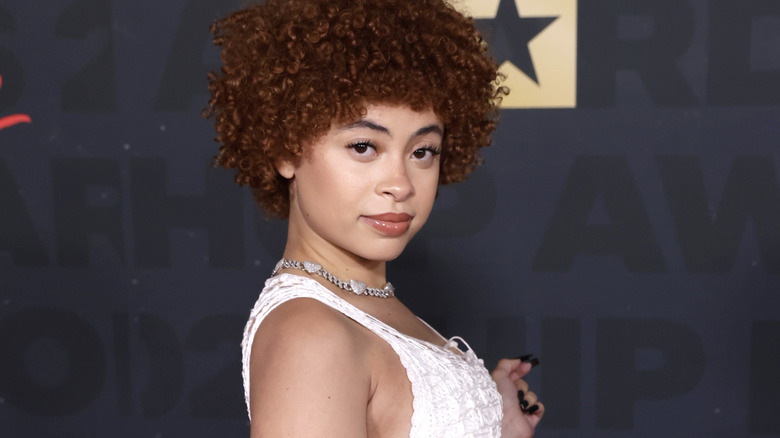 Terence Rushin/Getty Images
So, we mentioned that Ice Spice began making music after meeting her producer, RiotUSA. But despite being from the same borough, they met at SUNY Purchase College as communications students, per The New York Times. 
Spice was a student-athlete on top of that and received a full volleyball scholarship after graduating from Sacred Heart High School, according to HipHopDX. In fact, a photo of a younger Spice that surfaced in February 2023 shows her on the Sacred Heart squad, and it trended on Twitter. The same thing happened when her high school yearbook photo resurfaced online that same month. 
The rapper's college volleyball career was short-lived, as Spice stopped playing after her first year. The "Name of Love" creator told Audiomack the sport was no longer a good fit. Spice dropped out of SUNY as well, but she told Hot 97 that she hopes to finish one day. And who knows, maybe Spice will find time to play volleyball for fun, since she tweeted in 2022 about missing the sport.
Chance the Rapper thought Ice Spice might've dissed him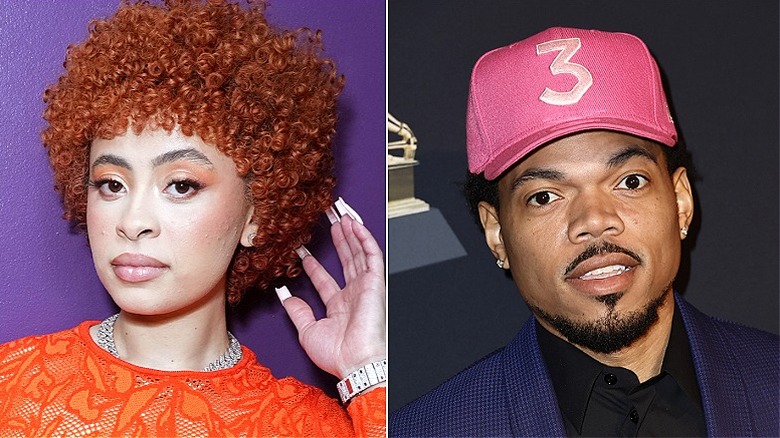 Frazer Harrison & Kevin Mazur/Getty & undefined
On January 20, 2023, Ice Spice delivered her debut EP "Like..?," which includes the song "In Ha Mood." Many reacted online, including Chance the Rapper. But "The Voice" judge didn't send a message of congratulations. Instead, he asked about a line that he believed could've been aimed at him. 
"He a rapper, but don't got a chance," raps Spice in the song, which could just be a play on words that uses Chance's name. But still, he had to know definitively. "Is this a diss or a shoutout?" asked Chance on Instagram Stories.
Now, in rap, using subliminal lines to take shots at people is as old as the art form itself, so it wouldn't be surprising if Spice dissed Chance. But on the other hand, there were no prior reports of them having issues with each other. Heck, it wasn't known if Chance had even met Spice before. In the end, though, Spice grounded the beef rumor before it could fully take off, telling Chance on Instagram Stories that she would never diss him. "Just double checking lol," he replied.
A lot of people shoot their shot at Ice Spice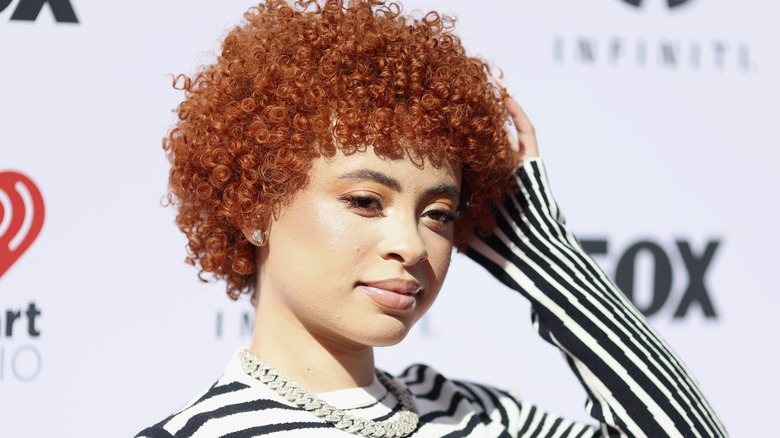 Joe Scarnici/Getty Images
If you were to click on any of Ice Spice's Instagram photos, you'd see plenty of people coming on to her in the comments. People offline also shoot their shot, like a man who was seen nearly on his knees in a TikTok video trying to give her flowers. But it's not just fans and Instagram followers who've courted the rapper; famous people have as well.
The Memphis rapper NLE Choppa went as far as releasing a single titled "Ice Spice" — he even used a drawing of her for the cover. He also delivered some flirty words online. "She thought I was feelin her. She was right," he tweeted, piggybacking off Spice's "Munch (Feelin' U)" chorus. She didn't appear to be very impressed, however, tweeting back that Choppa was acting desperate and needed to be a lot smoother in his approach. Then in a 2023 interview on "The Jason Lee Show," Choppa called Spice "beautiful" and said they were texting each other before she changed her phone number.
The comedian and internet personality Druski is another person who said he was interested in the "Be a Lady" rhymer, as he shared on the show "Club Shay Shay." But unlike Choppa, Druski said that he'd sit back and let things materialize between himself and Spice.
She's pals with Kim and Kanye's daughter, North West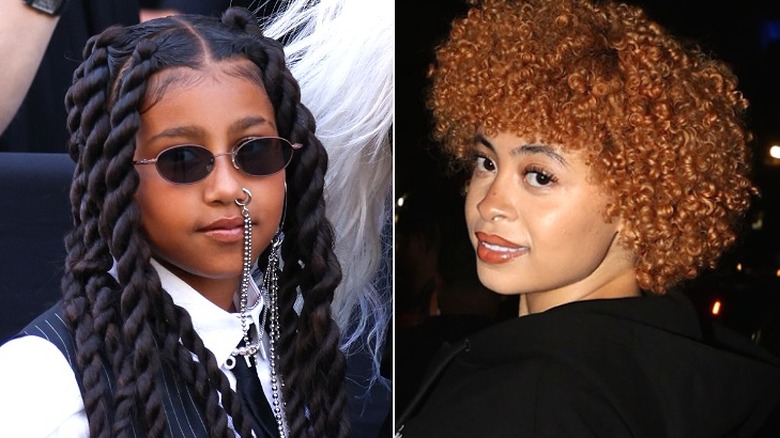 Shareif Ziyadat/Getty & Pierre Suu/Getty Images
Kim Kardashian and Kanye West's daughter North West has proven that she's a talented little artist. At nine years old, she drew a sketch of Ice Spice — unlike many celebrity portraits, the drawing looked very much like the rapper. The much-talked-about masterpiece was shared on TikTok in February 2023 and Spice was asked about it during an E! News interview. "That was so cute. Shoutout to Northie, I love her. ... She's really talented," the rapper sweetly said.
Then the following month, North posted a few TikTok videos that showed herself and a couple other girls with Spice, and they were all dancing as well as lip-synching to her songs. North drew another picture of Spice on top of that and shared it on TikTok. "Just met Ice Spice literally screaming. She is so nice," it says at the end of the clip. North also dressed up as Spice in a video, which got a major reaction. So after all of that, one has to wonder if Spice is her favorite rapper instead of her dad. 
Ice Spice went viral before being famous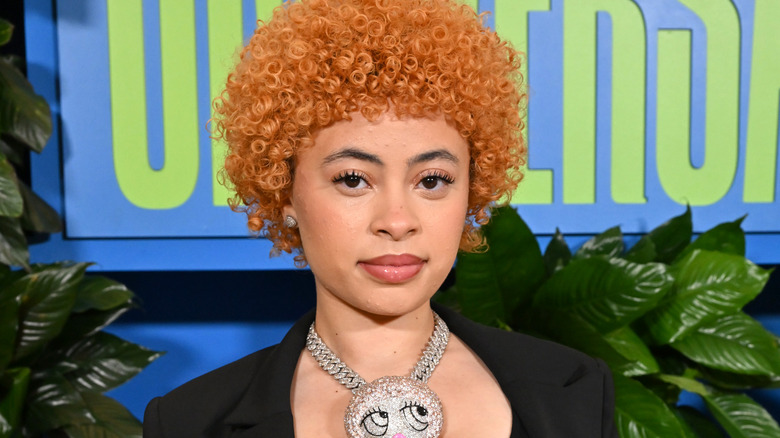 Lester Cohen/Getty Images
The "Buss It" challenge was all the rage on TikTok in 2021, so a lot of folks participated, including celebrities. Ice Spice joined in on the fun before she was famous, going viral for her smooth transition and stunning looks displayed in the challenge. In fact, the attention that Spice got from "Buss It" the first time around inspired her to record her own raps, she shared with The New York Times. And surprise, surprise, after "Munch (Feelin' U)" was released, the TikTok clip resurfaced and went viral again. 
The challenge, which started when Texas rapper Erica Banks' song "Buss It" grew to popularity, shows people first dancing in casual attire to Nelly's song "Hot in Herre" before switching to dressier clothing and twerking to Banks' "Buss It." In Spice's video, she's wearing black shorts, a black top, and rocking a head scarf.
Then in a barely-there green number, she begins twerking. To say that people loved the clip wouldn't be doing their reaction justice. "ice spice's buss it challenge cured my depression im pretty sure," one person tweeted. Meanwhile, someone else wrote, "After watching Ice Spice 'Buss it' challenge, I think I might show some support for her music." 
She was crowned rap's princess by Nicki Minaj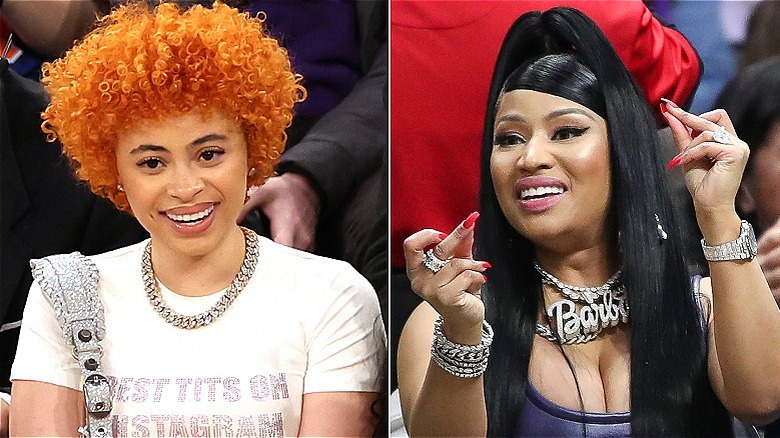 Sarah Stier & Meg Oliphant/Getty & undefined
Remember when Ice Spice told "On The Radar Radio" that Nicki Minaj was one of the main people that she listened to as a kid? So, imagine what it was like for the Bronx creative to find out that Minaj gave her a huge compliment in March 2023. Spice posted Instagram footage of herself at the Rolling Loud festival and quoted a line from her song "Princess Diana." Minaj commented on the post with another "Princess Diana" line: "[B****es] slow so I gih dem a pass. Nah. Grah! No more passes Princess...Let's go." But the praise didn't stop there. Later that month, when Spice landed on the cover of Dazed magazine with the words "The People's Princess" on it, Minaj shared it and wrote, "Gag. The People's PRINCESS. catch it!!!"
Spice celebrated the shout-out and responded to Minaj sharing her Dazed cover by tweeting, "ya heard da QUEEN."
Here's why Minaj complimenting Spice is such a big deal: Often she's accused of not being super supportive of other female rappers, especially the up-and-coming ones. In 2022, for example, Minaj and Atlanta rapper Latto went back and forth on Twitter when Minaj was upset that she wasn't in a rap category for "Super Freaky Girl" while Latto's "Big Energy" was in a rap category at the Grammys. The "Anaconda" writer was also accused of dissing Megan Thee Stallion, and of course, there's her infamous beef with Cardi B. Ice Spice is off to a strong start with the blessing of other rappers.